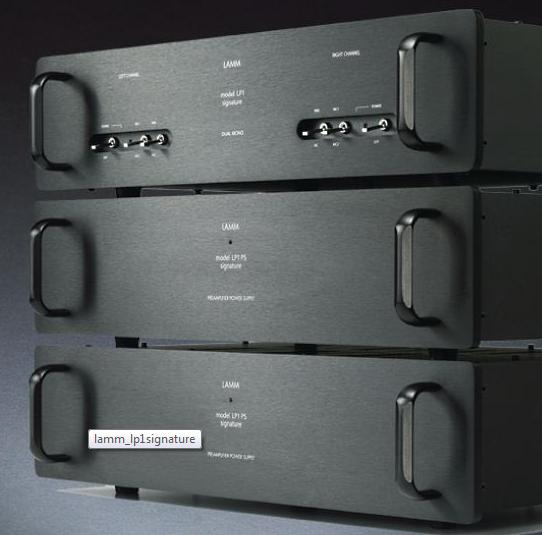 Lamm Industries has just announced the release of their all new LP1 Signature phono stage.  This new dual monaural phono preamplifier model is Lamm Industries ultimate statement of high end audio.  Just like the ML3 Signature and LL1 Signature, the LP1 Signature is one of the best creations of its designer's professional career.
The LP1 Signature has been designed to complement the ML3 amplifier and the LL1 preamplifier. It completes the Signature Series triad and, in combination with the other two Signature components, represents a "match made in heaven". However, the LP1 Signature will perform its magic in any system provided it is of sufficient quality.
The LP1 Signature features a topology that brings out the most natural sound performance in the audio path. The main distinction of the LP1 Signature is its almost inaudible sonic signature. When connected to the appropriate type of electronics, and especially LAMM amplifiers and preamplifiers, it assures the extraordinary transparency of perceived sound and recreation of a three dimensional soundstage in the home, recording studio, etc. 
The LP1 Signature is a vacuum tube preamplifier that employs a high current pure class A operation from input to output. No loop feedback is employed. Other features include:
• Audibly neutral power supplies (one for each channel) featuring full-wave vacuum rectifiers, choke contained filters, vacuum tube high-voltage regulators, and solid- state low-voltage analogue non-switching regulators used as the heater supplies
• Three separate inputs for MM and MC (two inputs) cartridges
• All amplification stages utilize high transconductance super low noise high-current vacuum triodes
• Very accurate RIAA EQ network
Each preamplifier is carefully handcrafted of the finest materials and hand selected top quality parts like military-grade DALE metal-film resistors, RCD wire-wound resistors, BOURNS multi-turn potentiometers; ELECTROCUBE, CORNELL DUBILIER and ROEDERSTEIN film capacitors; high frequency switching grade CORNELL DUBILIER electrolytic capacitors; HAMMOND chokes; gold-plated NEUTRIC connectors; and military- grade low-noise long-life vacuum tubes.
A custom-designed massive damping panel installed in the preamplifier unit significantly reduces all types of mechanical vibrations which, in turn, leads to a more extended, coherent and natural bass reproduction.
The LP1 Signature features a custom-designed super-low noise power transformer and works with all world AC line voltages (100/120/220/230/240V) – adjusted internally without elaborate modification.
The LP1 Signature carries a retail price of $33,000 U.S. and will debut at CES 2013 in Las Vegas in January 2012.  Look for more details on the LP1 Signature phonostage at: www.lammindustries.com.