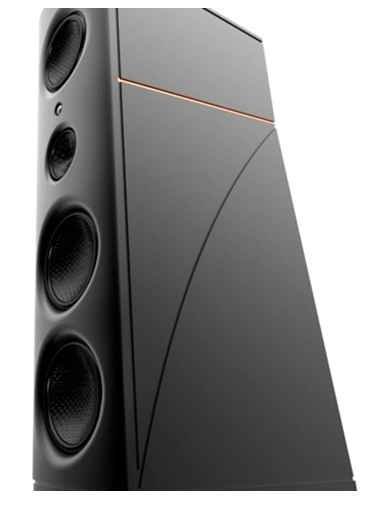 Magico has just announced a new flagship loudspeaker model – the new Q7 Mk II loudspeaker, which takes the place of the Q7 at the top of the heap.  However, owners of the Magico Q7 are being provided with an upgrade path.
The new Q7 Mk II loudspeaker incorporates new features and design elements from Magico's own M-Project that result in significant improvements in sonic performance.  Changes in this MKII version of the Q7 have been made to the tweeter, midrange, and crossover.
The diamond-coated beryllium diaphram tweeter in the Q7 Mk II is a more efficient version of the 28mm tweeter found in the M-Project speaker.  This tweeter has been optimized using state of the art modelling, resulting in what Magico claims to be the lowest distortion levels possible in a high-frequency transducer.  The new 6″-diameter midrange driver features a Graphene-based cone material that is said to be 30% lighter and 300% stiffer than its predecessor.  The Q7 Mk II will also include MCap Supreme Evo capacitors from Mundorf of Germany.
The price of the Magico Q7 Mk II is $229,000 U.S. per pair.  For owners of the Q7, Magico offers a factory upgrade that will bring all the benefits of the MKII version at a price of $44,000/pr.  Look for more details on this and other Magjco products at: http://magico.net.