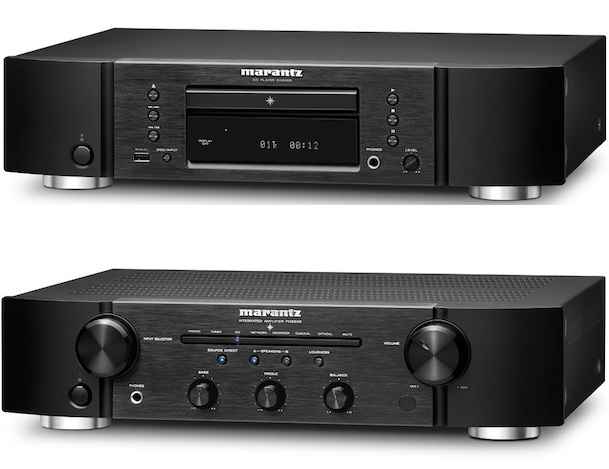 Marantz has just launched their new PM6005 stereo integrated amplifier and CD6005 CD player.  These are the latest entrants to Marantz's line of Hi-Fi Components.  The PM6005 is an updated version of the PM6004 integrated amplifier – adding digital audio decoding, along with Marantz's exclusive HDAM (Hyper Dynamic Amplifier Module) technology.  The all-new CD6005 features advanced audio circuitry, compatibility with compact discs, many files types, files stored on USB memory devices, and portable audio players.
PM6005 Integrated Amplifier:
The new PM6005 adds digital audio decoding via a reference class CS4398 24 bit/192 kHz high current DAC, along with exclusive HDAM (Hyper Dynamic Amplifier Module) technology. The incorporate DAC is accessed via optical and/or coaxial digital audio inputs, while analog inputs are also provided that circumvent the integrated DAC.  
The power supply is equipped with a high current, shielded toroidal transformer and large-capacity Shottky Barrier Diodes that provide high-current and high-speed conversion capability. The PM6005 has two sets of gold-plated speaker terminals for connection to two pairs of loudspeakers, and the all-discrete headphone amplifier is compatible with virtually any headphone type, regardless of impedance or sensitivity. The PM6005 is rated at 45 watts per channel (8 ohms) and 60 watts per channel (4 ohms).
CD6005 CD Player:
The all-new CD6005 features a proprietary Hyper Dynamic Amplifier Module (HDAM) discrete circuit topology along with a high-resolution CS4398 D/A conversion system, which delivers up to 192 kHz/24 bit resolution. 
The CD6005 utilizes a center-mount drive mechanism that is securely fastened to the chassis to minimize vibrations. The digital audio circuit block is housed in its own shielded subsection. The player is compatible with music CDs, CD-R and CD-RW discs, and can play a wide range of file types, including WAV, AAC, WMA and MP3 files. A convenient USB port on the front panel works with many USB memory devices, and is iPod and iPhone compatible.  In addition, the CD6005 player provides a headphone amplifier circuit in a discrete configuration.  A easy-to-read two-line alphanumeric fluorescent display, and remote control is also provided that is compatible with the PM6005 integrated amplifier.
Both the PM6005 and the CD6005 come with a three-year parts and labour warranty and are currently available at the following MSRP: PM6005 – $699 U.S. and; CD6005 – $499 U.S.  Look for more details at: www.marantz.com.