MartinLogan has just announced the new Outdoor Living all-weather speaker system. This high-performance all-weather speaker solution delivers a dynamic and powerful audio experience in demanding outdoor living spaces.
The Outdoor Living system consists of the Outdoor Sat 40 and Outdoor Sat 60 satellite speakers featuring 4-inch and 6-inch woofers, 0.75-inch tweeters, and switchable input including 8-Ohm, 70 Volt, and 100 Volt options; the Dynamo Outdoor Sub 100 and Dynamo Outdoor Sub 120 subterranean subwoofers featuring 10-inch and 12-inch woofers, working in 8-Ohms; and mounting accessories include a ground stake, surface mount bracket, and burial conduit junction.
Available in a dark bronze finish, each of the outdoor satellite speakers are encased in a sealed, waterproof enclosure molded from heavy-duty ABS plastic. The specially designed cabinet allows the speakers to withstand extreme temperatures and offers high UV-stability for maximum durability and years of trouble free operation. Custom engineered polypropylene woofers measuring a true 4- and 6-inches in diameter and 0.75-inch aluminum dome tweeters are designed to withstand severe weather while delivering a richly detailed audio experience. The rear of each satellite speaker is removable, allowing the speakers to be adjusted between 8-Ohm, 70 Volt (3.75W, 7.5W, 15W, or 30W), or 100 Volt (7.5W, 15W or 30W). Each satellite speaker includes a tailored water resistant cover for additional protection during periods of heavy rain or snow.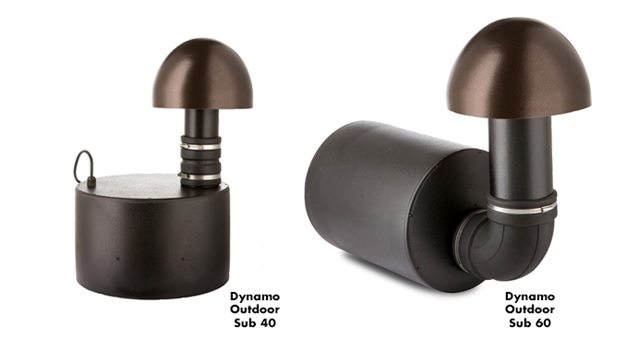 The outdoor subwoofers are designed for subterranean burial, with low-frequency output ported through a discreet dark bronze colored chimney and cap. This design minimizes visual impact of the large subwoofers while delivering a dynamic low-frequency performance with significant impact. Constructed from high-density 5/8-inch polyethylene, the enclosures are engineered for environments with potential high-moisture levels and temperatures ranging from -20°F to 150°F. Designed for 8-Ohm operation, the woofer's polypropylene cone, high-excursion surround, and powerful magnet are specially designed for durability in all-weather applications while producing deep, powerful bass. The 10-inch subwoofer features a bass response reaching down to 30Hz. The 12-inch subwoofer operates down to 26Hz.
Three mounting solutions are available for the Outdoor Living system. Traditional ground stakes allow the satellite speakers to be positioned in any garden bed with a simple installation utilizing buried speaker wires. Burial conduit junctions allow the satellites a more sophisticated installation where speaker wires are routed through buried conduit. Surface mount brackets allow the satellite speakers to be mounted to nearly any surface, whether decking, fencing, a tree, or under a roof's eave.
Designed with scalability in mind, the Outdoor Living system satellites, subwoofers, and mounting accessories are offered in single unit quantities to accommodate all installations from a simple 2-channel topology to complex multi-speaker/multi-subwoofer systems. One bundled solution, the Outdoor Living 4.1 System, is being offered and includes four Outdoor Sat 40, four ground stakes, and a single Dynamo Outdoor Sub 100.
Outdoor Living Speaker Prices (US retail)
Outdoor Sat 40 $299.95/each
Outdoor Sat 60 $549.95/each
Dynamo Outdoor Sub 100 $1,699.95/each
Dynamo Outdoor Sub 120 $2,399.95/each
Outdoor Living 4.1 System $2,899.95/4.1 (4x Sat 40, 4x Ground Stakes 100, and 1x Sub)