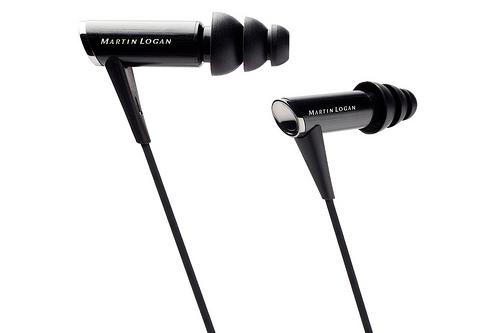 MartinLogan has just announced their new Mikros 70 reference in-ear headphones.  Designed by MartinLogan's in-house team, the Mikros 70 reference in-ear headphones are purported to provide a level of performance that is in keeping with their electrostatic loudspeaker models.  Focus has been given to ensuring a high-level of ambient noise isolation to preserve subtle nuances of recorded sound.
MartinLogan focused on delivering outstanding reference sound with the Mikros 70.  The Mikros 70 body is constructed from black anodized solid aluminum and sealed with metallic hyperblack end caps to isolate ambient noise.  Features include a 90-degree gold-plated plug, tangle-reducing cable slider, and simple, yet durable, black rubberized cord that dampens and isolates noise often transmitted through contact and movement. Included with each headphone is a compact carrying pouch to assure safe stowage when traveling.
Each pair of Mikros 70 in-ear headphones include a variety of ear tips (3 sizes of bulb tips and 2 sizes of flange tips) for a comfortable, snug fit that isolates up to 97.8% of ambient noise and provides outstanding sound quality with extended bass.
Mikros 70's in-line remote/microphone controls volume, play/pause, track selection, voice control, allowing for switching between music and phone calls on compatible Apple devices. The remote and microphone also function with a variety of smart phones, digital media players having a standard 3.5mm 4-conductor socket.
The Mikros 70 is shipping at the end of July with an MSRP of $169 (CAD) per set.
For more information on the new Mikros 70 reference in-ear headphones from MartinLogan, visit their website at: www.martinlogan.com.