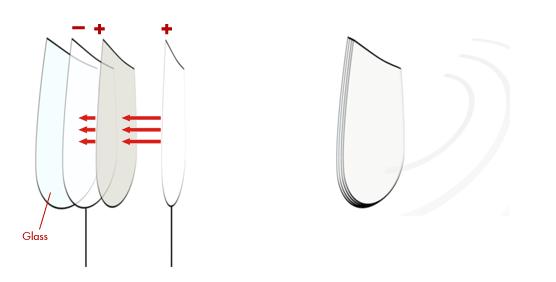 MartinLogan, has announced plans to launch electrostatic speakers for mobile applications such as cars, trucks, and boats. Featured will be their all new VaporSound electrostatic audiophile-grade speaker technology for mobile applications.
Limitations have always existed when engineering the housing for the thin film diaphragm essential to the electrostatic principle. Until now, every electrostatic speaker design in the company's lineup has required the use of rigid semi-transparent perforated steel "stators" between which the conductive 'electrostatic' thin-film diaphragm (the part that makes sound) is sandwiched. While ideal for home use, the material constraints of the manufacturing process have never translated well into applications outside of the living room.
MartinLogan engineers have developed an innovative new patent-pending process of vapor deposition that impregnates a uniformly conductive surface onto a specially manufactured and completely transparent thin-film diaphragm. This diaphragm is laminated between two additional conductive and transparent thin-film 'stators' that replace the rigid steel stators found in a traditional MartinLogan speaker. Measuring only 20 microns thick, the end result looks like little more than a traditional automotive window tinting material but offers the blinding speed, vanishingly low distortion, and audiophile-grade high-resolution sound reproduction capability of MartinLogan's award-winning home speakers.
This technology, called VaporSound, makes it possible to coat glass surfaces inside of automobiles and create an enveloping sound environment (whether 2-channel or high-resolution multi-channel recordings), with no visible drivers or unsightly speakers in the car.
For more details visit http://martinlogan.com/vaporsound.