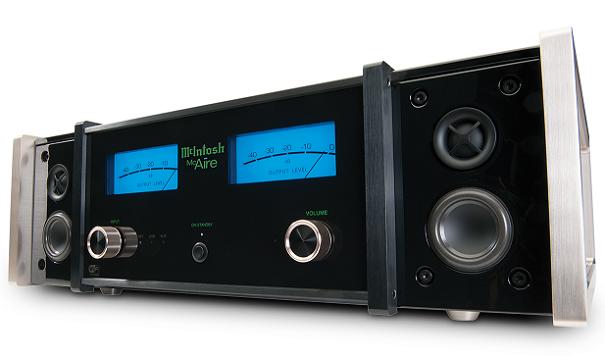 McIntosh Laboratory has just accounced the debut of a unique personal music system named McIntosh McAire.  This compact music system features Apple's AirPlay and allows users to stream music from their iTunes music libraries on Mac or PC, as well as music stored on their iPhone, iPad or iPod touch, though their Wi-Fi network.
McAire is a compact wireless sound system that is said to feature the same premium quality technology of a McIntosh Reference System.  The McAire carries the classic "McIntosh Blue" Output Meters and handcrafted black-glass front panels and is a single unit that eliminates the need for wiring or professional installation.  The McAire system is handcrafted in America. 
Multiple McAire systems can be synced to one device, creating a complete in-house audio system effect. With one simple step, owners and their guests can connect their iPhone, iPad or iPod touch to McAire, allowing anyone within range to unleash their personal soundtrack – anywhere, anytime. Computers and TVs can also be quickly connected for a high fidelity sound experience.
The McIntosh McAire System will be available in Fall 2012 through authorized McIntosh dealers internationall.  Expected MSRP is $3,000 U.S.  Look for more details at: www.McIntoshLabs.com.