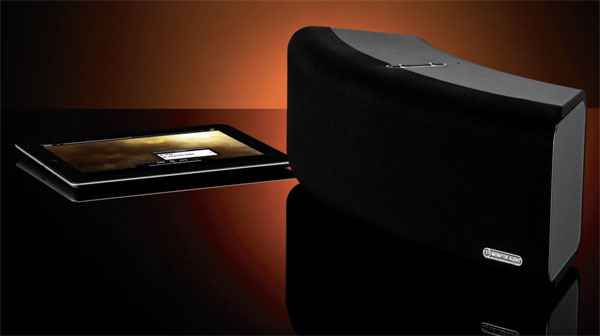 Monitor Audio will be launching several new products at the CE Week in New York taking place between June 26-27.  The new products include a wireless Airplay-enabled amplifier, two wireless Airplay-enable speaker systems, a soundbar and a refined Radius speaker series.  Check out a sneak peak of each product detailed below.
Monitor Audio Airstream A100
The Airstream A100 blends true audiophile sound quality with 21st century technology and style. It's able to drive all but the largest of speakers by generating fifty watts of powerful Class A/B amplification per channel. Class A/B is a purely analogue amplifier design used in the best high-end audio amplifiers. Whichever source you choose, the A100 will render the sound with astonishing scale, detail and drama.
Monitor Audio Airstream S300
The compact, AirPlay enabled Airstream S300 is a powerful new 150W stereo speaker system bristling with high-tech audio design features and easy to use wireless technologies. It provides unlimited access to music streamed from the Internet or stored on computer, smart phone or tablet – and uses a custom-tuned high-caliber audio system to liberate new energy, detail and dynamism from every source.
Monitor Audio Airstream WS100
If you're one of the millions who store and play music from a desktop or laptop, Monitor Audio has designed the WS100 wireless audio system with you in mind. It comprises a pair of stylish cube speakers with amps and wireless receiver on-board. The matching, compact monitors, just 5″ in dimension, are precision engineered to deliver clean wideband lossless audio from any computer in seconds. Simply position the speakers, plug-in the USB transmitter and play CD quality sound wire-free.

Monitor Audio ASB-2 Soundbar
If ever there was a complete home entertainment audio system built for today's media delivery, then the ASB-2 is it. The miraculously compact ASB-2 soundbar combines a high performance active audio system with the very latest wireless streaming technologies in a single, integrated, beautifully engineered design. Apple AirPlay, DLNA and UPnP enabled, the ASB-2 will deliver uncompressed music from files stored on PC or Mac, iPad, iPhone or iPod Touch, Android or Windows phone, or streamed from Internet services. In addition to iTunes and DNLA compatible Apps, Monitor Audio's own Airstream App will send network-shared music archived from CD in uncompressed or high bit rate music formats up to 24/96kHz resolution. Friends can connect and play directly to the ASB-2 without network access via Airplay Direct. Promising effortless and unlimited audio potential for the digitally connected family, the ASB-2 will render high quality cinema sound from Blu-ray, DVD, games consoles, STBs, and richly dynamic music from tablets, smartphones, computers and NAS – even from CD.  At a little over a meter in width and complete with a low-profile silicon rubber stand, the sleekly curved ASB-2 offers an irresistible blend of size-defying performance, easy-to-install lifestyle appeal and comprehensive fuss-free functionality.
Monitor Audio Radius series
In 2003 Monitor Audio launched the first compact lifestyle speaker systems in a wide range of finishes and changed the way the world thought about sound in the home. Inspired by innovation from Monitor Audio's flagship loudspeakers, the class-defining award-winning Radius series was upgraded with sleek new cabinets and drivers in 2008 to create Radius HD, which has enjoyed even wider acclaim, collecting, among others, a coveted Europe-wide EISA award in 2009. Now the trademark Radius blend of great sound and a space-efficient design has been further refined to incorporate all metal drivers and new models fashioned for the demands of today's style-conscious audio fans. Alongside re-vamped Radius 45, 90 and 270 designs, the new eight-strong model line-up includes slimmed-down (to 2.56″ depth) versions of the 225 centre speaker and Radius One soundbar, together with a new Radius 200 centre-channel speaker and two enormously powerful yet super-compact active subwoofers: Radius 380 and 390.
For more info, please visit www.monitoraudio.ca