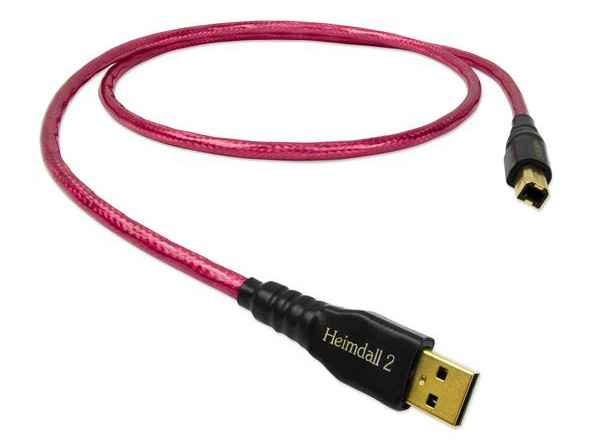 Nordost has just revealed to newest addition to its Heimdall 2 range of products, the Heimdall 2 USB 2.0 cable. For the first time, this new USB cable brings the technological advances and performance advantages of Nordost's Norse 2 family to computer audio.
As the use of music servers, hard-drive stored music and high-resolution audio downloading grows increasingly popular, it is critical to use a high quality USB cable that can meet the demands of music fidelity. This high-end digital cable will deliver ones and zeroes with newfound efficiency and diligence. The Heimdall 2 USB 2.0 cable allows your hifi system's performance to reach a whole new level, untethering you from computer audio's previous restraints.
The Heimdall 2 USB 2.0 capitalizes on Nordost's years of research and testing– perfecting techniques such as their proprietary Dual Mono-Filament technology, dramatically increasing the cable's dielectric. Additionally, the Heimdall 2 USB 2.0 is implementing mechanically tuned lengths, a method used in Nordost's Odin, Valhalla 2 and Norse 2 ranges, which reduces internal microphonics and high-frequency impedance resonance, further elevating the performance capable of this revolutionary USB cable. The Heimdall 2 USB 2.0 is constructed from 4×20 AWG stranded, silver-plated 99.99999% OFC conductors, arranged in a precise, twisted double helix in order to ensure character impedance, reduce noise and minimize cross-talk contamination. Add a dual layer silver foil jacket, silver braided shield, and gold plated, full metal jacket shell connectors, and the Heimdall 2's extreme data transmission speeds surpass USB 2.0 standards. Heimdall 2 USB 2.0 cables are handcrafted in the United States and manufactured in 1M, 2M, 3M, 5M and 7M lengths. The suggested retail price for this product is set at $499.99 US for a 1 meter length while additional meter increments are $100 US.
The Heimdall 2 USB 2.0 is now available for purchase at select Nordost dealers, worldwide. To find the Nordost dealer nearest you, visit the "Where to Buy" page on www.nordost.com