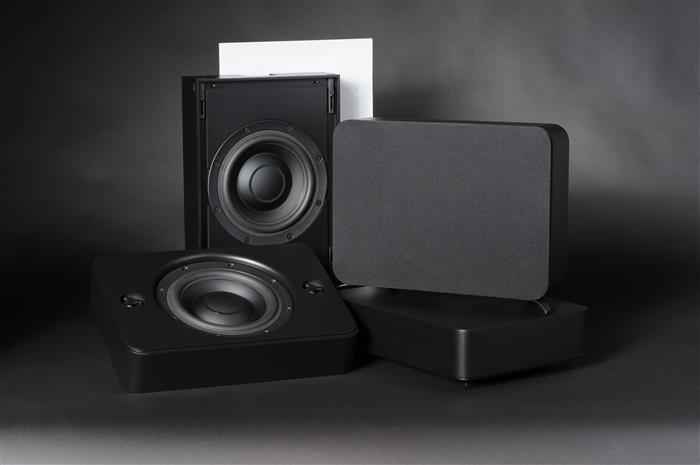 Triad Speakers' latest InRoom and OnWall Bronze SlimSubs are designed to add bass to your entertainment room, without requiring very much floor space.  Like all other Triad speakers, the new models are manufactured in the USA.   Based upon the performance merits of the popular InWall Bronze/4 SlimSub, the new models create a Bronze SlimSub Series that consists of 3 models in total.  Each Bronze SlimSub is paired with Triad's 350-watt outboard amplifier (RackAmp 350 DSP) and priced at $1,500 US for the package.
InRoom Bronze SlimSub
The InRoom Bronze SlimSub can stand upright in the room and at just 4.3 inches deep, it takes up very little floor space.  You can also laid it down horizontally under a couch, in which case you need just 5.1 inches of clearance.
OnWall Bronze SlimSub
Measuring merely 4.4-inches from the wall and available in custom colors, the OnWall Bronze SlimSub is a perfect solution for many ultra-flat TVs using soundbars.  Wall mounting can be easily accomplished with a Triad's EZ Mount Bracket.
Each of the Triad SlimSubs utilizes a proprietary long-throw 10-inch aluminum driver.  All provide deep bass at high volumes – achieving a maximum output of 108 dB from 40-80 Hz with a bass extension of -3dB at 28 Hz.
Available now.  For more info, please visit www.triadspeakers.com
Comments are closed.