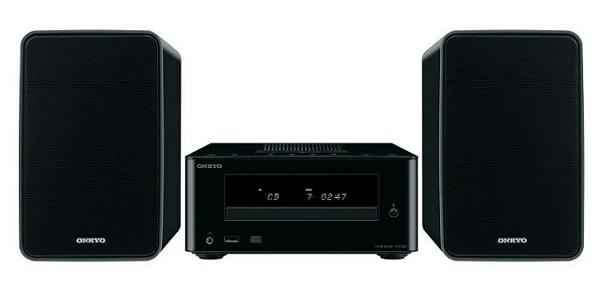 Onkyo has just introduced their new CS-255 CD Hi-Fi Mini-System.  This new system aims at providing a stylish, compact, CD receiver alternative to consumers and includes: certified charging connections for new and legacy iPhone/iPod models; audio playback from compatible smartphones/tablets via USB and; an FM/AM radio with a total of 60 memory presets.
The system pairs a receiver with an efficient digital amplifier to a pair of two-way speakers that utilize a large cone driver in combination with a  balanced-dome tweeter.  Cabinet construction of the speakers uses non-parallel panels with rolled edges to prevent internal standing waves.  The speakers are designed to perform well even at higher volumes – with an airy, pleasant mid-range and punchy bass response.
A Lightning charging dock for iPhone 5, iPod touch (5G), and iPod nano (7G) is included within the receiver's top panel.  The receiver allows for simple navigation to albums and playlists using the system remote controller.  A front-panel USB port allows connection of older / legacy iPhone/iPod devices.  Playback of MP3 files from other compatible smartphones, tablets, and flash memory drives is also enabled via USB. A 3.5 mm stereo analog input is included to connect devices that don't feature the appropriate USB connection.
A selectable two-mode Super Bass function, meanwhile, helps get a firmer grip on kick drums and bass guitar without the muffled boominess, typical of compact systems.  An FM/AM tuner provides for 60 station memory presets.  A front-loading CD player rounds out the convenience list.
The Onkyo CS-255 will be available in sleek hi-fi black beginning this August at a MSRP of $299 U.S.  Look for more information at www.onkyo.com