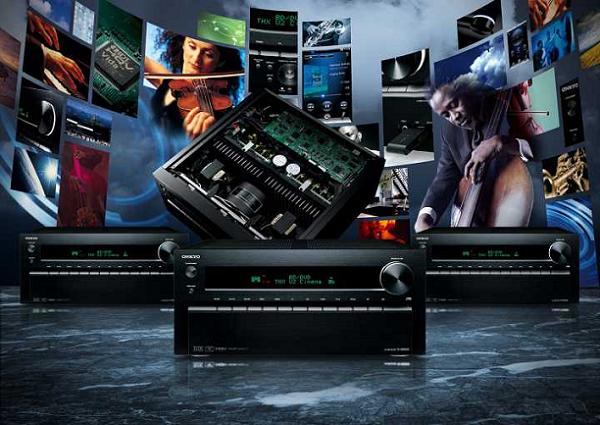 Onkyo, has just announced the release of three new top-of-the-line A/V receivers for 2012.  These three new models include the world's first full 11.4-channel implementation of DTS Neo:X, and the first use of Cisco Linksys' SimpleTap technology in an audio/video component.  This release includes a new lavishly outfitted nine-channel flagship, the stunning TX-NR5010 Network A/V Receiver; a more moderately priced nine-channel alternative, the TX-NR3010 Network A/V Receiver; and lastly, a high-power seven-channel solution, the value-packed TX-NR1010 Network A/V Receiver.
Key Features Include:
– THX Ultra2 Plus certification to recreate the cinematic experience with dynamic Reference Level sound to larger home theaters
– 11.4-channel pre-outs with DTS Neo:X 11-channel upmixing support for both the TX-NR5010 and TX-NR3010, another world first for Onkyo
– First consumer electronics partner to incorporate Cisco Linksys' SimpleTap technology
– Audyssey MultEQ XT32 room equalization with multi-channel upmixing from DTS Neo:X, Audyssey DSX, and Dolby Pro Logic IIz
– An additional HDMI output to enable 1080p playback in a second zone
– InstaPrevue picture-in-picture video input preview and selection technology
– Front-panel Mobile High-Definition Link HDMI port for phone/camcorder
– Extra HDMI inputs to support 3D Video plus Dolby TrueHD and DTS-HD Master Audio (8+1 inputs on all three models)
-Bluetooth 3.0 and aptX wireless audio streaming via optional adapter
The receivers all provide for seamless integration into lifestyle systems with Ethernet for access to preloaded audio streaming channels such as Spotify, and connectivity for smart phones, tablets, and PC via DLNA or Bluetooth.
Onkyo is working with Cisco to incorporate SimpleTap, becoming the first company to integrate SimpleTap technology into CE products. Firmware updates will be available to enable all 2012 Onkyo Network enabled receivers to take advantage of this new technology.
SimpleTap simplifies how AV receivers connected to the Network, so people can instantly enjoy their favorite tunes from music streaming services such as Pandora, Spotify, SiriusXM Internet Radio and many other services.
HDMI connectivity has also been enhanced by adding Zone2 HDMI connectivity that removes the need for a secondary analog connection in order to access audio in a second zone. Powered audio is available in up to three zones simultaneously—with multi-zone playback and setting controls managed by remote app.
The receiver's primary role, however, is always at the heart of the home theater system, as well as providing transcendent stereo playback for music. As audio and video processors, these three receivers are unrivalled in their respective categories.
To conjure up the signature Onkyo sound, audio signals are passed through a sophisticated digital-to-analog conversion stage, with PLL jitter-cleaning, VLSC noise-mitigation, and top-quality TI Burr-Brown DAC modules working to create a pristine analog waveform.
Signals are then amplified through discrete Three-Stage Inverted Darlington Circuitry, with a triple transistor array that cuts distortion and boosts current flow to the speakers. This innovative amplifier design capitalizes on the unique benefits offered by a low negative feedback topology, preserving the life, vitality, and realism of the audio as it was originally recorded. Outputted through discrete transistors, the resulting sound further burnishes Onkyo's reputation as the masters of high fidelity audio.
For optimum video performance, all three models feature Onkyo's Dual Core Video Engine—hailed as the best video processing system currently available. This system pairs the mighty HQV Vida VHD1900 module with Marvell's Qdeo technology for seamless upscaling to 4K. ISF video calibration further enhances smooth and vivid picture quality.
The flagship TX-NR5010 is aimed squarely at the avid home theater enthusiast. As part of the THX certification promise, this receiver is designed to deliver the highest audio and video quality for an unsurpassed home cinema experience right out of the box. Housed in a rigid chassis with separate anti-resonant aluminum top and side panels, the unit has a massive toroidal transformer supported by two discrete transformers for audio and video processing. With gold-plated audio terminals and speaker posts, this unit is fastidiously outfitted to audiophile-grade specifications.
Like its slightly more powerful sibling, TX-NR3010 also boasts multiple transformers for A/V processing, but features a heavy-duty EI transformer in place of toroidal power. All models feature isolated power and preamp blocks to reduce interference with super-rigid chassis to prevent vibration.
A new Differential DAC Mode and Digital Crossover Processing Network are also included on all three models to optimize performance when bi-wiring and bi-amping the front channels—further demonstrating Onkyo's commitment to audiophile-level sound.
All three models boast an exhaustive the list of A/V connections.  In addition to the capacity to link with an iPhone, iPod, or flash memory device, these models include two USB ports in the front and rear to accommodate the UWF-1 Wireless LAN Adapter and UBT-1 Bluetooth USB Adapter (sold separately).
Onkyo made these heavyweights not only the best-looking, best-finished A/V receivers on the market, but also the easiest to set up and use.  The 1080p overlaid display with Quick Set-Up function enables fast mid-program adjustment, while remote control apps for Android-powered phones and iPhone offer access to system settings, as well as playback control from anywhere in the home.
The descendents of a long line of award-winning A/V products, these three unique receivers are a triumph of imagination and engineering, and demonstrate Onkyo's commitment to keeping pace with dynamic and evolving technology while faithfully maintaining its traditional insistence on build quality and complete audio integrity.
The Onkyo TX-NR5010, TX-NR3010 and TX-NR1010 receivers will be available in July 2012 with MSRP of $3599.99, C$2699.99 and C$2099.99, respectively.  Look for more details at: www.onkyo.com.