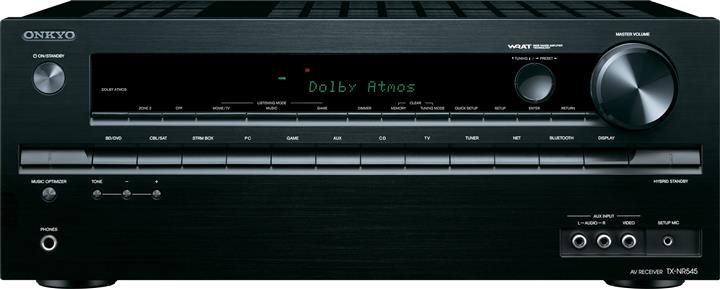 Onkyo has just announced the introduction of three new A/V receivers; a home theater system and a Dolby Atmos 5.1.2 channel speaker set. The new line provides easy set-up and integration with possibilities with legacy systems. Details of these new products are as follows:
TX-NR545 / USA MSRP $599 / CAD MSRP: $749/ Available Now
A network receiver that supports Dolby Atmos; the 7.2-channel TX-NR545 features a 115 W/Ch high-current amplification system. Featuring Wi-Fi, AirPlay, and Bluetooth technology, and users can stream direct to the receiver using Spotify Connect, Pandora and others, or stream audio stored on mobile handset and online music services using the free Onkyo Remote 3 control app.
The TX-NR545 is a 4K Ultra HD video capable receiver that has HDMI and HDCP 2.2 compatibility with one output that can pass 4K/60 Hz video complete with 4:4:4 color space and 21:9 cinema aspect ratio from source devices to display. A premium 384 kHz/32-bit hi-grade AKM DAC unlocks the full potential of all your audio, including multidimensional Dolby Atmos(r), DTS-HD Master Audio(tm), and Hi-Res audio formats. It's also very easy to use as a Quick Setup function lets you adjust settings without interrupting playback.
The TX-NR545 also features a USB port supporting multiple audio formats via flash-memory and the updated AccuEQ room acoustic correction easily calibrates and equalizes the speaker system to the room.
TX-SR444 / USA MSRP: $499 / CAD MSRP: $629/ Available Now
The 7.1-channel TX-SR444 delivers 115 W per channel through a discrete high-current amplification system. It is currently the most inexpensive Onkyo receiver to support Dolby Atmos and has been completely redesigned to simplify connection and operation for first-time users while still featuring HDMI and HDCP 2.2 compliance for 4k Ultra HD entertainment.
Legacy inputs for connection of older devices and HDMI up-conversion make connections easy. The receiver has a rear-panel Streaming Box port that supplies power to media streaming sticks, adding apps for on-demand media.
HT-S5800 / USA MSRP: $799 / CAD MSRP: $939 / Available end of June
The HT-S5800 5.1.2-Channel Dolby Atmos Home Theater Package features a 115W/Ch A/V receiver that connects all your media players and sends video to the TV via a single HDMI cable. Media sticks can be plugged directly into the Streaming Box port for immediate playback. The system comes with a precision wall-mountable Dolby Atmos 5.1.2 speaker system. AccuEQ optimizes the sound to suit the unique shape of your room. The speaker set and A/V receiver ship with a gloss-finished powered 120 W subwoofer and all the necessary cables in a single carton.
SKS-HT594 / USA MSRP: $599 / CDN MSRP: $799 / Available end of June
The SKS-HT594 5.1.2-channel speaker system is ideally suited to any Dolby Atmos-ready A/V receiver. The six-piece speaker package reproduces everything from multidimensional Dolby Atmos(r) soundtracks to MP3s streamed from your phone with utmost precision. Each two-way front speaker houses a 12 cm driver and 2.5 cm balanced-dome tweeter, and incorporates an up-firing 8 cm woofer separately powered by the receiver's height channel. These woofers bounce discretely mixed sound objects from the ceiling, and allow elements within the soundtrack to pass seamlessly from speaker to speaker above and around the audience. Joining two compact, wall-mountable surround-sound speakers and the dual-drive 2-Way center speaker is a powerful 10-inch subwoofer delivering up to 120 W of wall-shaking bass.
TX-SR343 / USA MSRP: $399 / CDN MSRP: $429 / Available Now
Recognizing that some consumers may find setting up and using their first A/V receiver a bit intimidating, the company took a fresh approach in designing its base model 5.1-channel A/V receiver, the TX-SR343. To that end, the rear panel has been completely revamped with input and output terminals clearly labeled and illustrated for easy setup. Because the receiver up-converts analog video, all media players (including VCRs and legacy gaming consoles) can plug directly into the receiver, with all video routed to the display via a single HDMI cable – eliminating unsightly, dusty cables running to a wall or stand-mounted flat-panel display.
Users can also add full wireless audio and video streaming capabilities (such as the Google Chromecast) via a dedicated rear-panel USB port supplying 5V power to the device. Adding to this capability is built-in Bluetooth with DSP Music Optimizer to enhance lower-quality compressed audio streamed from smartphone applications or PC.
As well offering DTS-HD Master Audio(tm) and Dolby(r) TrueHD decoding with 100 W/Ch of discrete high-current amplification, the TX-SR343 comes with all the features expected of a modern A/V component, including 4 in & 1 out 4K Ultra HD / HDMI / HDCP 2.2; a high-quality TI Burr-Brown DAC, multiple DSP listening modes, Virtual Surround mode for 2.1-channel setups, and ample connections for media players.
For more information on Onkyo's complete line of products, please visit:http://www.onkyousa.com and http://www.onkyo.ca in Canada.