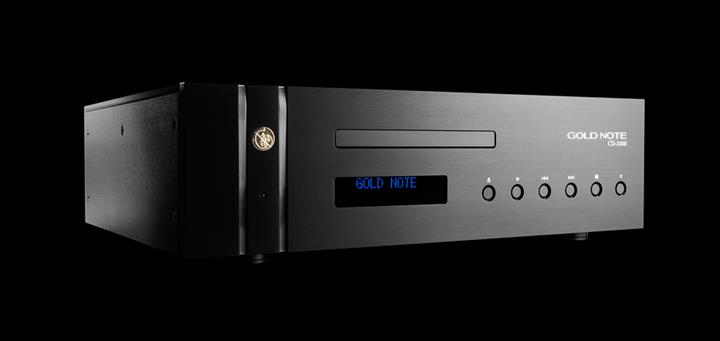 Gold Note – Italian manufacturer of electronics, loudspeakers, DACs, turntables cartridges & tonarms – recently became available to Canadian music lovers thanks to distributor Tri-cell Enterprises. One of the latest additions to the company's growing line of products is the CD-1000 CD player, which Gold Note calls the "most flexible and greatest CD Player available on the market."
The player features a state-of-the-art digital and analogue stage, and a unique modular design exclusively modeled for the 1000 series that allows upgrading of component modules to achieve the highest level of audio performance.
The modular design offers the following upgrades:
Two unique optional external Class A tube output stages based on 8 or 12 tubes (TUBE-1008 and TUBE-1012)
Two optional external super power supplies, the PSU-1250 offering 250 Watts and the PSU-1100 offering 100 Watts
Two external Atomic Master Clocks, the Caesium-based CLK-1055 and the Rubidium-based CLK-1037
The CD-1000 output stage is a fully balanced solid state design, utilizing Dual-Mono PCM1792A DACs (the same D/A converters used in the Favard CD player). Optionally the CD-1000 can be outfitted with one of two balanced Class-A tube output stages. The higher level upgrade, the TUBE-1012, features 12 double triode tubes.
The standard CD-1000 is powered by a proprietary Dual-Mono two-transformer power supply which keeps the voltage of the unit extremely stable on all the audio signal paths, achieving a high level of sonic performance. The internal power supply enables the CD player to keep speed fluctuations extremely low. Optionally, the CD-1000 can be upgraded with one of two external power supplies – the PSU-1250 which outputs a massive 250 Watts or the PSU-1100 which outputs 100 Watts. Both power supplies help achieve an even greater level of performance by providing the additional power, insulation from the AC system and shielding from RFI and EMI.
The CD-1000 also features a proprietary Gold Note output design called the Zero-Clock which enables a very effective jitter reduction. The Zero-Clock powers a T.I. CDCE906 Clock Master Generator that reshapes the clock every time the unit plays music, allowing the digital audio signal to be perfectly aligned with the D/A converter, guaranteeing the best audio purity and realism. Alternatively, the CD-1000 can be equipped with an upgraded super external atomic master clock to further reduce jitter problems. The CLK-1055, which is made with a Caesium mineral, guarantees the lowest error of digital signal transfer possible.
For more info, please visit www.goldnote.it