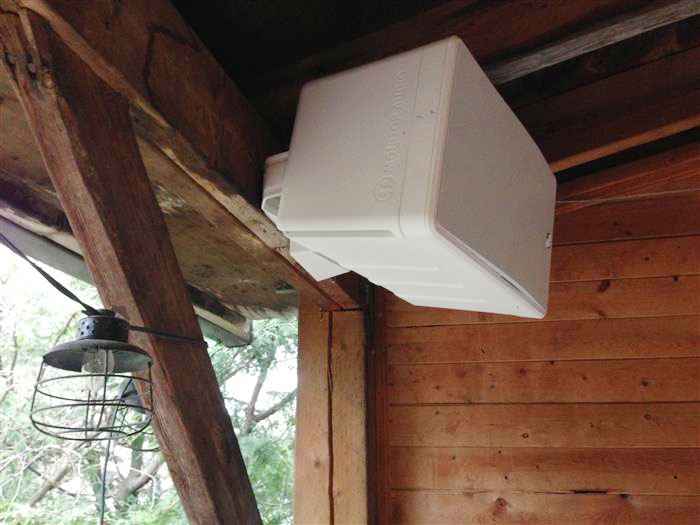 Finally summer has returned up here in the northern hemisphere! We want you to have the best time while you're outside this summer, so we've put together some great sounding ways to bring your music with you. This guide will take you on an exploration of everything that you'll want to consider so you can experience quality sound outside, anywhere you'll be this sunny season.
A speaker isn't just a speaker, especially when we're outside. An outdoor speaker is significantly different than an indoor one, as a lot goes into ensuring it is weatherproof, and making it sound good in open air. When choosing an outdoor speaker, how much you spend dictates how weatherproof they are, what the speakers connect to, and obviously how good they sound. The range is from a small portable speaker with a headphone jack, to a solar powered Bluetooth speaker you can basically take swimming, to a multi-channel system that wirelessly integrates with your home and can withstand a hurricane. Whatever your situation, this guide will help you find enhanced ways to enjoy your music outside.
The most important factors in choosing an outdoor speaker:
How big is the space?
What is your music source?
How much exposure to the elements?
Permanent or portable?
Your Outdoor Space
There are unique challenges to designing a speaker to be used in open air. The main challenge is volume. Outside, sound waves can spread their wings and fly away, as opposed to bouncing around inside of a room. For the same reason, bass feels especially light when you're outside. The main rule about volume is if you need more of it, you need more speakers. For the majority of settings, a single speaker can provide enough volume for a small group of people. In a bigger space, it's best to have speakers on multiple sides of you so one area won't be deafening while another area is too quiet, making it easier on your ears and your gear.
Outdoor Speaker Placement Tips
Keeping in mind how open air affects the volume and quality, where you place the speaker(s) can have a surprising impact on their performance. To prove this to yourself, play music straight from your phone's tiny speakers and then put your phone into an empty glass or bowl. See how much louder your music gets?
The basic rules of outdoor speaker placement are to put your speakers above you, and against something. Height is important as focusing a speaker down, towards your listening area will give you better sound and more volume than if the speaker is facing the sky (you can also try this with your phone). If you're installing speakers on a wall, they should be mounted about 10 feet high, and angled down toward the listening area. Even if you're listening to a portable speaker, giving it a bit of height and angle will help, and some portable speakers have built-in straps for mounting. If you're mounting speakers try to do so under a roof overhang, placed close to the wall, or best, in a corner – remember the bowl. This will help with weather protection, sound quality, volume, and bass response. Thankfully, outdoor subwoofers are also available. Even ones that shake the earth, literally – you bury them.
The Music Source and Portable Outdoor Speakers

Now it's time to think about how you'll get your music to the speaker. If you're listening to AM/FM radio, CDs, or the TV, you'll likely have to connect your outdoor speakers to your existing AV receiver. Nowadays, most people have music stored digitally on their smart phones and tablets, so naturally the producers of outdoor speakers have developed slick ways of integrating with your device. Most wireless speakers available today allow you to stream music from you device of choice through a Bluetooth or NFC (Near Field Communication) connection.  Some wireless speaker can also stream music from your home network.  With older portable speakers that don't offer wireless connectivity, you'll have to connect the headphone output of your device to the speaker using a 3.5mm cable.
Some portable speakers offer a voice-activated noise-cancelling microphone, effectively turning the speaker into a speaker phone.  This can be very handy if someone calls your phone while you're listening to music.
To enjoy music outside, the most cost effective option is to use a portable speaker. While there are many portable speakers on the market, going for one that is built for outdoor use is recommended since they will inevitably get dropped, dirty, or wet. Portable speakers range from about $100 to over $400, with the sweet spot landing somewhere around $150. For this you should get a decent sounding Bluetooth speaker that'll survive being outside. Your main consideration should be space. There are some very small and light weight speakers available, the trade-off is sound quality and battery life.
You'll likely come across an IPX rating, which is worth paying attention to as it describes how resistant the device is to water and dust. Basically, you'll want IPX4 or higher for outdoor use. The rating goes from 0-8 for waterproofing, and 0-6 for dustproofing.
Two examples of what you can get in the $100-$250 range for portable outdoor speakers come from Braven and Eton. Eton makes a speaker with a sustainable design element, as their competitive advantage is that they are solar powered.  Eton makes solar powered models starting with a small and lightweight portable model called the Rugged Rukus, ranging to the company's flagship model the Rukus Xtreme. Perhaps the most highly awarded outdoor portable speaker as of this writing comes from a company called Braven. The Braven BRV-1 and is rugged, sounds good, allows you to stream wirelessly from your smart phone / tablet, and is light and small. The newest addition is the BRV-X and is the big brother to the BRV-1, with drivers are twice the size and they've added a subwoofer. Both are IPX5 rated, and come with a nylon strap to mount the speaker to things. Cool! Check out our preview of the BRV-1 and two other products from Braven HERE.
If you lead a more active lifestyle, exercise can now usually be accompanied with your music (even while swimming). One of the more innovative outdoor speakers is made to go in the water bottle holder of your bicycle. The Scosche boomBOTTLE ($149.99 CAD) will also work very well as a speaker to take anywhere. Being light and compact with a speaker at either end of the "bottle", and a ported subwoofer in the middle, it pumps the volume loud enough to keep you rockin' out, and pedaling hard.