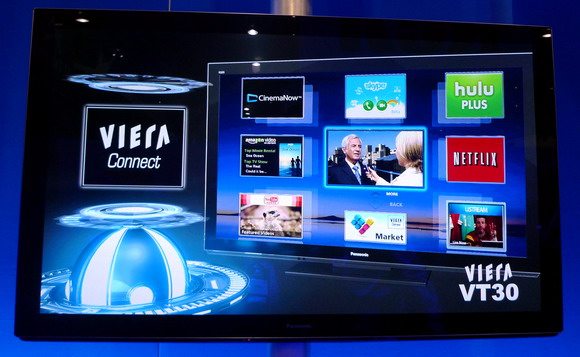 This past January, Panasonic revealed its 2011 line-up of product at the CES.  Yesterday during an event in New York, the company revealed the suggested US pricing of all of these products.
Most of the TVs in this year's line-up will offer a more advanced VieraConnect (connected TV) feature.  At launch time some 30 apps are expected to be available as well as access to an app store which will enable the download of new features and apps in the future.
Among the VieraConnect apps will be sports apps offering out-of-market season viewing passes to MLB, the NBA, the NHL, MLS and Fox Sports.
Panasonic will also be stepping up its presence on the LCD TV side this year with screen sizes ranging up to 42 inches and introducing in select models 3D capability for the first time.
Panasonic's four new Blu-ray players, meanwhile, continue to offer the VieraCast platform in three top-end models and a more basic-level streaming service in a fourth entry piece. Three of the four players also offer FullHD 1080p 3D playback capability with onboard 2D-to-3D conversion at full 1080p HD resolution.
New plasma models feature Panasonic's new improved NeoPlasma panels with a new faster switching speed for reduced power consumption at the same high brightness levels, while LCD TVs feature IPS-Alpha technology, including model series for 1080p LED 3DTV, 1080p LED 2D and 720p.
New LCD TVs are highlighted by the company's first models to include FullHD 1080p LED edge-lighting, and the new VieraConnect IPTV apps system.
Panasonic's 2011 TV and Blu-ray player line-up will shipping between March and June:
FullHD (1080p) 3D plasma:
TC-P65VT30 (65-inch), shipping in May at a $4,300
TC-P55VT30 (55-inch), shipping in April at $2,800
TC-P65GT30 (65-inch), shipping in May at $3,700
TC-P60GT30 (60-inch), shipping in May at $2,800
TC-P55GT30 (55-inch), shipping in March at $2,200
TC-P50GT30 (50-inch), shipping in March at $1,900
TC-P65ST30 (65-inch), shipping in May at $3,300
TC-P60ST30 (60-inch), shipping in May at $2,400
TC-P55ST30 (55-inch), shipping now at $1,800
TC-P50ST30 (50-inch), shipping now at $1,500
TC-P46ST30 (46-inch), shipping now at $1,300
TC-P42ST30 (42-inch), shipping now at $1,100
1080p FHD 2D plasma:
TC-P60S30 (60-inch), shipping in May at $1,900
TC-P50S30 (50-inch) shipping now at $1,100
TC-P46S30 (46-inch) shipping now at $950
TC-P42S30 (42-inch) shipping now at $800
720P HD Plasma:
TC-P50X3 (50-inch), shipping now at $800
TC-P46X3 (46-inch), shipping in March at $700
TC-P42X3 (42-inch), shipping now at $600
FullHD (1080p) 3D LCD:
TC-L37DT30 (37-inch), shipping in April at $1,300
TC-L32DT30 (32-inch), shipping in April at $1,300
FullHD (1080p) LED LCD TV:
TC-L42E3, (42-inch), shipping in March at $950
TC-L37E3 (37-inch), shipping now at $800
TC-L32E3 (32-inch), shipping in March at $700
TC-L42E30 (42-inch), shipping now at $1,100
TC-L42D30 (42-inch), shipping in April at $1,150
TC-L19C30 (19-inch), shipping in May at $250
720p LCD TV
TC-L32C3 (32-inch), shipping in March at $400
TC-L24C3 (24-inch), shipping in June at $300
TC-L37U3 (37-inch), shipping now at $600
TC-L32U3 (32-inch), shipping in March at $500
TC-L40U30 (42-inch), shipping now at $800
TC-L32X30 (32-inch), shipping in March at $500
Blu-ray Disc players:
DMP-BDT310, shipping in May at $250
DMP-BDT210, shipping now at $200
DMP-BDT110, shipping now at $150
DMP-BD75, shipping now at $100