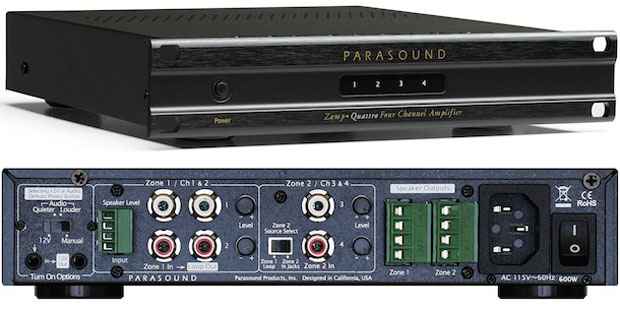 Parasound has just added the Zamp Quattro, a four-channel/two-zone power amplifier to its popular Z-Custom line of half-rack-width components. The Zamp Quattro expands the company's "Zamp" amplifier concept with more channels, more power and more versatility.
The Zamp Quattro retains rugged Parasound build quality and use of premium parts throughout as well as versatile turn-on, signal routing and hookup options. Unlike most Class D amplifiers for CI that are based on inexpensive car audio chips, the Zamp Quattro's Swedish Class D uses only high-grade parts. With additional output filtering the result is a great sounding amp that produces very little heat, is stable with low impedance loads and is protected from short-circuited speaker wires.
In addition to RCA line input jacks, it includes speaker-level inputs to integrate with receivers lacking pre-amp outputs. Channels 3 and 4 can be connected with RCA jacks or to a bus from Zone 1. Level controls are rear-mounted to avoid client tampering. Automatic turn on options include a 12-volt and an ultra-sensitive audio trigger. Speaker outputs are 10 amp terminal blocks for convenience when connecting speaker wires.
The Parasound Zamp Quattro is available in a black half-rack width rack-mount capability. Optional accessories are a matching blank panel to rack mount a single set, a panel coupler to rack mount any two Z-Custom models and the half-rack width Zrack to mount up to five Z-Custom components.
The Parasound Zamp Quattro Parasound four-channel power amplifier begins shipping this week with a price of $650.  For more information, check out www.parasound.com