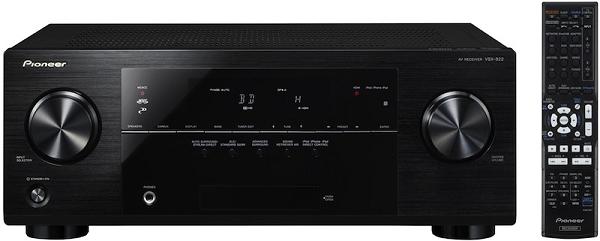 Pioneer Electronics, has just announced four new 5.1 and 7.1-channel audio video receivers to be added to their Pioneer AV receiver line-up.  The new 2012 AVRs offer features and connectivity consumers are demanding for iPad, iPhone and iPod touch devices.  Pioneer has designed the new AVRs to work seamlessly with the capabilities of iPad, iPhone and iPod touch.  The four new receivers and associated U.S. MSRP are as follows: VSX-522 ($249), VSX-822 ($379), VSX-1022 ($449) and the VSX-1122 ($599).  Features will include Apple's Airplay(R), DLNA(R) 1.5, 3D HDMI connectivity, Internet radio, and more.
All models are equipped with a front USB input. The VSX-822 and above models include a USB/video cable for easy, out-of-the-box connectivity, battery charging and quick access to music libraries in iTunes.
Starting with the VSX-822, consumers can wirelessly bring their entire iTunes library into their home theater system using the receivers' built-in Apple AirPlay(3) technology. The music from iTunes can be quickly accessed through a personal computer or an iPad, iPhone or iPod touch, and the album art and audio metadata can be displayed on a connected monitor/TV(4).
With the exception of the VSX-522, the new line of receivers are also DLNA Certified (1.5), enabling music content to be shared from a networked Mac or PC, iPad, iPhone or iPod touch via the consumers' home network, either through an Ethernet connection or optional wireless WiFi adapter for VSX-1122 owners.
Adding more music options to the lineup, the VSX-822, VSX-1022 and VSX-1122 include vTuner Internet radio for accessing thousands of web-based radio stations around the world as well as featuring other Internet radio based music services such as PANDORA(R). The three models are able to play high bit-rate stations and can be controlled by Pioneer's control apps.
 Starting with the VSX-822 and up, consumers can stream their music from their Bluetooth enabled devices (optional AS-BT200 Bluetooth adapter required). In addition, Pioneer's Air Jam app, available from the App Store on iPad, iPhone and iPod touch, lets users pair up to four devices via Bluetooth. Once connected, each user can cue songs from their music libraries to create a collective playlist to play back on their A/V Receiver.
For VSX-1122 consumers, Pioneer makes the installation process simple by providing an interactive owner's manual that uses a consumer's PC or iPad to communicate directly with the receiver, walking the user step-by-step through the home theater set-up procedure.
The new receivers can reproduce high-resolution uncompressed WAV and FLAC files up to 192kHz 24-Bits from both the front USB and network on the top three high-end models.
Available on the VSX-1122, Pioneer's proprietary Phase Control automatically adjusts for the time delay of the subwoofer output so consumers hear a ore accurate, robust and fully balanced 7.1 and/or 7.2 multichannel set-ups.
To deliver the highest quality audio possible, Pioneer leverages its nearly 75 years in amplifier design. Direct Energy amplifiers are designed to minimize the signal route between signal inputs, amplification, and speaker outputs, reducing internal and external distortion to produce a cleaner sound with high dynamic range.
All new Pioneer receivers support the latest HDMI specification and offer more HDMI inputs than ever before, with the VSX-1122 offering seven inputs for a wide range of connectivity options. They also feature a new HDMI Standby Through mode that allows high definition audio and video to pass through the receivers while in the Standby mode. Pioneer receivers also include an Audio Return Channel feature to accept audio signals sent from a compatible TV's tuner back to the receiver via a single HDMI connection.
Pioneer's new ControlApp and latest generation iControlAV2012(5) App give users even more control of their receivers and home theater settings from the convenience of their iPad, iPhone, iPod touch. With ControlApp, available for the VSX-822 and VSX-1022, users can turn the receiver on and off, adjust sound modes, change inputs and control Internet radio and DLNA streaming content. The new iControlAV2012 app featured on the VSX-1122 provides additional receiver control on the iPad, iPhone, iPod touch. With this app, consumers also have access to the receiver's advanced sound features such as Sound Explorer, which displays more than 18 of Pioneer's unique sound adjustment functions on one screen, and Virtual Speakers, which allows users to create their ideal sound field, even when real speakers are not set up. Both apps are available for free from the App Store on iPad, iPhone or iPod touch or at www.itunes.com/appstore.com .
The VSX-1122 delivers a great picture from any source with Pioneer's Advanced Video Adjust suite of high definition video adjustments and 1080p/24fps video conversion as well as Pioneer's exclusive Stream Smoother feature that enhances low bit-rate video sources.
The new models are designed with a new modern brushed finish to match any home theater and will be available at authorized Pioneer retailers in March 2012.
Look for more details at: www.pioneerelectronics.com .