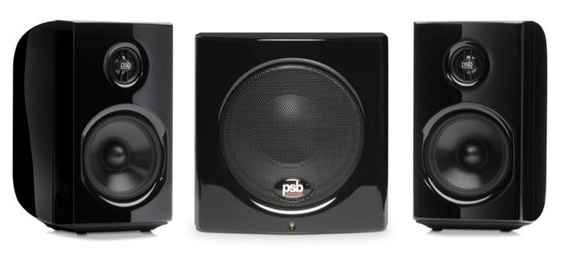 PSB Speakers has just announced a new offering within their Alpha speaker series.  The new PSB Alpha 1-100 Powered Media System pairs PSB Alpha PS1 desktop active speakers ($299) with their new SubSeries100 micro subwoofer ($249).
The Alpha 1-100 is a complete and compact audio solution with high performance to satisfy the music lover and meet multi-media /computer / gaming needs.  The PS1 provides a sonic upgrade path for any device with a headphone output.  Its driver complement sports a 3 ½" metalized, polypropylene cone woofer with oversized magnet structure paired with a ¾" aluminum tweeter.  Within the speaker is an integrated highly efficient 2 x 20W power amplifier.  A universal power supply works with any AC voltage, making it travel friendly.  
The system comes in gloss black with a curvaceous form that is set to please. Dimensions are: 7 7/8" (H) x 4 1/2" (W) x 6 7/8" (D) and the construction maximizes internal volume for optimal bass response. 
The SubSeries 100, an ultra-compact subwoofer and is a totally new subwoofer design from PSB that features a 5 ¼" woofer which is computer optimized to maximize bass extension and dynamic range without distortion. An innovative filter pole shifting technique is used to squeeze the maximum deep bass from the specially engineered drive unit. The efficient and cool running 50W (continuous) Class D amplifier is capable of 100W dynamic peak power with the amp specifically matched to the driver.
Finished in striking high gloss black, SubSeries 100 measures a mere 6 3/8″ wide x 6 3/8″ high x 7 7/8″ deep that allows maximum internal volume for impressive bass response yet small enough to be placed easily on a desktop. A black metal screen is added to protect the woofer and it comes supplied with a subwoofer cable for easy connection.
The PSB Alpha 1-100 Powered Media System is available now at a MSRP of: $499.  Look for more details at: http://www.psbspeakers.com/.