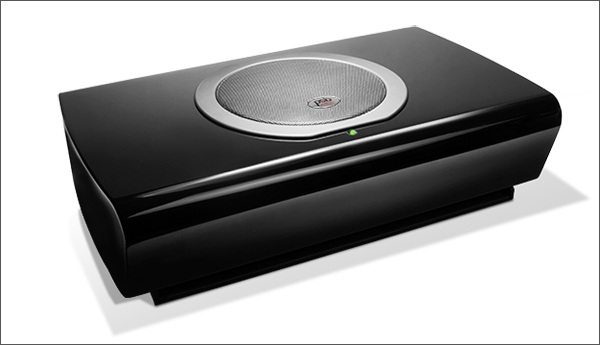 PSB Speakers has just announced their new SubSeries 150 compact subwoofer. This new model was designed with flexibility of placement in mind, having a low-profile, gloss black cabinet that can be placed vertically, horizontally, face-up, under furniture or even hung on a wall.
The SubSeries 150 has been designed to deliver clear, powerful, deep bass, regardless of its small size and low cost. Performance is facilitated by a custom-designed 6 ½" polypropylene cone woofer and high temperature voice coil with a vented pole piece. A 100-watt (continuous) 200-watt (dynamic) amplifier provides robust power.
At just over 13 lbs and measuring only 17 1/8" wide by 10 7/8" high and 3 7/8" deep, the SubSeries 150 is a compact low-profile place-anywhere subwoofer. Finished in a rich gloss black, the sub works in both open space as well as in concealed (even underneath furniture) locations.
As an additional solution, the SubSeries 150 can also be mounted on virtually any wall in the home. For ease of mounting installation, the sub comes supplied with a convenient mounting bracket to make the job simple and secure.
For added convenience, the sub includes Auto On/Standby and top-mounted controls for volume, crossover and Variable Phase from 0-180°. In Standby mode, power consumption is rated to be below 0.5w so need to constantly turn the sub on and off.
Features:
•Versatile mounting options from wall mount, flat on floor, to standing freely on its supplied feet
•Allows subwoofer to be out in the open or concealed (i.e. under a couch)
•Robust 100 watt amplifier with peak output of 200 watts
•Custom designed 6 ½" woofer with polypropylene cone
•Auto On/Standby
•Stylish, curved, gloss black cabinet
•Final voicing performed by Paul Barton at Canada's famed NRC
The PSB SubSeries 150 subwoofer will be available in April 2015 for $499. Look for more details to be shared at: http://www.psbspeakers.com/