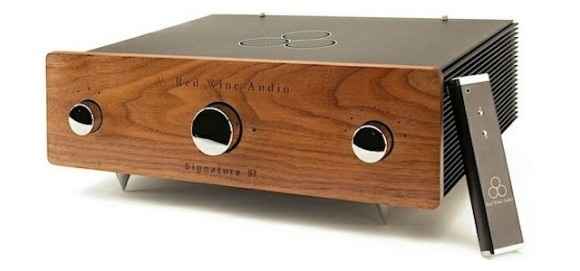 Red Wine Audio has announced the imminent availability of their new Signature 57 Integrated amplifier.  The new Signature 57 is purported to set a new performance / value level for high-end amplification.  Making it unique amoung competitor integrated amplifiers is the Signature 57's ability to run entirely "off-the-grid" on a high-current LiFePO4 battery.
The Signature 57 outputs up to 57 watts (RMS) / channel into 8 ohms or 115 watts / channel into 4 ohms via a discrete Class AB MOSFET .  It is also capable of driving a 2 ohms load with even high output power, allowing it to drive speaker that have challenging impendence curves.
Red Wine Audio indicates that the Signature 57 is the closest a consumer can get to the sound of Red Wine Audio's own flagship Liliana monoblock amplifiers, within a single one-box integrated solution. 
The base Signature 57 has four analogue inputs and is available in cherry, maple and walnut finishes.  The new Signature 57 supports Red Wine Audio's add-in options i.e. Belina DAC ($1,500); Analogica phonostage ($1,000) and; the Cassabria single-ended headphone stage ($500).
The base Signature 57 is currently available at a MSRP of $3,995 U.S.  Look for more details at: www.redwineaudio.com.