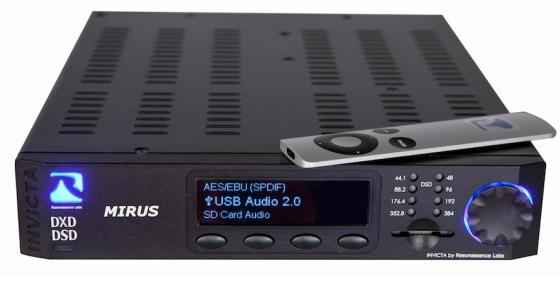 Resonessence Labs has announced a new entrant to their Invicta product line – the Invicta Mirus DAC, as well as improvements to their line of Invicta products.  The Mirus is targeted at audiophiles that strive to get the highest level of performance from digital based music.  The new Invicta Mirus has two ESS Sabre 9018 chips running in parallel providing a total of EIGHT 32 bit DACs per channel.
With the lastest Invicta firmware and hardware, the Invicta series now includes: 
– revised PCB's 
– ESS Sabre DAC ES9018 headphone output
– front panel displaying with high sample rate LEDs.
– supported DSD (both 64 and 128) via USB or the SD Card source with DFF and DXF formats on the SD Card
– sample rate of up to 384kS/S
– front panel with thermal resistance and high IR sensitivity
– operation via Apple Remote Control
– white OLED display
In addition, the new Invicta Mirus incorporates:
– a second ESS Sabre DAC ES9018 added to the back-panel XLR and RCA outputs, with the headphone jack removed
– eight ES9018 channels for each stereo output.
– reduced THD and noise vs. other Invicta models
Resonessence Labs will provide a firmware upgrade for earlier generation Invicata products that adds the same DSD, DXD, 352.8kS/S and 384kS/S capabilities to those previous generation models.  
The new Invicta and Mirus  products are priced at $4,995 U.S. and will start shipping at the end of May. Look for more details at: www.resonessencelabs.com.