Samsung is determined to stay ahead of the pack at this year's CES with the introduction of some interesting new home entertainment products.  Among these is the world's biggest 110-inch 4K (Ultra HD) TV, a 105-inch curved Ultra HD, the Samsung Shape wireless audio-multiroom system, the HW-H600 Sound Stand, a newly designed Smart Control, the HT-H7730WM Home Entertainment System, and the MX-HS8500 GIGA Sound System.
Samsung 110S9, 110-inch 4K (Ultra HD) TV
Apparently since Samsung showed its 85-inch S9 UHD TV at various shows around the world, many VIP customers have been expressing interest in even larger flat screen TVs.  To satisfy these customers Samsung has developed the 110S9, a 110-inch, 800-megapixel UHD screen, which claims the title of the largest Ultra HD TV in the world.  Though this large of a screen may not fit into many homes (or budgets), the 110S9 is expected to be purchased by government institutions, agencies and companies around the world.  The new high-end product hits the markets in China, the Middle East, and Europe beginning on January 30th.  Price for such luxury you ask?  A cool $150,000 US!  Us everyday people better take a look at Samsung's 55-, 65- or 85-inch UHD TVs.
Samsung 105-inch curved Ultra HD TV
If you believe that the future of home entertainment is curved then you'll be intrigued by Samsung's 105-inch curved Ultra HD TV.  Rather than offering the standard 4K resolution of 3,840 x 2,160 pixels, this TV ups the resolution to 5,120 x 2,160 pixels.  This gives the screen an aspect ratio of 21:9 (wider than the standard 16:9 TVs), and increases the pixel count from 8 million to 11 million.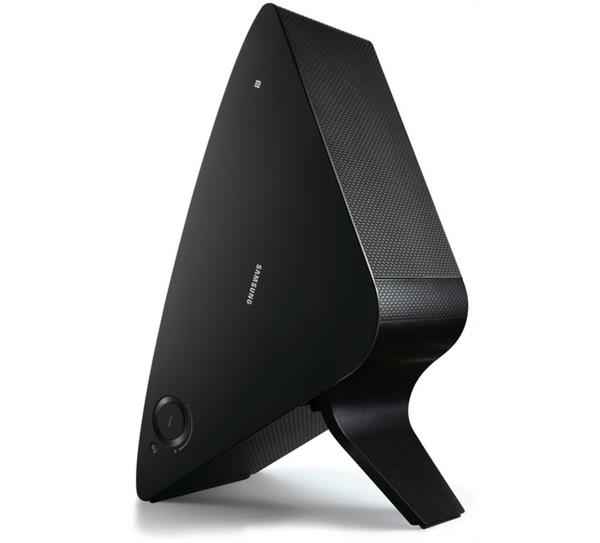 Samsung Shape Wireless Audio-Multiroom System and Soundbar
Samsung's Shape wireless speakers are taking aim at the Sonos range of multi-room audio products.  At the 2014 CES the company will be launching its new three-driver M5 wireless speaker ($TBA) to compliment its larger M7 wireless speaker ($399 US) launched in October 2013.  These speakers can be used along or in combination with the $49 US wireless hub to form a wireless multi-room audio system.  To set up a multi-room system, simply plug the wireless hub into your home router and place the M5 or M7 speakers in any rooms in your home.  Then download the free iOS or Android app which will allow you to control playback of music stored on your smart phone, your home network and various online music services like Amazon Cloud Player, Pandora, Rhapsody, and TuneIn.  Its out-of-the-box aesthetic allows the speaker to be placed in a horizontal or vertical position – which makes it great for smaller spaces.
The Shape product range will also include a device called the Samsung Connect Box, which will allow you to integrate Samsung Shape streaming audio to an existing home audio system, much like the Sonos: CONNECT.  The ConnectBox is simply a streaming device, which does not have amplification or speakers built in, and can be connected to any existing music system.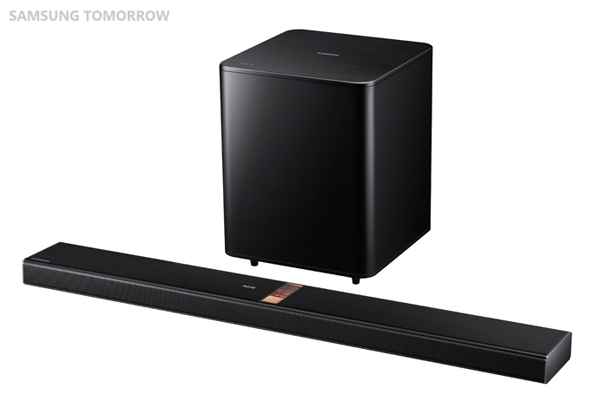 Then there is Samsung's HW-H750 Soundbar that aims to amplify any home entertainment experience with 320W of sound. Promising high quality to enhance the home theater experience, the Soundbar combines the warmth and natural sound of analog with the latest digital audio technology to deliver a rich and powerful sound. With its sleek, metallic design, the HW-H750 is destined to look as good as it sounds paired with a large screen TV. The unit also is compatible with Samsung's growing roster of Shape Wireless Audio-Multiroom products to further expand music options in the home.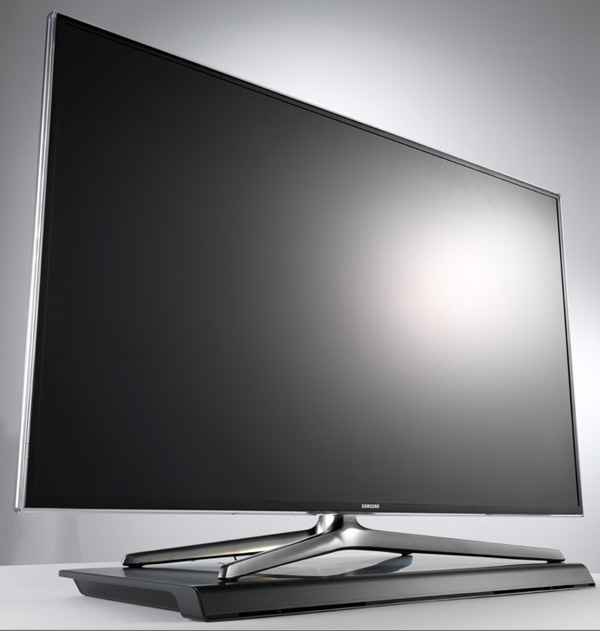 Samsung HW-H600 Sound Stand
Entering a new product category, Samsung will also be showing its new HW-H600 Sound Stand designed to fit under TVs ranging in size from 32 inches up to 55 inches. Its Multi-direction technology provides rich 4.2-channel sound in a sleek, low-profile (1.4") design. It's the perfect accompaniment to a bedroom TV, or a main TV in a smaller space, where a complex sound system won't fit.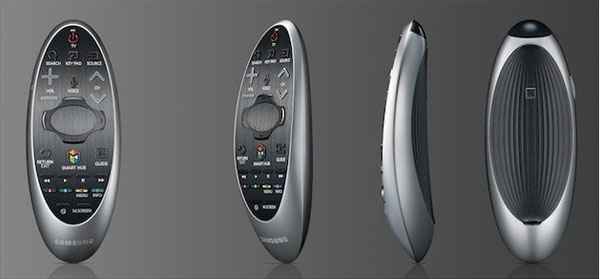 New Samsung Smart Control for 2014
At this year's CES Samsung will also be showing its new Smart Control, the latest iteration of the company's TV remote.  Aside from a brand new look, the new remote promises faster and more accurate control features, better content selection, and an improved design.  It also features gesture recognition, Voice Interaction functionality, a new button console and a touch pad.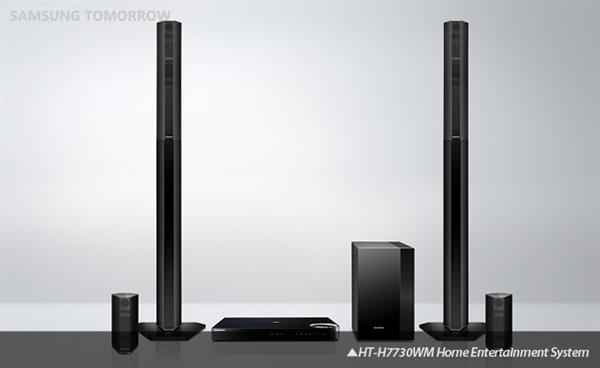 Samsung HT-H7730WM Home Entertainment System
With a stunningly expansive sound field and audio technology exclusive to Samsung, the HT-H7730WM Home Entertainment System delivers a sonic boom in home entertainment with a host of key features. Partnering with leading digital audio developer DTS, Samsung is the only consumer electronics brand to offer the new DTS Neo: Fusion II codec for 2014. This truly state-of-the-art technology creates virtual 9.1 channel output by interpolating source material and turning it into an auditory experience with such depth and direction that the listener can't help but be swept into the action. Imagine the sound of helicopters approaching, flying overhead and then departing in the distance behind the listener as if standing directly below. Such directionality is made possible by Samsung's expansion of the sound ceiling from just the front to the rear as well.
Powering the HT-H7730WM is an amplifier that gives listeners the best of two worlds – the warmth of analog vacuum tubes and the power and efficiency of digital amplification. Discerning listeners will appreciate the natural, full-range sound with virtually zero distortion and no active-induced clipping.
The impressive tallboy speakers house not only midrange drivers and tweeters, but also front height speakers that can be angled upward to create height channels that enhance the immersive surround sound experience. As a result, true 7.1-channel surround sound is achieved with only 6 speakers (2 tallboys, 2 wireless rear satellites, 1 center and 1 sub-woofer.)
The system's Blu-ray player features Samsung's proprietary UHD Upscale Processor, which generates true-to-life pictures with vivid colors. The HT-H7730WM offers twice the resolution than that of conventional 1080p video, and is capable of upscaling standard-definition and high-definition content to Ultra-High Definition (UHD) – four times the resolution of 1080p – making it compatible with UHD TVs. This UHD upscaling capability also means that HT-H7730WM owners will be ready for the next generation of television viewing.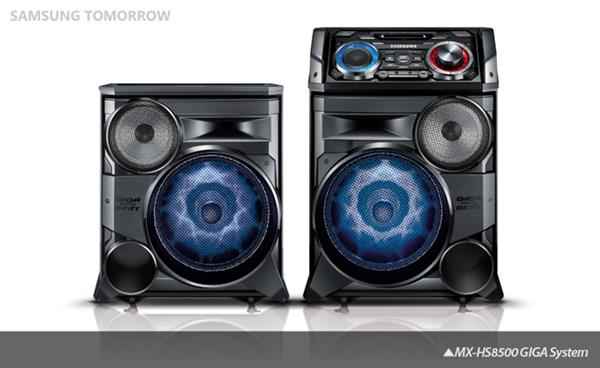 Samsung MX-HS8500 GIGA Sound System
As the world's first main body-integrated component audio system on wheels, the MX-HS8500 GIGA System goes anywhere big-time sound and incredibly versatile mood-altering lighting are in demand. At 2500W, the MX-HS8500 offers portable heart-pounding power that is more than enough to rock the entire house with amazing sound.
An array of superbly engineered speakers gives the MX-HS8500 its booming voice. Cloth wave edge technology lightens the weight of the vibration system and increases the sound pressure level, creating exceptional audibility that's both potent and punchy. Also, with a multiplex pulp speaker diaphragm, Samsung achieves both the stiffness and elasticity essential for strong and clear bass sound. The 15-inch subwoofers reach way down to 35 Hz to make party-goers feel the bass lines deep within their bones. Whatever mood the environment calls for, the MX-HS8500 delivers with a host of lighting effects. Eight different DJ effects, including a panning feature that can be combined with seven more effects, provide 15 ways to create just the right ambience.
Even when the party's over, grab the handle and keep going! Sports fans and movie lovers can wirelessly connect the MX-HS8500 to supporting Samsung TV to create an immersive sound adventure with no loss of sound quality, thanks to Samsung's new proprietary Bluetooth Hi-Fi Codec.