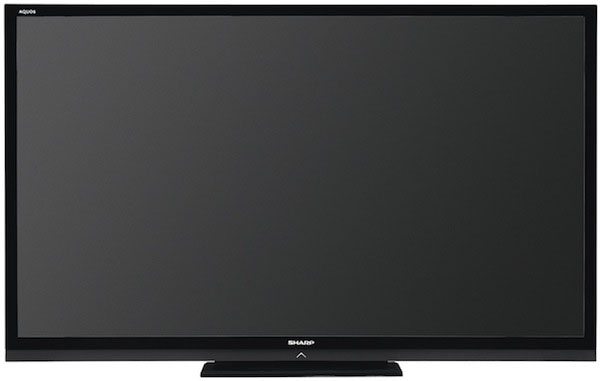 If you aspire to a video wall rather than just a TV, you might want to take a look at Sharp's new mammoth 70-inch TV.  Sharp has just announced that it is shipping its 70-inch class (69 ½" diagonal) AQUOS Quattron LED LCD TV, model LC-70LE732U, the largest LCD television on the market with sixty-two percent more viewing area than a 55-inch model. The LC-70LE732U retails for $3,799.99 US. The company also announced its plans to ship three more 70? class LCD TVs this summer.
With full HD 1080p resolution, full-array LED backlighting and Quattron Quad Pixel Technology, Sharp's enormous 70? class TV promises a viewing experience that cannot be matched. Built-in WiFi delivers convenient network functionality such as video streaming from the Internet and throughout the home, as well as Sharp's acclaimed AQUOS Advantage Live(SM) customer service.
Sharp's proprietary Quad Pixel Technology adds the color Y (yellow) to the three colors of R (red), G (green), and B (blue) of the traditional television pixel structure. This technology enables the reproduction of colors that have been impossible to portray using conventional LCD displays, such as the brass color of musical instruments. The addition of the yellow sub-pixel also allows more light to pass through to the panel. Sharp's advanced pixel control technology minimizes light leakage while offering a wider aperture to let more light through.
The LC-70LE732U offers built-in WiFi and access to on-demand movies through Netflix, VUDU and CinemaNow and to the best apps like Facebook, Pandora, Twitter, and Flickr through VUDU Apps, as well as AQUOS Advantage Live remote online customer service.
Four HDMI inputs enable simple single cord connections to multiple HD components, such as Blu-ray Disc and DVD players, set top boxes and video game consoles. The LC-70LE732U includes IP Control which enables a PC or Control Panel to control basic TV functions, video and audio equipment, and lighting via the Ethernet terminal or wireless LAN connection using its built-in WiFi.
The LC-70LE732U boasts extremely low power consumption and is ENERGY STAR qualified, meeting the industry's highest energy efficiency specification.
Sharp will extend its line of 70-inch class AQUOS Quattron LED LCD TVs this summer with the LC-70LE735U (3D), LC-70LE734U and LC-70LE733U models. Each will offer full HD 1080p image resolution and employ Quattron Quad Pixel Technology, and they will feature built-in WiFi and access to the best internet content services. All three models will begin shipping this summer.
For more info, please visit www.sharp.ca.