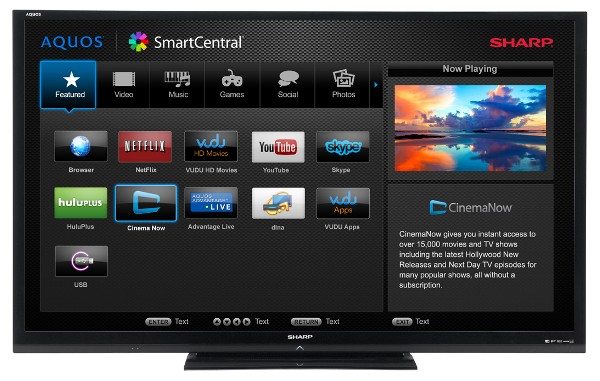 Sharp has just announced the Canadian availability of its new 7 and 8 Series of AQUOS TVs. Sharp says that its family of big screens, which includes 60, 70 and 80-inch models, is the largest portfolio of big screen TVs available to Canadian consumers and is the only portfolio to offer 70 and 80-screens in Canada.
A big screen doesn't require a big space. With Sharp's advanced HD large screen technology, the size of the room is less of a factor than ever before. In fact, you only need to have 10 feet of viewing distance from your 80" TV to enjoy a seamless, beautiful picture.  The experts at Sharp Labs have studied large panels and their requirements in term of viewing distance from all angles and recommend a viewing distance of 1.5 times the diagonal screen size. 
The new products available include the first 80-inch TV with Sharp's proprietary Quattron 4 colour Technology as well as Quattron Quad Pixel Plus II technology, which offers superior control over sub-pixels providing greater detail, smoother lines and better colour transition. Quattron adds the yellow to the standard red, green and blue colour filter allowing the system to display a vast array of colours, such as the golden yellow colour of brass instruments, Caribbean blues and sunflower yellows.
Sharp's AQUOS Quattron 8 Series 3D LCDTVs with LED backlight come 60, 70 and 80 inch screen sizes and also offer a sleek look with a newly designed ultra-slim bezel while sporting a black brushed aluminum finish. The AQUOS Quattron 8 Series employs 240Hz is 3D enabled and provides built-in WiFi along with SmartCentral, a newly designed easy to use intuitive and customizable user interface providing easy access to all of the online capability consumers expect in at TV today. The 8 Series is available now.
LC-60LE845U for an MSRP of $3099.99
LC-70LE845U for an MSRP of $4199.99
LC-80LE844U for an MSRP of $6499.99
Also available today are Sharp's AQUOS 7 Series 3D TVs in 60 and 70 inch screen sizes The 7 Series features Sharp's high-performance AQUOS XGEN LCD Panel, full HD 1080p and 120Hz refresh rate while featuring WiFi, SmartCentral,  four HDMI inputs and the newly designed ultra-slim bezel.  The Sharp AQUOS 7 Series 3D TVs are available now for:
LC-60LE745U for an MSRP of $2599.99
LC-70LE745U for an MSRP of $3699.99
For more info, please visit www.sharp.ca