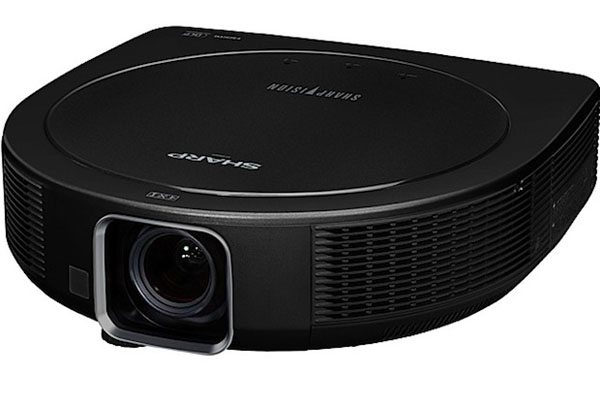 Sharp has just unveiled its latest 3D high-definition DLP home theater projector. The XV-Z30000 features 50,000:1 contrast ratio and 1600 ANSI lumens to deliver superior brightness, astounding clarity, and colour accuracy.
Part of the XV-Z30000's superior picture quality is due to the DLP advantage. All Sharp front projectors incorporate mirror-based components that use light more efficiently by bringing more light from lamp to screen. In addition, with Sharp's proprietary digital image ICs, the XV-Z30000 reproduces high quality 3D picture with low cross talk and flicker.
The projector's lens functions also make it a good choice for those looking for a high-quality home theater experience. It features flexible installation with center lens and lens shift; the center lens design allows for easy adjustment; and the wide range horizontal and vertical lens shift function allows for flexible installation. In addition, with the motorized lens shift function, customers can select their preferable setting position. The projector also has control function with Creston, Control 4, AMX, and RS 232C port and LAN control via network.
Adding to the XV-Z30000's appeal is its ease of use. With the wide range 2x optical zoom, users can select the preferable ceiling mount position in the room. Or, for spontaneous projection, the projector is portable and can be positioned on a table. The resize function (V-stretch) allows users to choose a 2.35:1 wide aspect image (Cinema scope). It also includes a One Touch Play function, which automatically turns on the projector when the user pushes the playback button of the playback equipment. Also, the System Standby function places the playback equipment into standby mode when the projector is turned off.
The XV-Z30000 offers extensive connectivity with two HDMI inputs. To further enhance the viewing experience, two sets of 3-D glasses are included. The XV-Z30000's other included accessories are an IR emitter, IR emitter cable, remote control, and two R-6 batteries.
The XV-Z30000 will be available in March 2012 for $4,999 US.
For more info, please visit www.sharp.ca.