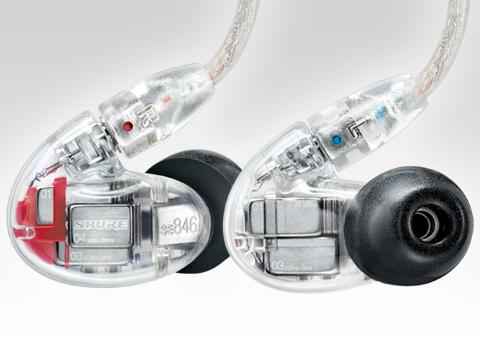 Shure Incorporated, has just announced that they will be introducing their latest addition to their Shure Sound Isolating Earphone line – the SE846. The SE846 will take the place as Shure's flagship universal-fit earphone, supplanting the SE535. The most notable feature of the new SE846 is that it is a quad-driver, three-way arrangement that incorporates what Shure brands as a "true subwoofer". Details on this new earphone are as follows:
• Low-pass filter enables low-end roll-off at ~3 dB at 90 Hz (~10 dB at 250 Hz);
• Ten precision-welded, stainless steel plates form 4″ of acoustic mass pathway to roll-off low frequencies from 75 Hz without distortion;
• Adjustable sound signatures via included changeable nozzle filter inserts (balanced, warm, and bright);
• Lightweight, low-profile shape with optimized nozzle angle for comfort/fit;
• Over-the-ear cable loop configuration;
• Durable Kevlar reinforced cables;
• MMCX connector with lock-snap mechanism allows easy replacement and 360-degree rotation;
• Two included cable lengths (45″ and 60″) for flexible wearing options;
• Comfortable sound isolating sleeves block up to 37 dB of ambient noise;
• Removable cable and nozzle components for increased life and easy and efficient cleaning;
• Rugged, ergonomic housing with sweat-resistant construction;
• Crystal-clear housing allows a view of the precision-engineered components.
The new Shure SE846 earphone will be available in June 2013, with pre-orders now being accepted at some retailers. MSRP is yet to be formaly announced but it appears that the SE846 will be priced at $999 U.S. Look for more details to be shared at www.shure.com.