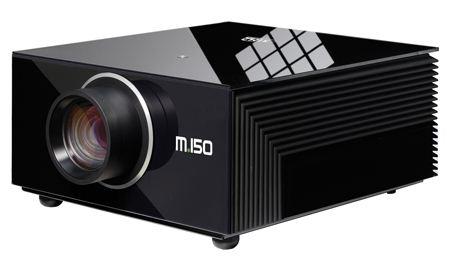 Reported to be the first active 3D LED projector, the just officially released SIM2 M.150 projector was recently shown for the first time at last weeks Bristol Show in the U.K.
A huge benefit of the LED projectors is that the LED light source is designed to longevity and generally to last the lifetime of the projector product. In the case of the SIM2 M.150, it means a LED life of 30,000 hours, which in days of use at say 8 hours / day turns out to be about 10 ¼ years of life. This beats having to change what can be costly bulbs in a traditional projector, much less, having to live with down time, while you locate and purchase and replace the bulb.
The LED technology, along with no lamp changes offers things such as: instant on/off, lower power consumption and superior black levels. Three Phlatlight LED modules are used for both light and colour source for the DLP chipset.
Other technical highlights include the latest TI Darkchp4 chipset with DynamicBlack technology, giving a claimed contrast ratio of 100,000:1. A light output rating of 1000 ANSI lumens, autocalibration and a 'paint with light' feature complete package.
At present, only U.K. pricing has been release at: £19,995. Not cheap for sure but we can only hope that with more units sold prices will eventually come down on such technology. As well, we can always hope for trickle-down technology to benefit more modestly priced projectors.
Look for more details at: www.sim2.it