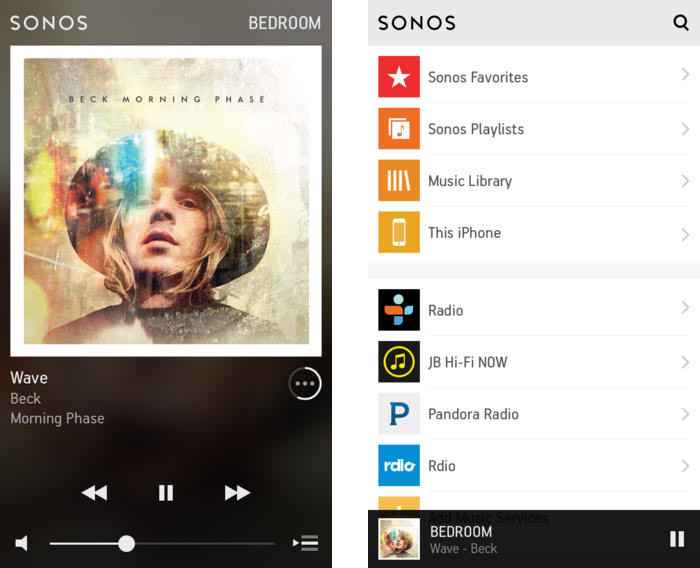 The Sonos multi-room music system is all about giving you access to the music you desire and providing the best possible experience.  It allows music lovers to access all the music on Earth – from the iTunes library, to the NAS drive, to the latest and greatest music streaming services or internet radio from around the world.  Much like the new CANADA HiFi website, the new Sonos apps offers a refreshed interface that makes music control easier and more pleasant than ever before.  The new app features a new music services which include Google Play Music, MLB, Beats Music and Shuffler.fm. It allows us to enhance the functionality of our Sonos components, with new functions offered by the button formerly known as mute.  The new Sonos app is now available for iOS and Android devices.
Discover the new Sonos app by trying these six things today:
Explore the World's Most Popular Streaming Music Services

: Explore 38 (and counting) music streaming services worldwide on Sonos, including many that offer a free experience like Songza, Hype Machine, Pandora, Google Play and Shuffler.fm. Just select Add Music Services from the Menu.

Try the Universal Search

: Only Sonos offers one window to quickly search across all your music services. Start typing an artist and discover their new album, radio station and more. Search for a track and discover all the versions across services including live performances, remixes and covers. Click the search icon in the top right corner of the Menu.

Now Playing Shortcuts

: Enjoy simple one-touch control from the Now Playing screen. Touch the info button to add tracks to playlists, save to favorites and more. Easily turn on shuffle, repeat, cross-fade or set timers at the bottom of the Now Playing window.

Playlists

: Bring your favorite music together across sources, blend tracks from Beats Music, Spotify and  your iTunes library – all into the same playlists. Easily add to your playlists from selecting track info in the Now Playing screen and manage them from the Menu.

Alarms

: Wake up to the music you love and schedule it to come on automatically whenever you want and wherever you want, like when you get home from work. From the bottom of the menu screen, set multiple alarms on as many speakers as you like.

Rooms

: It's easier than ever to control all the rooms in your home from a single touch in the new app. Play different music in each room or group them to play the same song simultaneously. Tap the top right corner from the Now Playing screen.
The new app is now available for download in the App Store and from Google Play. For more info, check out www.sonos.com/music#play
Comments are closed.