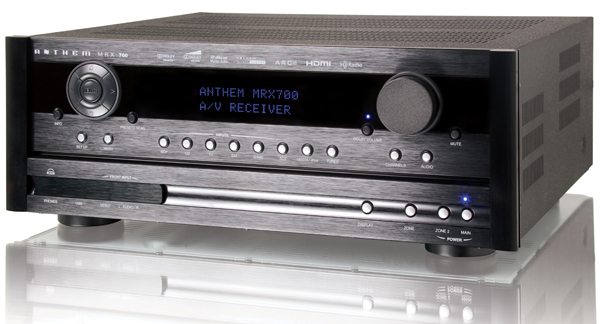 An AV receiver is the brain and arguably the most critical part of a modern home theatre. This single component takes care of amplification, audio/video switching, surround format processing and provides inputs for all audio and video sources. In addition to all of this, the latest AV receivers offer automatic speaker calibration, video processing, iPhone/iPod integration as well as home network and Bluetooth connectivity. Whether this is your first AV receiver or you already own one and are looking to upgrade, the following guide will assist you in making the right decision.
Sound Quality: Above all, an AV receiver should be chosen for its sound quality and there is only one way to judge this – you have to listen to it. It's likely that you'll be using the receiver for both watching movies and listening to music, so make sure to evaluate it using both movie soundtracks and music discs. We suggest listening to several receivers from different manufactures because the sound characteristics between manufacturers are distinct. What sounds great to you, may not be the preference for someone else. When auditioning a receiver, listen for accuracy (neutral tonal balance that is smooth across all the frequencies), imaging (the ability to create a 3-dimensional soundstage, with instruments and movie sound effects appropriately placed within it), attention to detail (the ability to reproduce subtle musical details) as well as dynamics (the ability to reproduce subtle dynamic contrasts). A great receiver should be able to make music listening emotional and place you right in the middle of the action when watching movies.
Many low and mid priced receivers fall short on the quality of their processor and preamp sections. If the receiver is connected in a showroom, turn the volume half way up and balance all channels using the test tones (just using your ears). Then switch the receiver to a surround sound mode with no source playing. Walk around the room and listen for any noises coming from each speaker. If you do hear noises, the receiver likely has a noisy preamp section. In a midway position between all speakers listen for excessive background noise as well. Usually rear channels are most obvious. If you hear any hissing from the speakers, chances are this will annoy you in the long run while listening to surround sources.
The next thing to do is to make sure that the amplifier can deliver clean power to the speakers. Play a CD that has heavy bass. Listen to the bass notes for strain or clarity, and impact or the lack of it. If the notes seem to strain or lack impact, this indicates a weak power supply. Next listen to the midrange and high frequency notes. The midrange should have a good balance throughout the 200 Hz – 4 KHz bandwidth and should be free from excessive boosting or attenuation in the frequency spectrum. The high frequency (above 4 KHz) should sound airy, natural and not overly bright. Receivers that sound bright may be tiring to the ears and must be carefully paired up with speakers that have a subtle nature in the high frequency spectrum.
Power: Most people know that a receiver with a higher power rating (watts per channel) can be turned up to be louder. However, what a lot of people don't realize is that increased amplifier power produces a much cleaner, more dynamic sound at any volume. When comparing power ratings between receivers, it is important to verify that they are measured uniformly. For example, typical mass market receivers rate each amp at 0.7% THD at 1KHz as opposed to a full bandwidth (20Hz to 20kHz) under acceptable THD audible limits (<0.1%). This is why a $300 mass market receiver appears to deliver as much or more power than a receiver twice the price. THD is the degradation of the output signal; usually expressed as a percentage. The smaller the THD rating of a receiver, the better quality sound it produces. Receivers with high THD ratings produce sound that sounds distorted (regardless of the volume level). The amount of power that you'll need should be determined by the size of your room, speaker impedance and speaker sensitivity. The larger the room, the more powerful of a receiver you will need to fill it with clean sound. Speakers with an impedance of 4 ohms (which are considered difficult to drive) require a lot of current, which most entry-level receivers cannot deliver. To power speakers with 4 ohm impedances, you will have to turn to mid or higher-end receivers. Finally, the less sensitive your speakers are (measured in dB), the more power you will need to drive them at a given volume.
Surround Sound Decoding: If want to experience the highest quality audio available today on Blu-ray discs, you'll want to make sure that the AV receiver can decode Dolby Digital Plus, Dolby TrueHD, DTS-HD and DTS-HD Master Audio. The Dolby Digital TrueHD and DTS-HD Master Audio are both uncompressed formats which deliver sound bit-for-bit the same as the studio master soundtrack. These uncompressed formats offer a significant improvement over the audio formats found on standard DVDs and go a long way to heightening the home theatre experience. Aside from these audio formats, all modern receivers should be able to decode the various incarnations of older Dolby Digital and DTS formats.
THX certification: THX is a home theatre component certification program created to ensure the high quality audio and video technology used in films is more accurately reproduced in a home theatre setup. THX certified components sound more natural, produce a more distinct dialogue, less distortion and reproduce the lowest bass notes with more precision and clarity. A THX logo on the front panel of the component indicates that the component is THX certified. Five different THX certifications exist, indicating performance categories based on room size. The "THX Certified" logo is found on components that are recommended for setups where the screen viewing distance is 6-8 feet. "THX-Select" and "THX-Select2" are recommended for viewing distances of 10-12 feet, and "THX Ultra" and "THX Ultra2" are intended for viewing distances of greater than 12 feet.
Dolby Pro Logic IIz and Audyssey DSX Decoding: Many 7.1-channel or better AV receivers now offer to decode these new audio formats. Dolby Pro Logic IIz can expand a 5.1 system to 7.1 channels by deriving two additional front height channels. Audyssey DSX, which provides additional expanded front width and/or height channels, can expand a home theatre system to include up to 9.1 channels of sound. Neither of these formats however provides discrete audio information to any of these additional channels since movies don't come encoded with these extra channels – these additional front/height channels are derived from the existing 5.1 or 7.1-channel soundtracks.
Number of Channels: Entry-level AV receivers offer 5(.1) channels of amplification but most models now offer 7(.1) or more. You'll need a 7.1-channel or better AV receiver if you plan to use more than 5 speakers and a subwoofer in your home theatre, if you plan to run a multi-room system or if you'd like to take advantage of formats such as Dolby Pro Logic IIz and Audyssey DSX.
Remote Controls: A universal remote, supplied with most AV receivers, will let you take control of several components but the components have to be from the same manufacturer. A programmable (or learning) remote will let you control just about any component by any manufacturer. A higher-end remote with an LCD screen will tell you at a glance what component is on and what it's doing. Remotes with backlighting (for the buttons) are incredibly useful in the darkened home theatre setting.
Inputs: Make sure that the receiver has enough HDMI (and legacy) inputs and outputs to connect all of your existing components to it and provide a few additional inputs for future upgrades. Having all your components connected to the AV receiver will allow for a quick, easy control of your entire home theatre. The latest AV receivers offer HDMI 1.4 or better connectivity, which will allow you to connect a Blu-ray 3D player (older HDMI versions will not). HDMI is the latest connection that carries both audio and video signals in a single cable and majorly simplifies how a home theatre is connected. All up-converting DVD and Blu-ray players have to be connected using an HDMI cable for the up-conversion to work. Today, several versions of the HDMI connection exist – so if you want to future-proof your investment, make sure that the AV receiver offers the latest version.
In order to enjoy high resolution audio from DVD-Audio and SACDs, the receiver must have multi-channel analogue inputs or HDMI version 1.2 or better inputs. Some Blu-ray players also require analogue inputs to send high resolution audio to the receiver. If you plan to connect a turntable in your setup, look for a receiver that has a Phono input. Otherwise, you will need to purchase a separate phono stage. Of course, outside of these connections the receiver should also offer a healthy number of composite, S-video and component inputs and outputs to ensure compatibility with older components. Finally, if you plan to listen to XM or Sirius satellite radio, make sure that the receiver is compatible with these services, to simplify their operation.
Outputs: Most AV receivers offer one HDMI output and one component video output, which are sufficient for most users. However it is not uncommon for those with dedicated home theatre rooms to have both a TV and a projector in the same room. Realizing this, many higher-end AV receivers now offer dual HDMI or component video outputs.
iPhone/iPod Connection and Control: If you own an iPhone or iPod that's loaded with music, you'll want to make sure that the AV receiver offers a direct connection that's compatible with your model/version of the device. An iPhone/iPod connection is offered by a means of a dedicated cable or a docking station (sometimes included with the AV receiver, but most often sold separately). In most cases AV receivers with a dedicated iPhone/iPod connection will allow you to use the receiver's remote to select songs, fast forward, rewind and control the volume. Some receivers will even display song information and album art on the TV screen.
Some manufacturers are beginning to offer a downloadable app from the Apple store for the iPhone and iPod touch which turns the device into a full function remote control. It is likely that all AV receiver manufacturers will follow suit very shortly.
Some AV receivers come with a sound enhancing feature for compressed digital music – which is great to have if you plan to connect your computer, an iPhone/iPod or an MP3 player to the receiver. These features use various algorithms that generally restore sound pressure and smooth jagged artifacts left from sound compression.
Ethernet, WiFi and Bluetooth Connections: Mid to higher-end AV receivers now come equipped with an Ethernet connection which allows for streaming of Internet radio stations, digital media from a home network (music, video and pictures), and access to subscription online music services such as Rhapsody. Higher-end AV receiver models offer even a WiFi (wireless) connection to a home network (some have this functionality built-in, other require a separately sold adapter).
Bluetooth connectivity has also began appearing in some AV receivers (which usually requires a separately sold adapter). This feature allows wireless playback from Bluetooth devices such as the iPhone/iPod, Android phones, Blackberry phones, as well as Bluetooth enabled computers.
Automatic Speaker Calibration: This is a must-have feature that assists with the first-time setup of the AV receiver. Automatic calibration corrects sound distortion caused by room acoustics, which every room suffers from, and has the potential to substantially improve the sound in your room. This feature goes by various names depending on the manufacturer and can be found in most mid to high-end receivers. Automatic calibration uses a microphone (usually supplied) to analyze the acoustical output at one or more positions in the listening area. The receiver sends test signals to each speaker in turn, then uses the signal from the microphone to adjust channel level, distance and time delay settings for each speaker. The more positions the system takes measurements at, the better results it can generally produce. For example, a system that measures three positions, will improve the sound quality at three positions.
Higher-end receivers offer more advanced calibration systems that are capable of detecting and correcting a wider number of acoustical room issues, such as subwoofer (standing wave) challenges. A great resource to learn more about automatic calibration is the Audyssey website (www.audyssey.com) – a company that designs some of the most well known calibration systems.
Video Switching and Up-Conversion: All AV receivers perform video switching. For example, a typical receiver will send all connected composite, S-video and component sources to its HDMI output. This way, only a single HDMI cable has to be run between the receiver and the display. Some receivers can also up-convert lower quality material to 480p, 720p or 1080i/p.
Multi-Zone/Multi-Room: Many receivers offer more channels that most of us connect in a single room and allow you to connect a second (or third) set of speakers in another room or in your backyard, allowing you to listen to a second source simultaneously. Some models can even deliver video to a second zone. It is common for most mid-range and high-end models to come supplied with a smaller second zone remote, in addition to the main remote. If you won't be connecting speakers in any additional zones, some receivers will allow you to use the additional channels to bi-amp your front speakers for improved front channel performance. Otherwise, the additional amplifier channels can be used for Dolby Pro Logic IIz or Audyssey DSX (if the receiver can decode these and you have these additional speakers set up).
If you would like to explore some of the above points in more detail or to learn how to set up and connect your AV receiver and speakers correctly, please check out the "Features" section on novo.press/.