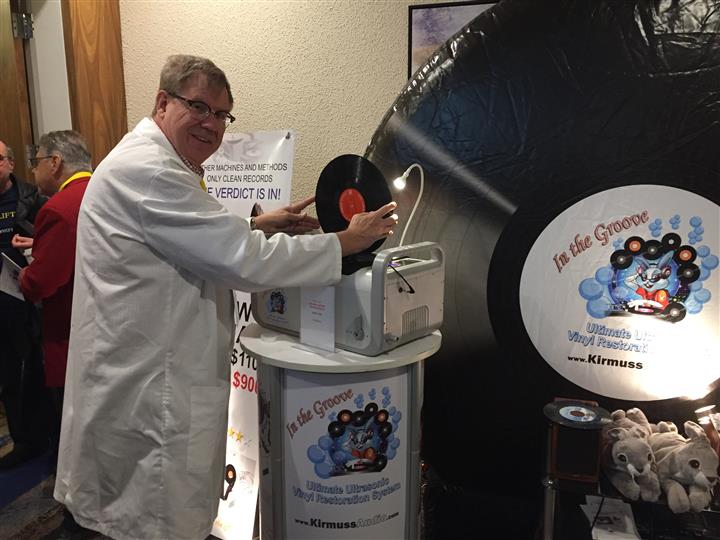 Charles Kirmuss of Kirmuss Audio proudly demonstrates how well his Ultrasonic Vinyl Restoration System works at the show.
Welcome to part 2 of our Toronto Audio Fest 2018 coverage.  In this part, we start off with Kirmuss Audio.  This booth, located in one of the hotel hallways had lots of show attendees buzzing around it.  In fact, owner Charles Kirmuss was so busy speaking to visitors that I feel lucky I got him to pose for a couple of pictures.  What was all the buzz about?  Charles demonstrated his innovative Ultrasonic Vinyl Restoration System ($850 US), offering to clean records for show exhibitors and attendees all weekend long.  This machine was called the "Best Analog Accessory of Show" by The Absolute Sound at AXPONA 2018 for a good reason – this machines doesn't just clean records, it claims to restore them.  We are currently waiting for our review unit to arrive and recently conducted an interview with Charles Kirmuss in our "Meet the Maker" story series – give it a read HERE!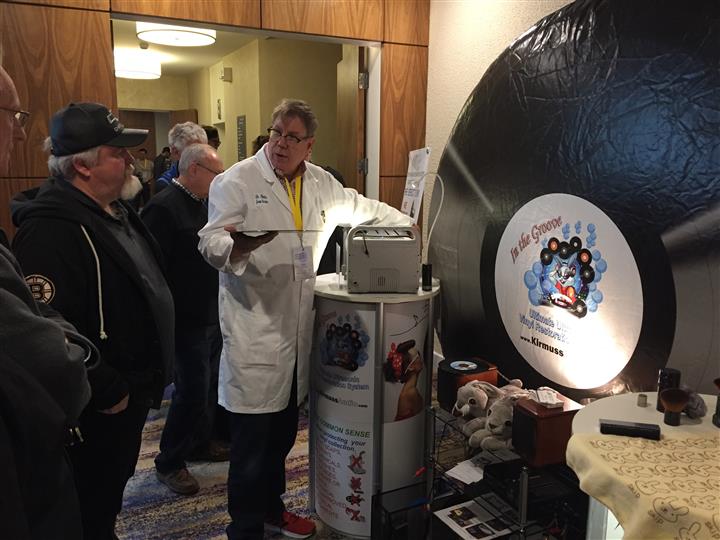 Charles Kirmuss explains the restoration process to show visitors.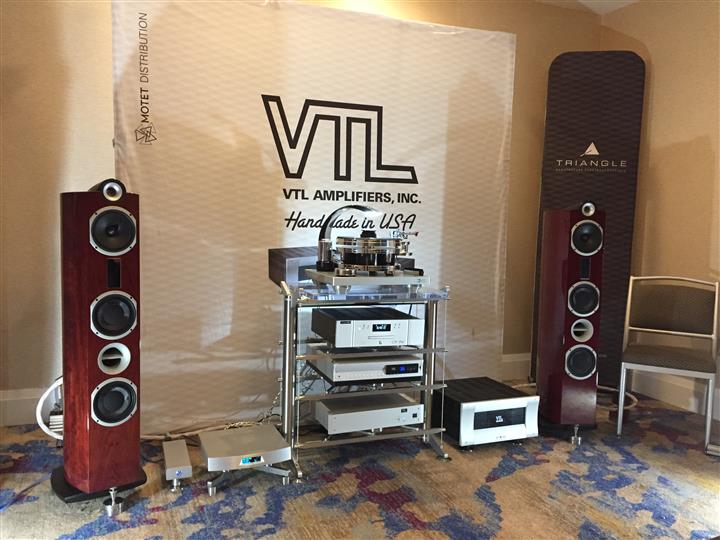 Motet Distribution

Motet Distribution is a Canadian importer of numerous fantastic high-end brands from around the world.  The company showcased a few of its brands at the Toronto Audio Fest and I'm glad I had the chance to give their systems a listen.
The largest of the three Motet rooms (pictured above) was shared with a dealer called House of HiFi and I found a wonderful demo here anchored by VTL electronics and Triangle speakers.  The VTL electronics included the TL5.5 Series II Signature Preamplifier, the TP-2.5i Phono Preamplifier and the S-200 Signature Stereo Amplifier.  The speakers were the French-made Triangle Signature Delta floorstanding model.  There were also three music sources here: a Lumin digital player, Unison Research CD Due CD player and an Acoustic Solid turntable.  This VTL electronics / Triangle speakers combination produced a very engaging and musical sound.  The soundstage stretched well beyond the boundaries of the room and the dynamics were huge.  The vocals and instruments sounded very natural, the highs were crisp and the bass stretched deep into the low registers.  I have long desired to review a pair of Triangle speakers for NOVO magazine because of how their sound has impressed me on the last few occasions I've heard them.  Look out for a Triangle review from us soon!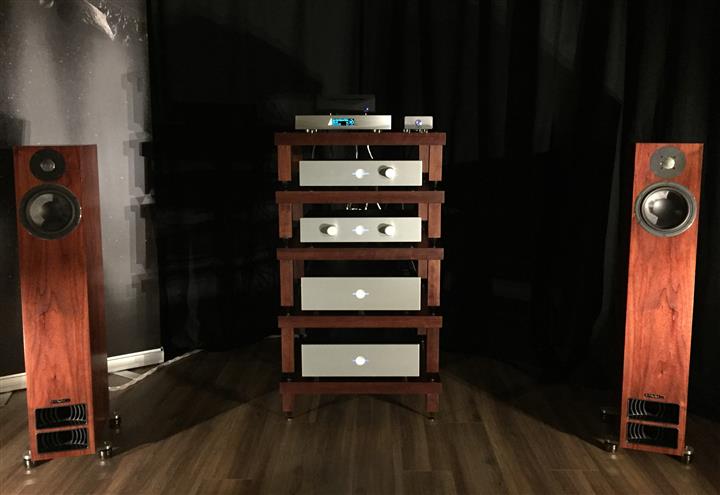 The second Motet room was shared with a new Canadian manufacturer called Saturn Audio, who revealed its products to the public and the media for the first time.  The system here demonstrated the PMC Twenty5 24 loudspeakers ($9,500) and a full stack of Saturn Audio electronics: 501 preamp ($4,500), 601 solid state amp ($4,950), 201 DAC ($4,950) and 103C powerline filter.  The music was provided courtesy of the Lumin U1 Steamer / L1 Music Server ($7,950 / $1,650) and an Innous Zen Mini Server.  I found this system to be very satisfying to listen to – exhibiting a high level of details, a three dimensional soundstage and great vocal reproduction.  The quality of sound here was in part thanks to the excellent sounding PMC speakers, which I've heard on a few previous occasions.  The other part of course was played by the Saturn Audio electronics and I hope to learn more about them as part of my own musical journey.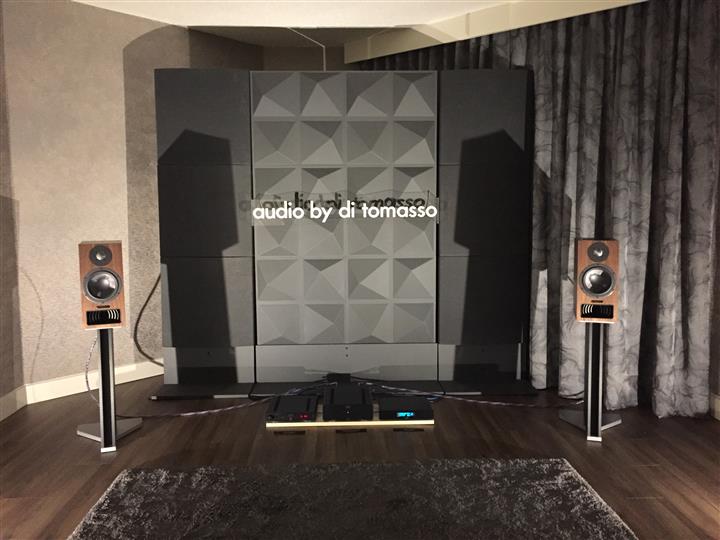 The third Motet room at the show was a collaboration with a local dealer called Audio by di Tomasso.  This room featured a clean "lifestyle" approach to building a music system and demonstrated that you don't need to devote a whole room to a music system, as with most other demos at the show.  The system here was comprised of PMC twenty5 22 stand-mount speakers and all Lumin, compact-sized electronics: the SPL Director preamp/DAC, SPL Performer s800 amp and U1 Mini media player.  Despite the lack of traditional looking, full-sized components, the sound of this presentation had audiophile-quality written all over it.  I could have easily spent much longer here listening to tunes… but the desire to explore more rooms at the show eventually won.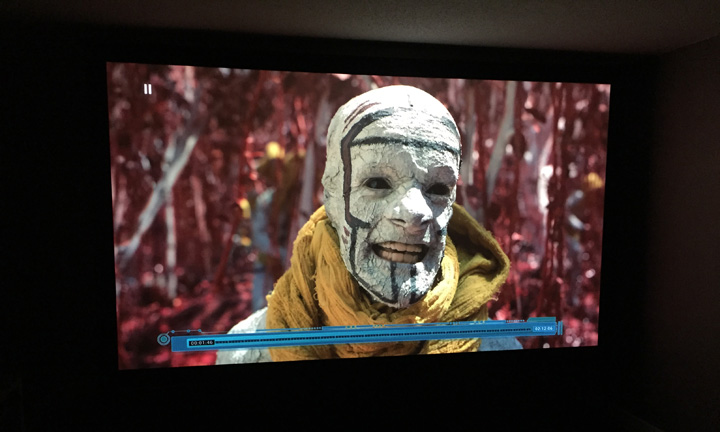 JVC
JVC is truly at the forefront of innovation when it comes to projector technology and company showcased its latest offerings at the Toronto Audio Fest. The days of washed out projector images are far behind us friends! JVC's current range of projectors produce images so incredibly vivid, you might think you're watching a high-end TV or better still – looking out the window.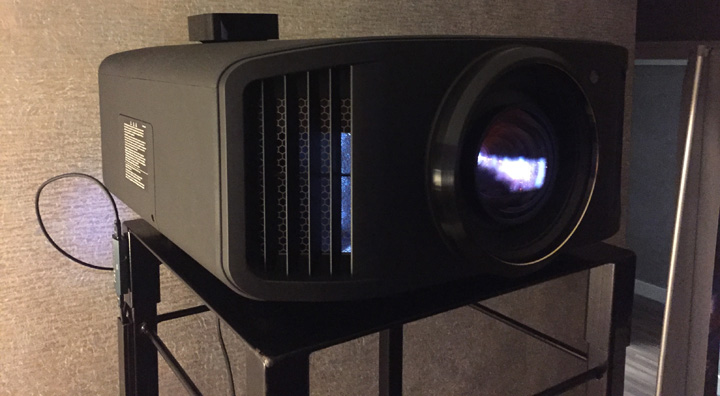 In one room, JVC demonstrated its 4K DLA-NX5 / DLA-RS1000 model ($7,500 approx; pictured above) where I got to catch clips of some of my favourite movies like Star Trek and Guardians of the Galaxy. The picture here was just stunning – the projector painted vibrant, perfectly natural looking colours, with inky blacks and an enormous contrast ratio. The benefits of the 4K resolution were very clear on the 133-inch Screen Innovations screen – the picture displayed a remarkable amount of detail. I was VERY impressed.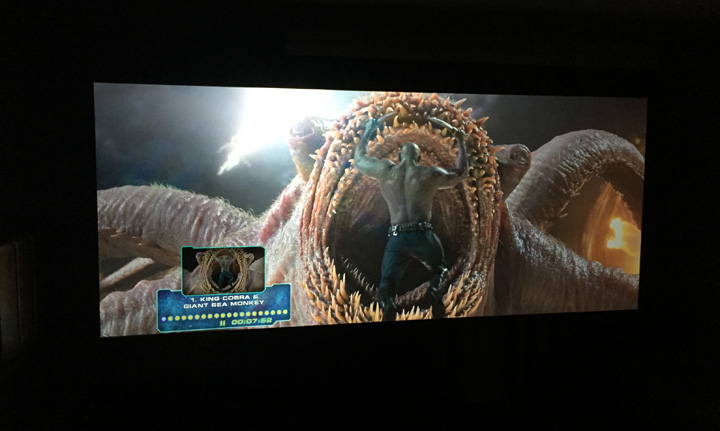 The room next door highlighted the JVC DLA-NX9 / DLA-RS3000 projector ($23,000 approx), the world's first 8K e-shift projector.  The 8K/e-shift technology of this model, together with a 100mm diameter all-glass lens (the same lens found in the flagship RS-4500 projector),  achieves 8K-equivalent resolution (8192 x 4230) that rivals reality even on large screens. Never have I been this scared of being eaten alive by a giant monster!
This projector's 2,200 lumen output combined with a 1,000,000:1 dynamic contrast ratio allow it to achieve one of the best pictures you'll see today from any projector in the market.  The picture here offered a film-like look with distinguishable pixels at any distance.  I was VERY impressed with the RS1000 model in the other room, but this demo simply blew me away!  You really have to see it to believe just how remarkably good the picture is from this projector.
JVC is knocking it out of the park with these new models.  I'd love to upgrade my own projector at home to the DLA-NX5 / DLA-RS1000 model and take my movie watching to the next level.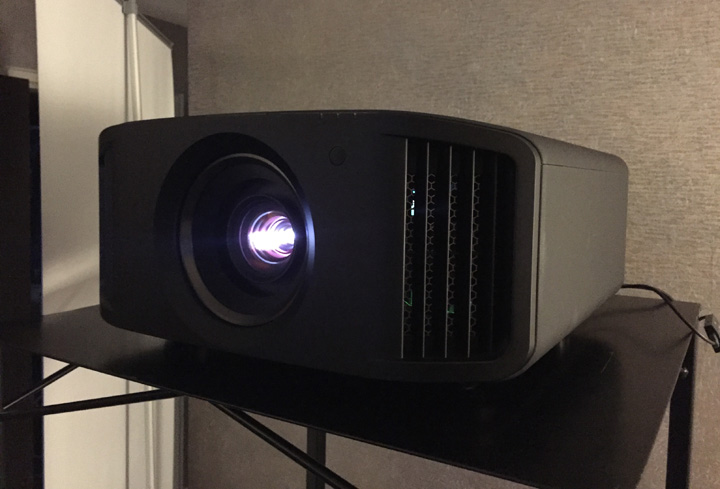 If you've missed part 1 of this article, check it out HERE.
Otherwise, please come back to novo.press for part 3 of our Toronto Audio Fest coverage in the next few days!