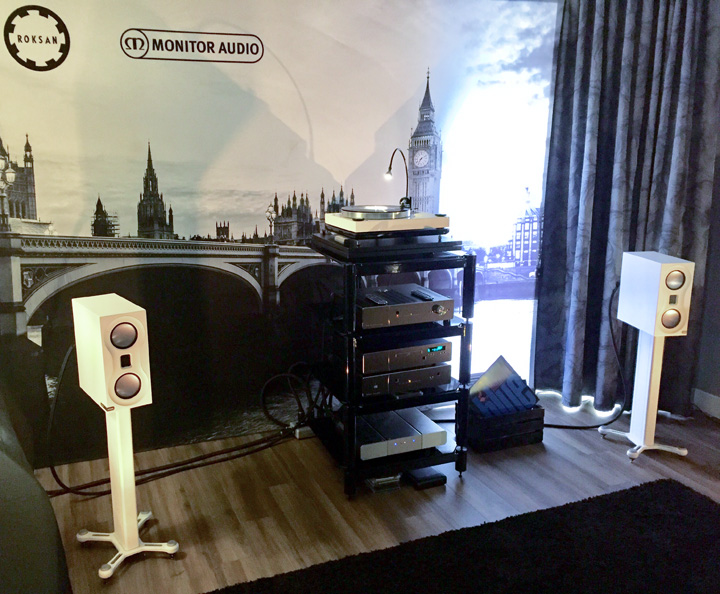 Kevro International hosted a fabulous sounding Monitor Audio / Roksan Audio system inside their room.
The Toronto Audio Fest ran from Oct. 21 to Oct. 23 this year at the Westin Airport Hotel near the Pearson airport in Toronto.  I visited the show along with a couple of friends and snapped pictures of the more interesting exhibitors and products at the show.  This is my little picture story 🙂
Here's a shot of the Roksan's flagship Xerxes 20 Plus turntable
Kevro International – Monitor Audio / Roksan Audio
The system at the heart of this room consisted of Roksan Audio electronics and the compact but mighty sounding Monitor Audio Studio speakers ($1,799 / pair).  The all-Roksan electronics stack included the flagship Xerxes 20 Plus turntable, fitted with the Roksan unipivot Pug tonearm, ($5,999) and the Shiraz cartridge ($5,499), as well as the Caspian VSC 2S phonostage / speed controller ($6,499), K3 integrated amp ($2,499), K3 DAC ($2,499) and the K3 CD player ($2,499).  Everything was wired up with Tributaries cables.  The system here played with rich detail, a vibrant midrange and great musicality.  NOVO magazine reviewed the Monitor Audio Studio speakers and the K3 integrated amp earlier this year – I invite you to read their reviews, these are both high performance, attractively priced high-end components.  With the exception of the higher priced turntable, all of the components in this system are all priced very reasonably and demonstrated that truly high-end sound can be achieved without breaking the bank.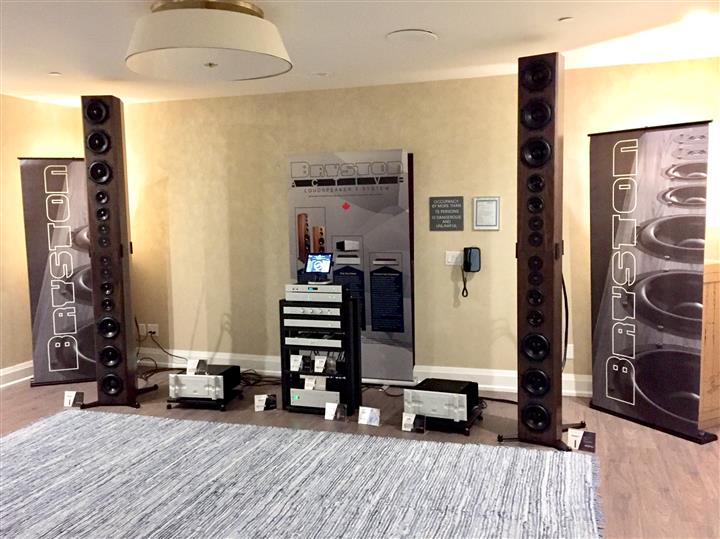 Bryston Limited
Canadian manufacturer Bryston never fails to impress show goers with their big-guns approach to doing trade shows.  What you are looking at above is a $60K all-Bryston system that includes a pair of the company's brand new Model T-REX loudspeakers ($22,000 tentatively) driven by Bryston electronics.  Each T-REX speaker tower is just under 9 feet tall, and composed of two identical Model T Signature speakers – the speaker on top is simply inverted.  Existing Model T and Model T Signature owners can upgrade their systems to this four speaker configuration.  What inspired this rather crazy T-REX project?  James Tanner, VP of Sales and Marketing at Bryston, told me it was the double Advent speaker configuration of the 70s that inspired the T-REX.  And what are the advantages of such a setup?  You can expect more consistent sound throughout the room, lower distortion (cut in half actually), a lot more bottom end and real world dynamics.  This kind of setup also loads the room differently and really smooths out the bass response in the room.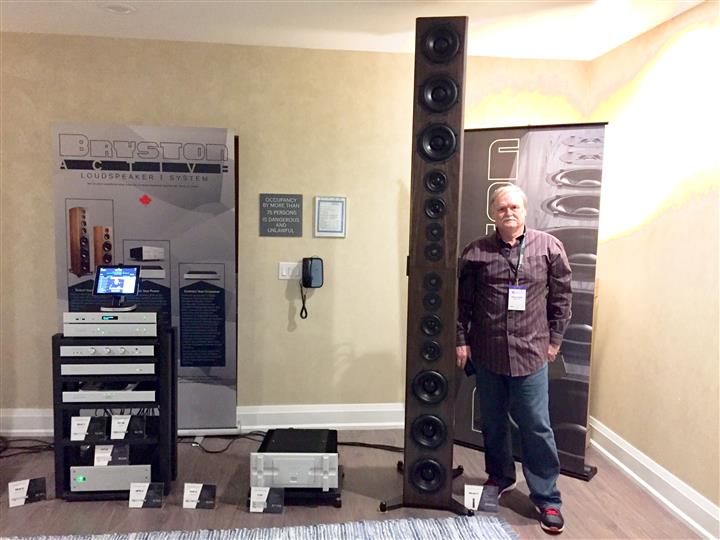 Here's a picture of James Tanner beside the new T-REX for size reference.
I sat down beside James, with an iPad in hand, controlling the music in the room, and he played me a variety of music genres to showcase the system. There is no question that this system played with awesome, true-to-life dynamics.  The vocals were palpable, the midrange sweet and smooth.  The highs played with delicate details.  Meanwhile, the bass reached the lowest notes with ease and utmost control.  You might think that the imaging would be compromised by speakers with so many drivers but you'd be completely wrong.  The T-REX speakers painted a vast soundstage with excellent three dimensionality.  I was tempted to ask James to turn up the volume, but I didn't want to scare the other visitors out of the room.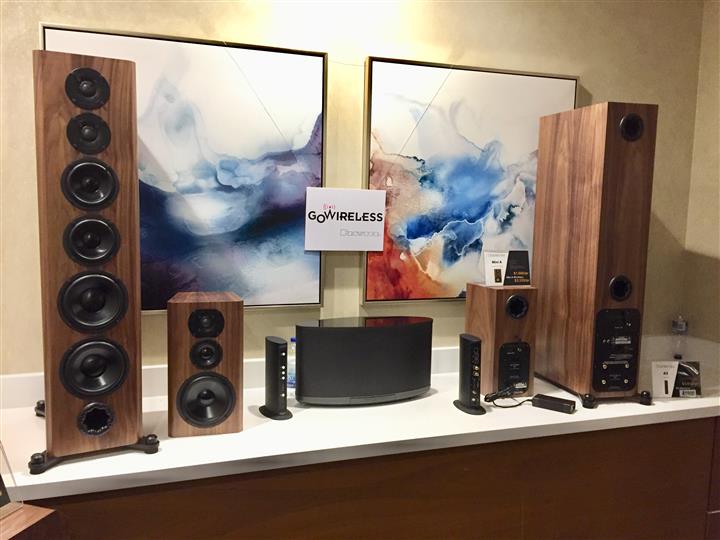 Bryston also proudly debuted its new wireless, powered speakers at the show.  There are three new models: the Mini A (70 Watts total), the A1 (500 Watts total) and the A2 (500 watts total).  All three models are powered by new Class D amps with a linear power supply and models offer wireless connectivity to music sources.  Do I smell a NOVO review coming soon?  I sure do – as soon as they can ship us a pair!
Finally, the company also showed a new Bryston 620B Cubed amplifier that offers 6 x 200 Watts of power.  This new model will come in 2 versions – one for home applications and another for pro applications.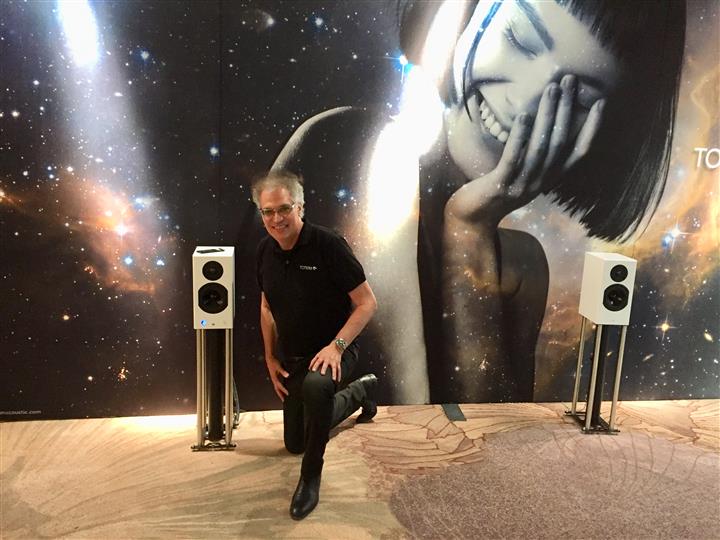 Vince Bruzzese poses beside the new Totem KIN Play powered Bluetooth speakers.
Totem Acoustic
Vince Bruzzese, founder, designer and president of Totem Acoustic was very happy to introduce the company's first powered Bluetooth speaker at the show.  This new speaker is called the Totem KIN Play and its design is based on the Totem Rainmaker speaker platform.  The KIN Play features wireless connectivity via Bluetooth 4.1 (aptX), an RCA line input that is switchable to phono (for use with a turntable) or a 3.5 mini jack, a digital optical input and a subwoofer output.  A built-in class D amplifier offers up 120 Watts per channel.  The KIN Play will be available in late November / early December with a price of $1,250 CDN / $999 US.  The KIN Play comes complete with a remote control, speaker wire and interconnects – all you need to play tunes is a music source like your smartphone or laptop.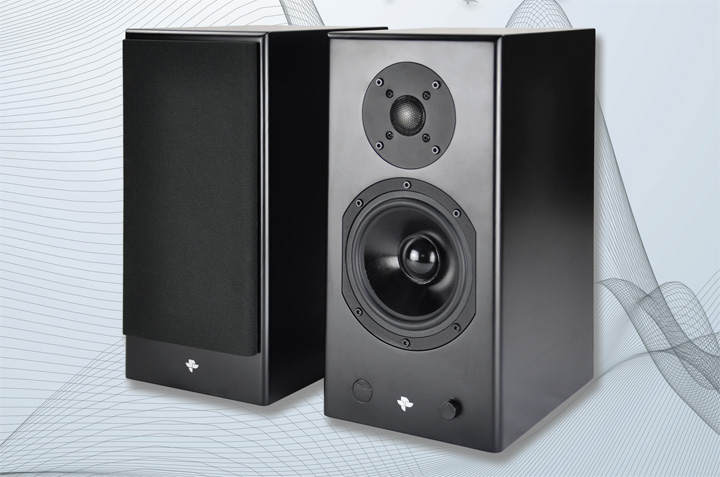 Here's the Totem KIN Play speaker in a satin black finish.

I am quite familiar with the performance of various Totem speakers and it came as no surprise that I enjoyed the sonics that I was hearing from this new speaker.  Despite the large exhibit room, this little speaker filled the space very well with sound, offering a well balanced sound all around the room.  However due to the numerous conversations taking place in the room I wasn't able to give it a more in-depth listen.  I'm sure the KIN Play will find its way into one of the NOVO test rooms in the next couple of months and we'll be sure to give it a good listen and write a full report on it.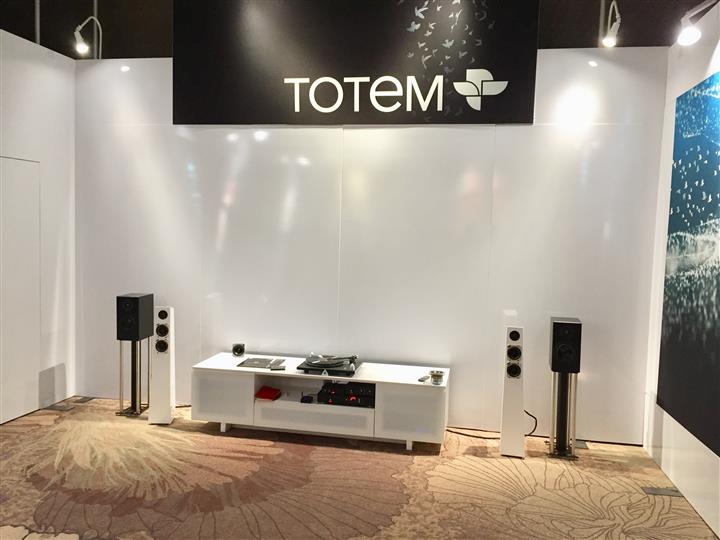 The Totem exhibit room was divided into two demo sections – playing at alternating times.  The second demo space focused on highlighting the stunning looking & fabulous sounding Totem Tribe Tower speakers, which we reviewed at NOVO earlier this year – you can check out the review HERE.  We loved the sound and looks of these speakers so much, we awarded them the NOVO "Exceptional Choice" badge.  Also in this demo space, visitors were given a chance to listen to the equally great sounding Totem Signature One loudspeakers, which we also reviewed in 2017 HERE.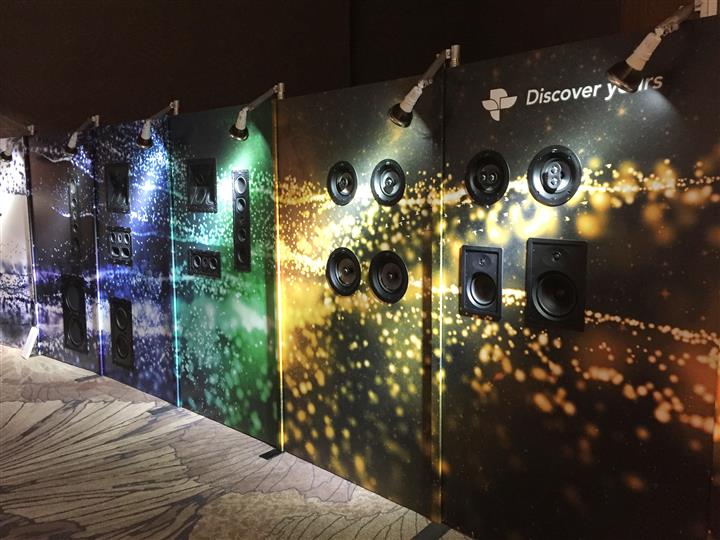 Totem also highlighted its wide range of Architectural Series in-wall speakers at the show, for those who looking to achieve Totem-quality performance and a perfectly clean installation at the same time.  Did you know that Totem makes so many in-wall models?  I didn't know either to be honest.  They've got in-wall and in-ceiling speakers as well as in-wall subwoofers, for just about every budget and home / commercial application.  The attractively priced KIN sub-series has four models: in-wall, in-ceiling, in-ceiling angled, and side / center.  The high-end Tribe sub-series on the other hand offers some of the best in-wall sound in the business, as it utilizes the same technology & woofers found in Totem's higher range speakers.  Well designed in-wall speakers and subwoofers no longer mean that you have to compromise sound quality – these Totem speakers are direct proof of that.  I learned from Totem's Jason Zidle that in-wall speakers account for some 30 percent of total sales at Totem, therefore it's no surprise that the company wanted to show some love to the category at this year's show!
Please click HERE to read Part 2 of this article.