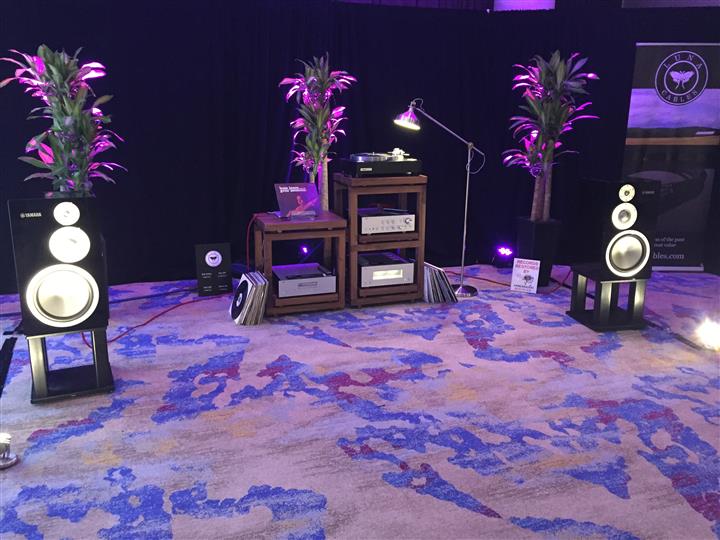 Welcome to part 3 of our Toronto Audio Fest 2018 coverage.  If you've missed the previous parts, you can read them here: Part 1 and Part 2.
Yamaha
Yamaha was set up in one of the largest rooms at the show and excited to show off two prototype products: the new Yamaha C-5000 preamp (which includes a phonostage) and the new Yamaha M-5000 power amp (100 watts per channel / doubles this down into 4 ohms).  Both components will retail for approximately $10,000 when they become available in March 2019.
Here you can see them up-close: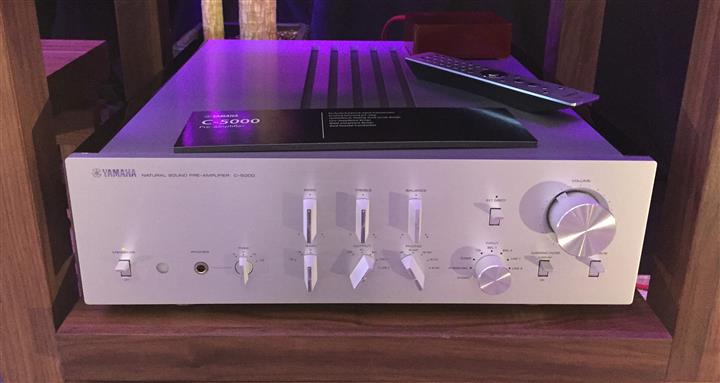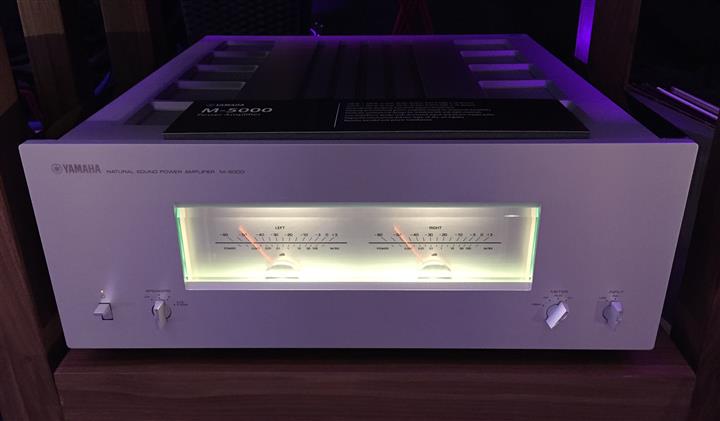 The speakers on demo in this room were Yamaha's flagship NS-5000 3-way bookshelf speakers.  There were also two music sources here: the classic Yamaha GT-750 direct drive turntable (circa 1984) – spinning vinyl, as well as the Yamaha CD-S3000 CD player.  All the components were connected with Canadian-made Luna Cables.
Personally, I'm a huge fan of the way all of Yamaha's high-end components look – I just love how well the retro styling is executed.  Very few high-end brands offer this kind of look & feel.  But looks alone won't win Yamaha any awards from the audiophile community.  Luckily these components sound even better than they look.  I sat through a demo of several genres of music in this room and couldn't help but smile from the musical satisfaction.
Unlike so-many rooms at the show playing "audiophile" records that could put you to sleep in the midst of running a 10K marathon, these guys actually played music that I wanted to hear – there was some rock that I was familiar with and lots of other upbeat tracks that I've never heard before.  I've listened to the Yamaha NS-5000 speakers on previous occasions, so I'm quite familiar with their sound, but here, driven by the C-5000 preamp and the M-5000 power amp, they sounded better than ever.  The energy of the system was remarkable and pulled me deep into the music.  Vocals and instruments in the midrange where reproduced accurately and with passion and realism.  The highs were crispy, very detailed and contained all the micro details and texture you would expect to hear from real instruments.  The bass notes, likewise, were tight, articulate and reached deeper than most demos at the show.  The listening experience here was total musical bliss.
Upon departing from the room, I asked if Yamaha could provide us with the new C-5000 preamp and M-5000 power amp for review in our recently launched NOVO High-End publication.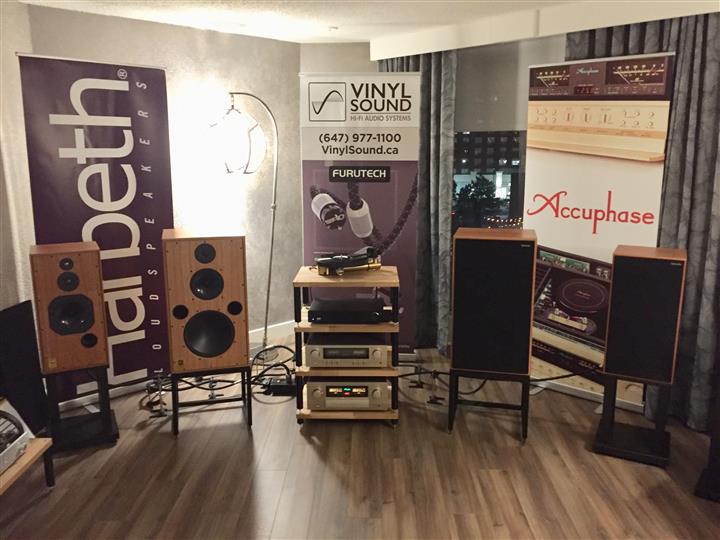 Vinyl Sound – Harbeth Speakers, Accuphase Electronics & Furutech NCF Cable Boosters

Vinyl Sound (vinylsound.ca) is a brand new high-end audio retailer in Richmond Hill, Ontario that introduced itself for the first time at the Toronto Audio Fest.  Inside their room, the company demonstrated a system anchored by the Japanese electronics brand Accuphase.  They played the Accuphase E-650 integrated amp in rotation with the Accuphase E-270 integrated amp.  There were also two different British-made Harbeth speakers you could listen to here – the Harbeth Monitor 40.2 and the Harbeth SuperHL5 Plus.
I have long loved the sound of Accuphase electronics – these guys just get the sound right.  Very accurate, controlled and musically immersive.  I was also very curious to listen to the Harbeth speakers for the first time, as I've only read about this famous brand online previously.  I have to say that I was very impressed with the Accuphase / Harbeth combination, the synergy between the two brands resonated very well with my ears.  The sound was precise, with an accurate midrange, great extension on both frequency ends and fantastic soundstaging.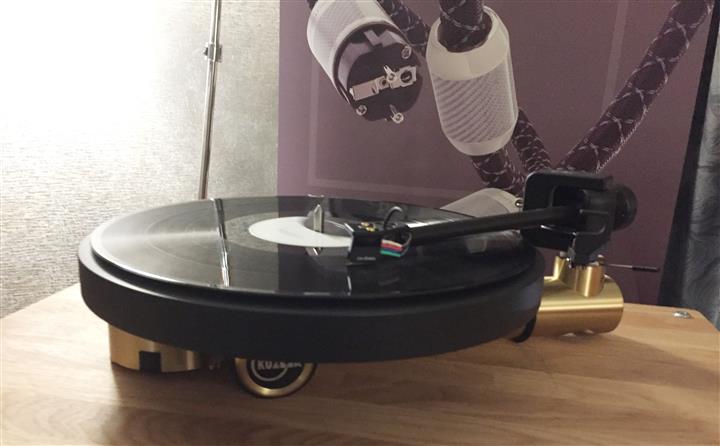 On top of the audio rack was a Kuzma Stabi S turntable manufactured in Slovenia – offering a beautiful, minimalist design.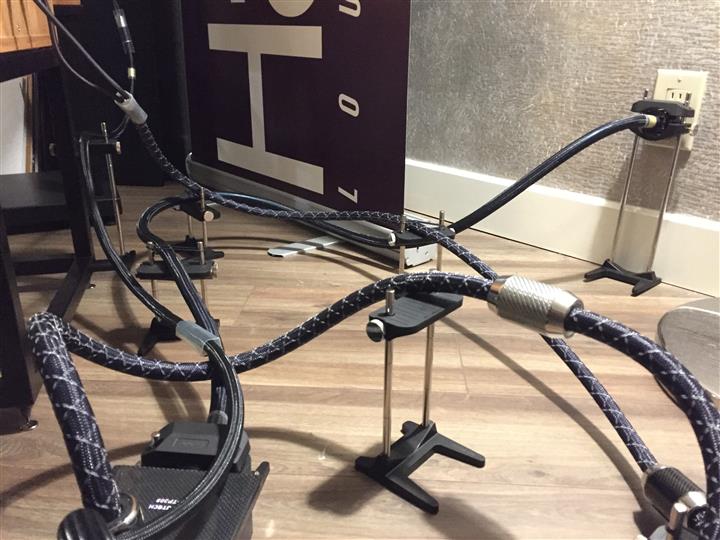 Behind the audio tower Vinyl Sound was showing Furutech cables lifted off the floor by the Furutech NCF Booster products.  There are two types of Furutech NCF Booster products.  The NCF Booster is designed to provide optimum alignment between connectors and sockets, and eliminates static by lifting the cables off the floor (seen above used with the wall outlet).  The NCF Booster-Signal on the other hand is designed to lift audio cables off the floor, minimizing their points of contact with the floor, and thereby reducing electromagnetic interference (seen in the middle front).  Look out for a review of these Furutech products from Phil Gold coming up on novo.press in the next few days.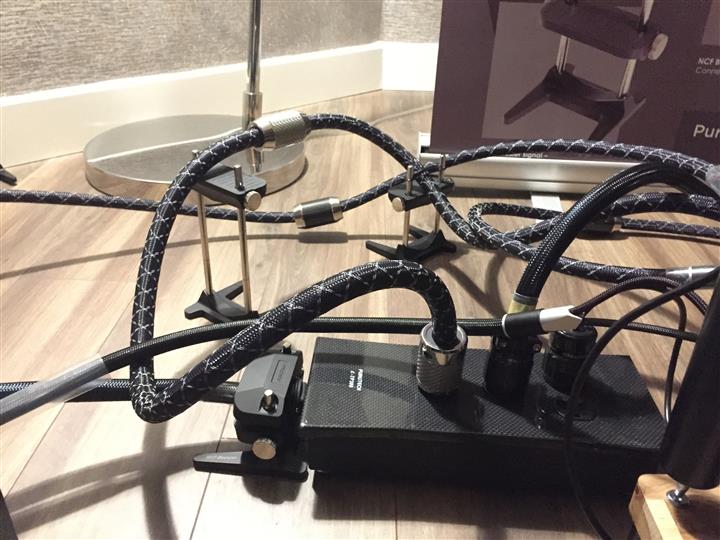 Here's another shot of the Furutech NCF Booster products in action.
Tri-cell Enterprises

Canadian distributor of over 40 high-end audio brands from around the globe, Tri-cell Enterprises, made a big splash at the Toronto Audio Fest this year.  The company demonstrated many of the brands it represents across five different rooms — occupying a good portion of one of the upstairs floors of the hotel.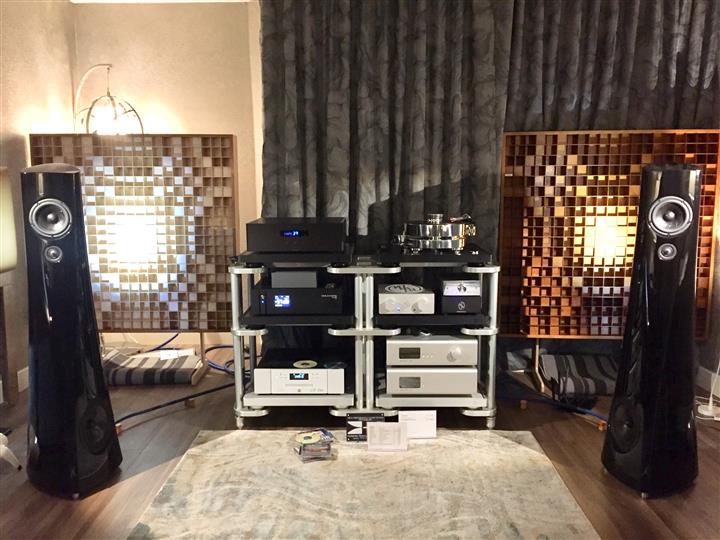 The first Tri-cell room I sat inside for a demonstration was a room that was showcasing electronics from Soulution Audio, Gold Note, Unison Research and ModWright Instruments, among others.  Since I've heard most of these components in the past (and own components from every one of these brands… with the exception of Soulution), I was actually most excited to listen to the Estelon YB speakers ($25,000) – shown for the first time to the Canadian market.  During my visit the speakers were powered by the new Aesthetix Mimas integrated amplifier ($10,500), which I also had the pleasure to listen to for the first time.
The digital sources here were the Gold Note IS-1000 integrated amp/DAC/streamer ($8,320) and the Unison Research Unico CD Due CD player ($5,065).  For vinyl playback, the setup employed a Transrotor Fat Bob S turntable ($5,715) with the SME5009 tonearm ($4,125), the new Dynavector 10×5 MKII cartridge ($870) and the ModWright PH 9.0 phonostage ($4,000).
The Aesthetix / Estelon combination delighted me with clean, detailed and spatial sound that stretched well beyond the boundaries of the room.  I had the chance to listen to several unknown (to me) recordings as well as one of my favourite bands – the Dire Straits.  The sound here was very immersive – it had me tapping my hands and feet to the music in no time. I could have sat back and listened for hours to this system.  I would love to bring in a pair of the Estelon speakers in for review in my own listening room, soon.  This demo certainly peaked my interest!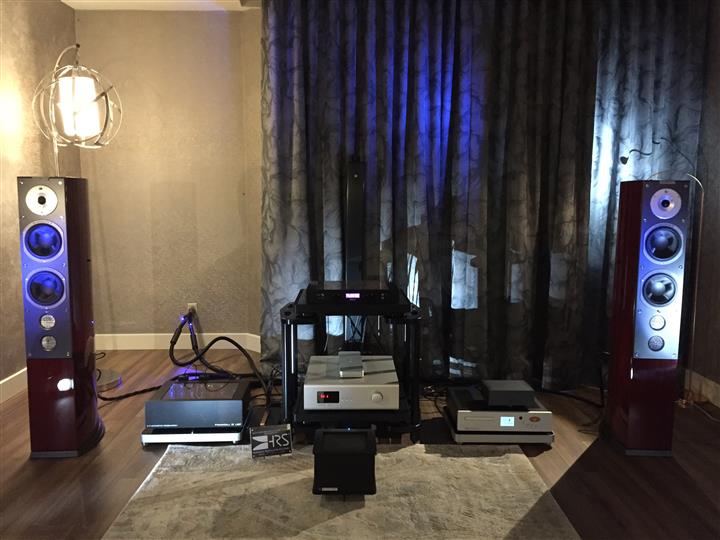 The second active Tri-cell demo at the show consisted of the magnificent-sounding Soulution 330 integrated amp ($26,500; can be equipped with an optional DAC and phonostage), the Brinkmann Nyquist DAC ($21,000), the Unison Research CD PRIMO CD player ($2,400) and the Audiovector SR6 Signature loudspeakers ($17,000).
While sitting down for a listen here, I got a chance to hear some great music that I'm familiar with (like Coldplay and Muse), in contrast to the less interesting "audiophile" recordings that were played in many of the other rooms around the show.  The collaboration of these components presented me with a very three-dimensional rendition of the Coldplay song "Adventure of a Lifetime".  The Muse track I heard sounded wicked too – it played with a fantastic energy, and a deep, very well controlled bass.  The sound here offered loads of musical details, a vast soundstage, and even thought we played it pretty loud, it didn't make my ears tired.  In fact, I just wanted to hear more!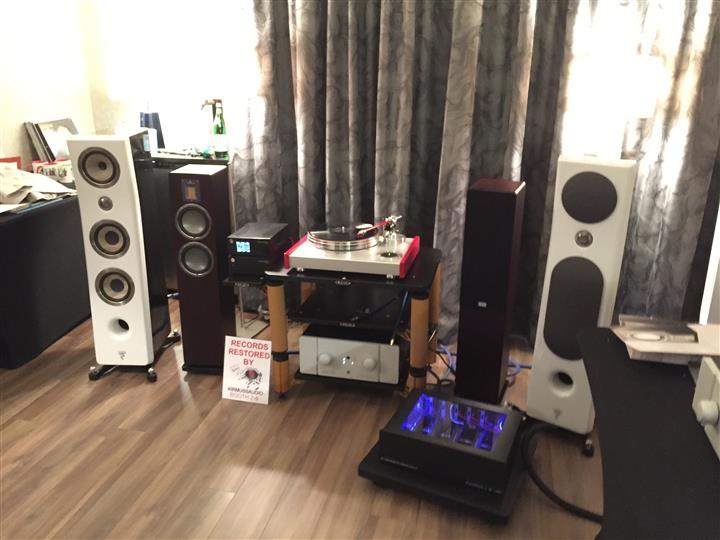 In the third room, Tricell focused on a system that was comprised of the new Unison Research Due integrated amp ($3,800) connected to a pair of Audiovector QR3 loudspeakers ($2,750).  The source was an Acoustic Solid Vintage Red turntable ($7,110 with the WTB-213 tonearm), running through a Gold Note PH-10 phonostage ($1,865) and the Gold Note PSU-10 power supply ($1,275).  The PH-10 phonostage and PSU-10 power supply is one of the best upgrades available for your money today for turntable owners (in my opinion) – I recently purchased both myself!
But these three demo rooms were just scratching the surface of what Tri-cell had at the show.  You see, Tri-cell has been on somewhat of a roll importing new audio brands into the Canadian market over the last couple of years.  A large selection of products from these brands could be seen in static displays across two other rooms.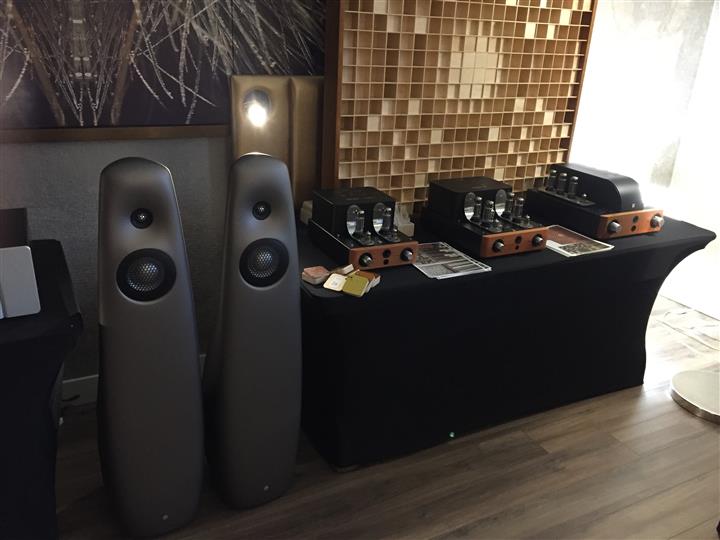 Above we see the Vivid Audio Kaya 45 loudspeakers ($25,000) and three integrated tube amps from Unison Research: the Simply Italy, the Triode 25 ($3,820) and the S6 ($5,425).  Personally, I'm a big fan of the Unison Research tube amps, and own their very musical Sinfonia integrated amp.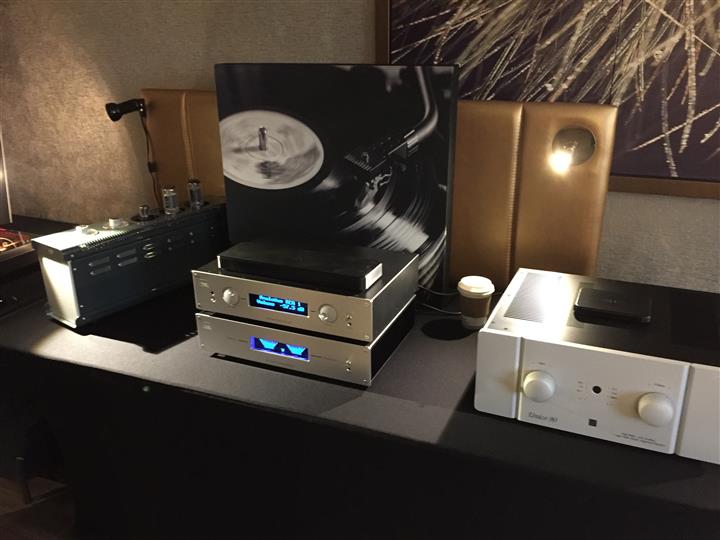 Above, we see two components from British brand Mitchell & Johnson, the S800 preamp ($2,275) and the S815 power amp ($2,275) .  There is also a Unison Research Unico 90 integrated amp ($5,345) on the right.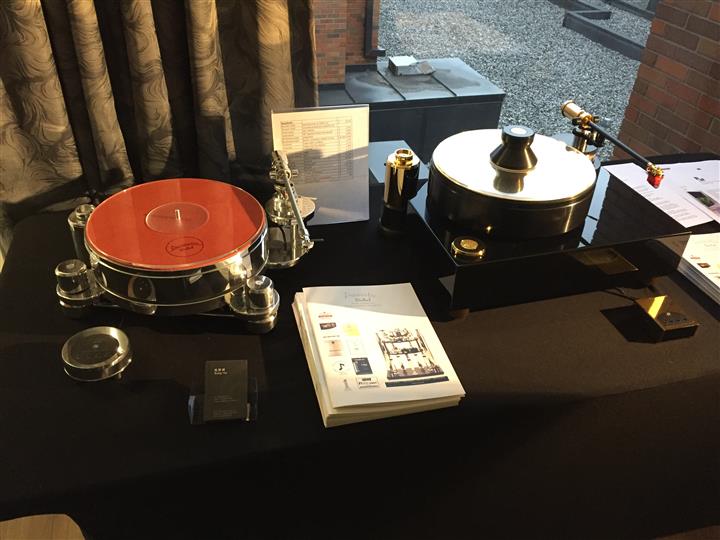 Tri-cell Enterprises imports a dizzying array of turntables and analog accessories, mostly from Europe into Canada, including brands such as Acoustic Solid, Gold Note, Transrotor and Dynavector.  Above, the company showed off Acoustic Solid – the Solid Machine model ($8,720 with the WTB-213 tonearm) and the Solid Wood Referenz model (with the WTB-213 tonearm).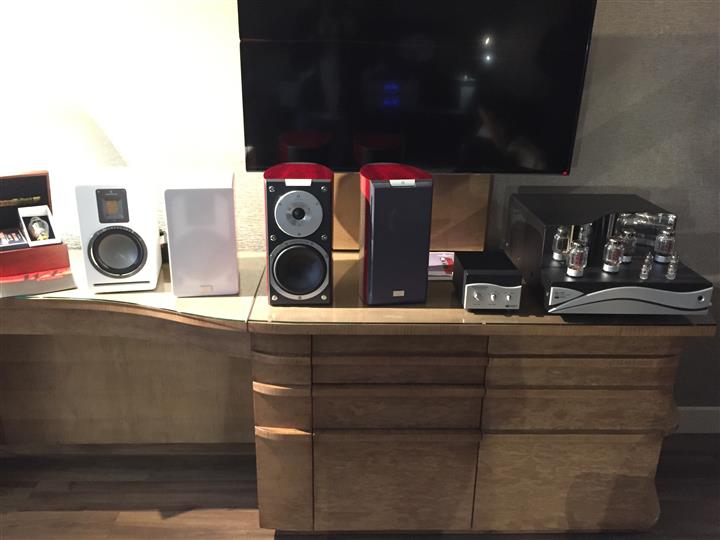 Here we see the Audiovector QR1 speakers ($1,550), the Audiovector SR1 Signature speakers ($3,850), the Zesto Audio Andros Allasso step up transformer ($4,000) and the Zesto Audio Bia 120 class A power amp ($14,700).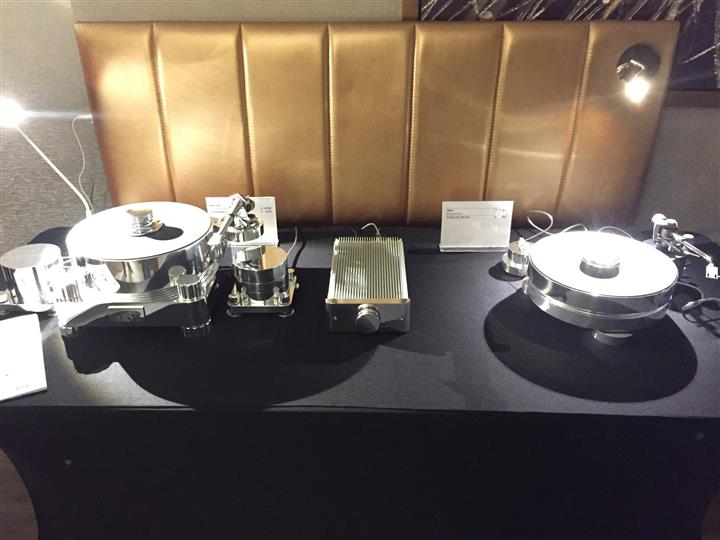 In the fifth room, Tri-cell focused exclusively on showcasing the German made Transrotor turntables.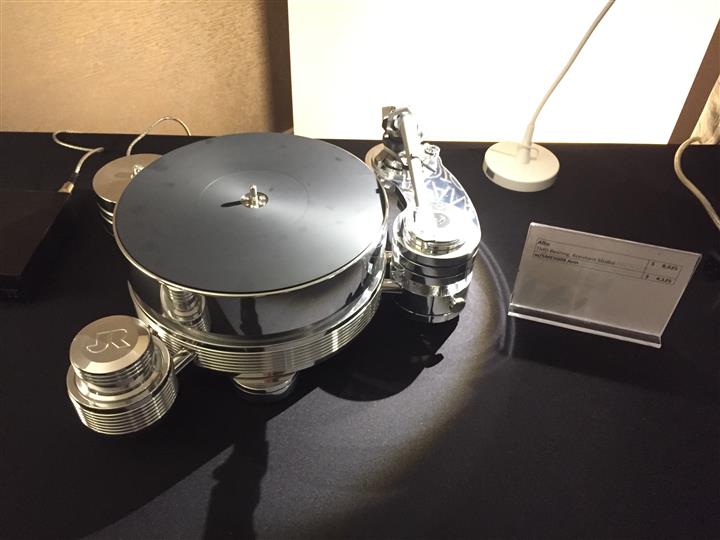 Shown inside this room was the brand new Transrotor Alto turntable ($8,625) with the SME5009 tonearm ($4,125).  The Alto is equipped with a new tonearm base which provides a vast amount of adjustment, it also allows you to adjust the VTA on the fly while playing a record.  This turntable can accept 3 tonearms – yes, you read that correctly, 3 tonearms – making it a dream for turntable perfectionists and those who love to tweak their setups.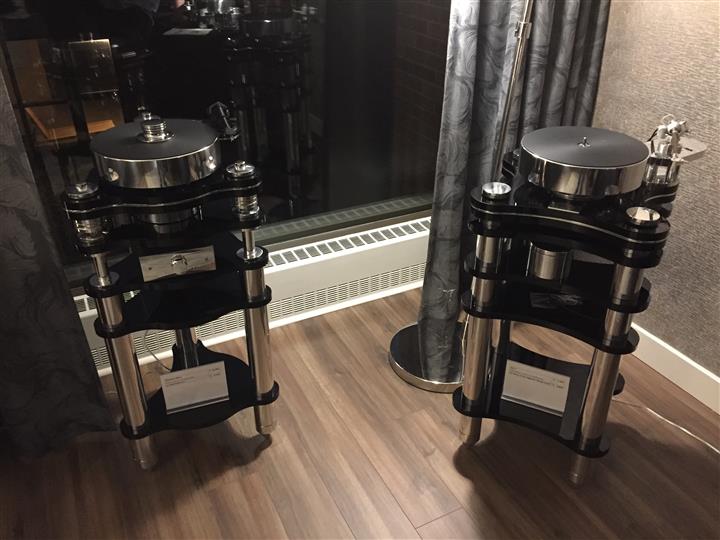 Here are the high-end Transrotor Rondino Nero model (left, $16,900) and the Transrotor ZET 3 model ($8,385).
Plurison
Plurison – Canadian distributor of many fine hifi brands from around the world – displayed a number of very exciting new products at this year's show.  I'm personally curious to hear a lot of these new components / speakers.  Most of the products in this showcase were on static display so I'm not able to report on quality of sound here.  This made me even more curious about what they sound like… perhaps this is exactly why Plurison does static displays – lol!
There were lots of products to see before I even made it inside the room.  In the hallway, there was a spinning Focal Kanta carousel showing the various speakers in this product range.  For the first time, Plurison showed the new Kanta No. 1 bookshelf ($7,000) and the Kanta No. 3 floor standing ($14,000) models.  Along with these, the display also showed the existing models: the Kanta No. 2 floor stander (an excellent speaker which we reviewed recently here) and the Kanta Center ($4,000).
There was also a large Focal headphone display where show attendees had a chance to listen to just about every headphone the company currently makes.  Most notable in this display were the new Focal Elegia closed-back headphones ($1,199).  I listened to them for a few minutes and was quite impressed with their sound and enjoy the fact that you can get high-end Focal sound out of headphones.  It is a well known fact among audio enthusiasts that a good pair of headphones can deliver a similar sound to a pair of speakers priced up to 10 times as much.  The Elegia headphones therefore should give us a sound of a $10-$12K speaker, at a fraction of the price.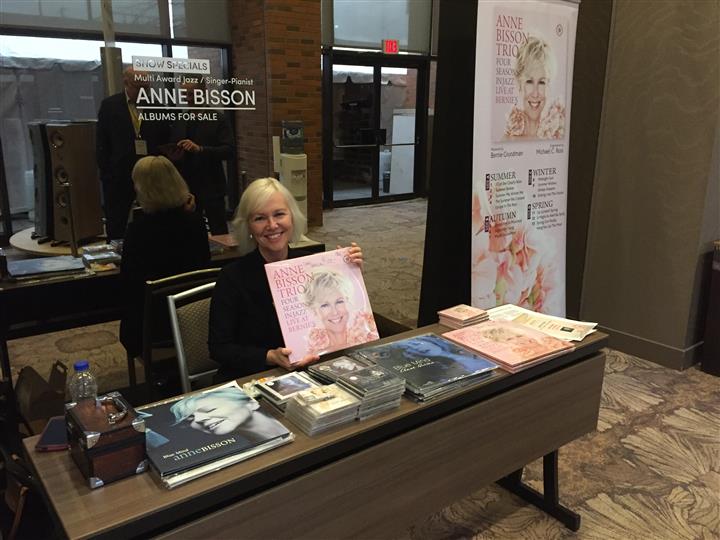 Montreal-based Jazz artist Anne Bisson was also setup near the entrance of the Plurison room, showing and selling her collection of albums on vinyl and CD.  This was a great chance for her fans to pick up signed copies of her albums.  Above: Anne is holding her limited edition, hand numbered "Four Seasons in Jazz – Live at Bernie's" album.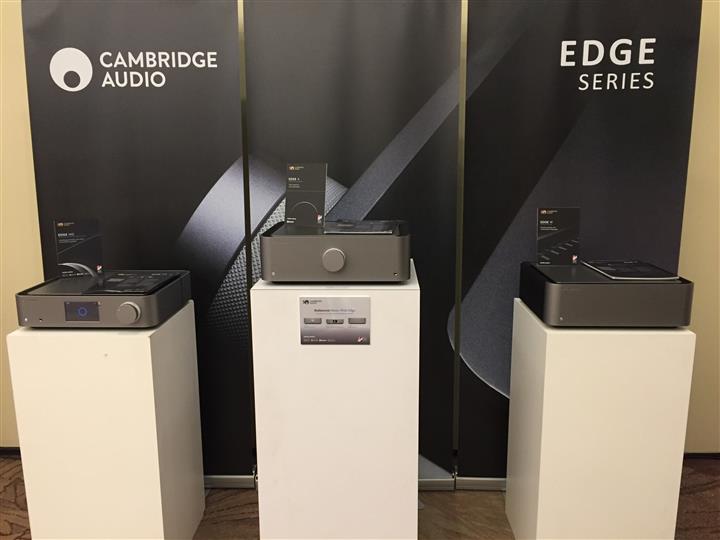 The first display that caught my eye when I entered the large Plurison room was a new Cambridge Audio Edge range of components.  Cambridge Audio designs have always looked great but this is next level stuff.  The casing design reminds of the Classe Audio components I used to own some years ago – this design looks amazing.  There is the Edge NQ preamp / network player ($5,000), the Edge A integrated amp ($6,500), and the Edge W power amp ($4,000).  All will be shipping by the time you read this.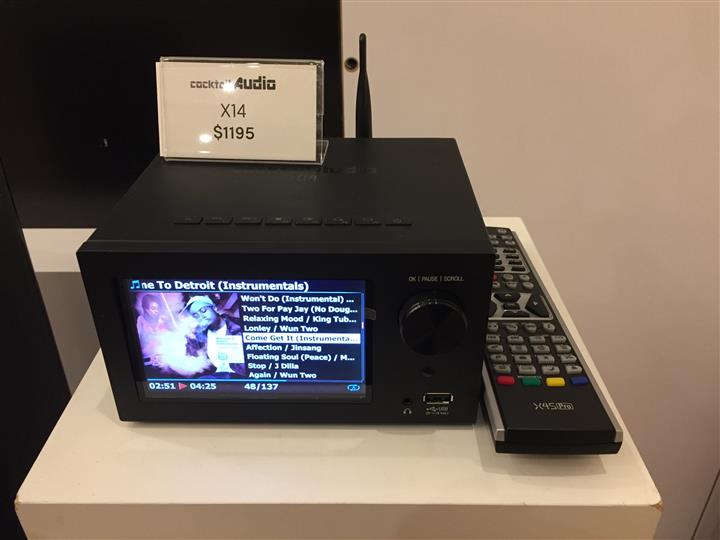 Also new on display was the Cocktail Audio X14 all-in-one high-res audio system ($1,195).  This unit is equipped with a Class D amplifier, a high quality DAC, a Bluetooth receiver, and supports hard drives up to 8TB in size.  It also features a beautiful large, 5-inch touchscreen.

There was also the Cocktail X45 PRO, the company's top of the line music server / DAC.  This model offers dual ESS ES9018K2M Sabre³² Reference DAC chips, isolated power source circuit design for digital and analogue parts, a toroidal transformer to minimize idle noise, a CD ripper, an MM phono input, and support for drives up to 8TB.  This unit offers an even larger 7-inch touch screen.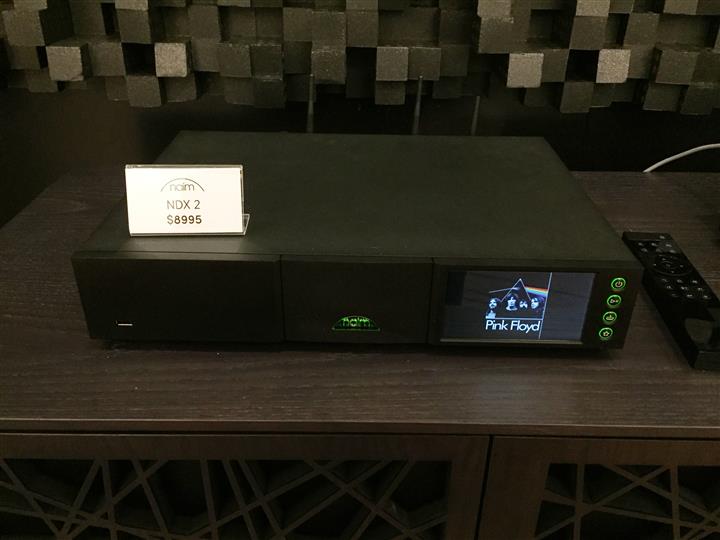 Another new product in this room was the high performance Naim NDX 2 network player ($8,995).  This is an upgradable component that sports current state of the art features such as high-res UPnPTM streaming, AirPlay, Chromecast built-in, Bluetooth (aptX HD), Spotify Connect, TIDAL, Roon compatibility, vTuner internet radio and multiroom streaming.  This network player is actually one of three new models that Naim introduced this year, but the only unit displayed at the show.  Naim also introduced the ND555 and ND5XS 2 models earlier this year.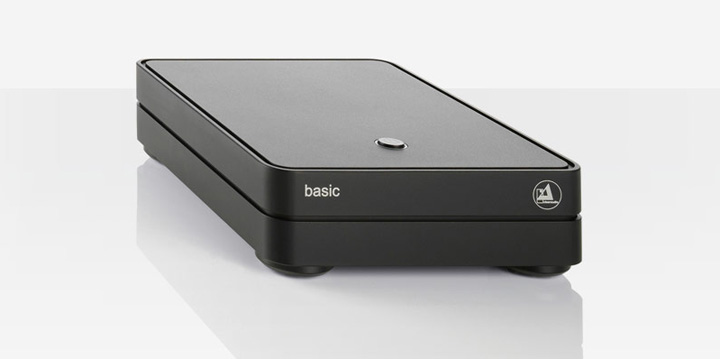 Plurison also showed the recently introduced Clearaudio Basic V2 phonostage ($1,500 US).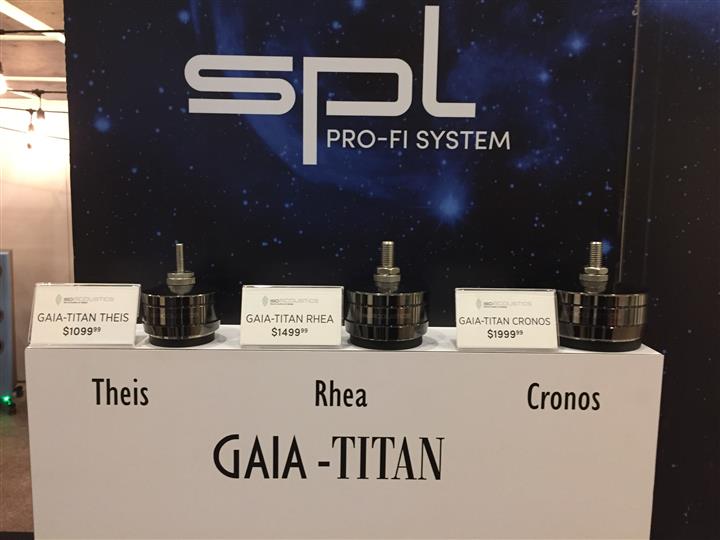 And last but certainly not least, there was an IsoAcoustics showcase of products. One display showed the upcoming Gaia Titan isolation feet for large floor standing speakers.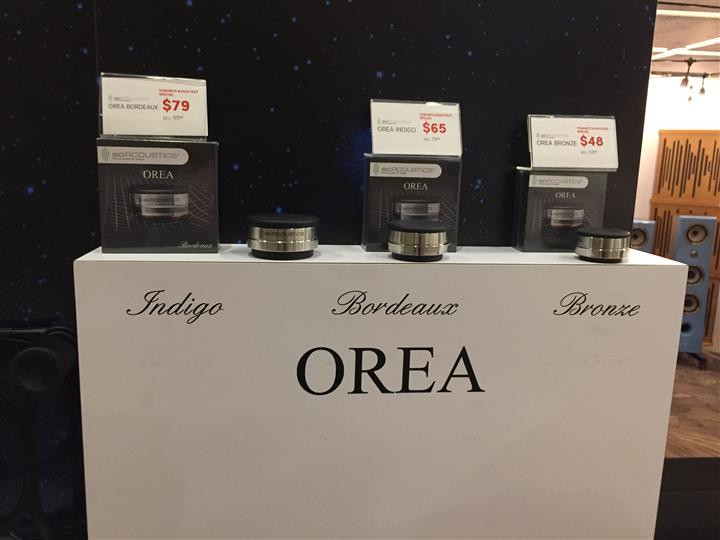 Another displayed focused on the Orea series of isolation products for audio components and turntables.  NOVO magazine's George de Sa and yours truly are currently working on reviews of IsoAcoustics products — stay tuned for our reports.
Well – that wraps it up for this year!  Our next stop on the show circuit will be the Montreal show in the spring of 2019.  Until then!
If you've missed the previous parts, you can read them here: Part 1 and Part 2.