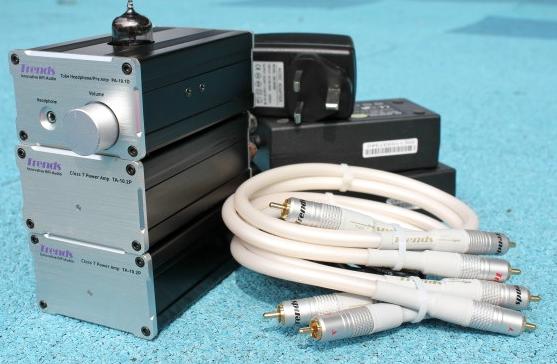 Trends Audio has just introduced their new BA-10 Bi-amp Audio System. The BA-10 System combines their PA-10.1D Tube Pre-amplifier with two TA-10.2 SE Power Amplifiers. In the bi-amplifier configuration, each TA-10.2 amplifier is presented with a defined/limited frequency spectrum to amplifiy, allowing them to operate with somewhat more ease, lending to enhanced performance.
The BA-10 Bi-amp Audio System allows for three possible setups:
Monoblock setup – where each amplifier is dedicated to a single speaker (left/right) for full frequency amplification;
Horizontal setup – uses one amplifier to power bass drivers (woofers) and a different amplifier to power treble drivers (tweeter) or the midrange and treble drivers and;
Vertical setup – bi-amping uses a single amp per speaker, with a dedicated channel for the bass driver and a dedicated channel for the treble
The Trends BA-10 Bi-amp Audio System comes with:
2 x Trends TA-10.2P Class-T Power Amplifier
1 x Trends PA-10.1D Tube Headphone/Pre Amplifier
2 pair x Trends QB-773 Audiophile Audio Cable
The BA-10 is now available at the following MSRP:
$699 U.S. (with Russian 6H23n tube) SE version
$699 U.S. (with USA 12AU7 Tube) GE version
Look for more details at: www.trendsaudio.com.