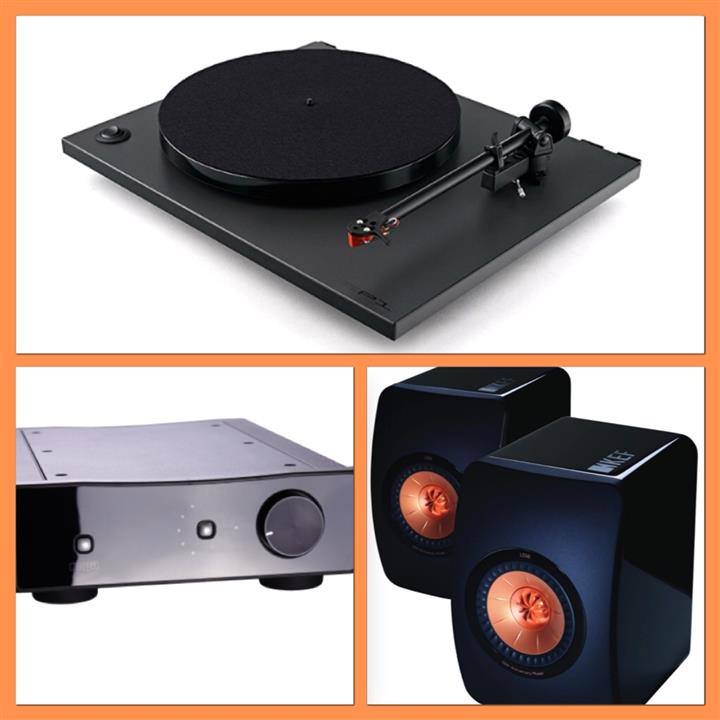 In the world of AV, it seems commonplace these days to either look backwards or forward.  We continue to see the vinyl and 2-channel renaissance grow in popularity.  On the flipside, cutting edge technologies such as 4K video and next generation surround sound formats such as Dolby Atmos and DTS-X have taken the lion's share of the industry's center stage.  However, as the majority of the market waits for more affordable options in the UHD and vertically extended multi-channel arena, we direct our attention in the classic direction.
It truly is encouraging to see how many customers come into our store and ask, "How much does it cost to get into vinyl?"  It's taken some time, but finally we're starting to see more and more music lovers recognize in order to properly experience music, you need fidelity, NOT convenience.   And so, for those readers out there who have or are pondering the same thing, I refer you to Update TV & Stereo's, "Elevated Package".
The perfect example of less being more, the Elevated Package leans on British design and manufacturing to bring old school to the new school.  Let's begin with our source, LP cornerstone Rega, and their entry-level turntable RP1.  Not just perfect for plug and play but performance, as well.  At it's price point ($550) you'll be hard pressed to find a competing brand that totes a better quality tone arm (RB101) and cartridge (Rega Carbon).   This belt-driven table is available in three tasteful finishes to meet all your aesthetic needs, Cool Grey, Titanium and White.  And for those looking to enter the world of vinyl a little more assertively, for $200 more you can easily upgrade to the RP1 Performance Pack (where you get the step up Bias II cartridge, white belt and felt mat).
To amplify the RP1's pure signal, we stay in the Rega family, this time looking at their line-up of integrated amps.   The Brio-R is a minimalist's dream.  Compact, sleek and with only two buttons and a volume dial occupying the chassis' face it make's life very simple for a blossoming audiophile.  Its $1100 list price is a steal considering the build and sound quality of this giant killer.  Sporting a legit 50W x2 output (at 8ohms), the Brio comes with a built-in phono stage making it ideal for LP lovers in the making.  With a total of 5 inputs, for those who can't resist the convenience of streaming from a Sonos Connect or Airport Express, (like myself!), you're more than capable of doing so with a pair of RCAs.  And for those whose ears can't take their flat panel's inferior sound quality anymore, feel free to "Elevate" using those same auxiliary inputs.  The Brio-R is currently available in black and silver.
It's hard to resist calling the final piece of this package the star, as each component is essential.  However, UK legend Kef's anniversary edition LS50 bookshelf speakers are always challenging not to get excited about.  Their unique design and industry respected Uni-Q driver make this a true stand out, not just in the mini-monitor conversation, but also for all speakers.  For me, the beauty is in the dual-concentric driver.  Using this speaker configuration allows the LS50s to create a broad and therefore forgiving sweet spot.  In today's busy world the likelihood of being able to find the time to plop down in any given system's very focused sweet spot is small.    The being said, Kef's LS50s are optimal for those who enjoy their 2-channel on the move.  Whether it's while your playing with your kids, making dinner, doing housework or as you entertain, this anniversary special makes a lot of sense.  I should also note, just released is the new high gloss white LS50s with blue (yes, blue) Uni-Q driver for those who dig the modern look (both black and white finishes list for $1650/pr).
The Elevated package is designed for those who really want to reclaim their appreciation for music.  Certainly, you can find less expensive options in all 3 categories (believe me, we offer many of those options) but high quality audio is a gift and if done properly it will give back to you every time that record starts spinning.  At under $3500, any listener will reap the rewards of this investment for many years to come.
To schedule an audition of the ELEVATED PACKAGE, call Update TV and Stereo today!
Richmond Hill: 905-883-0068
Vaughan: 905-761-9829
Markham: 905-604-5339
Written by Ken Angeles (Sales Consultant at Update TV and Stereo ELEVATED).
Visit Update TV & Stereo online at www.updatetvandstereo.com.