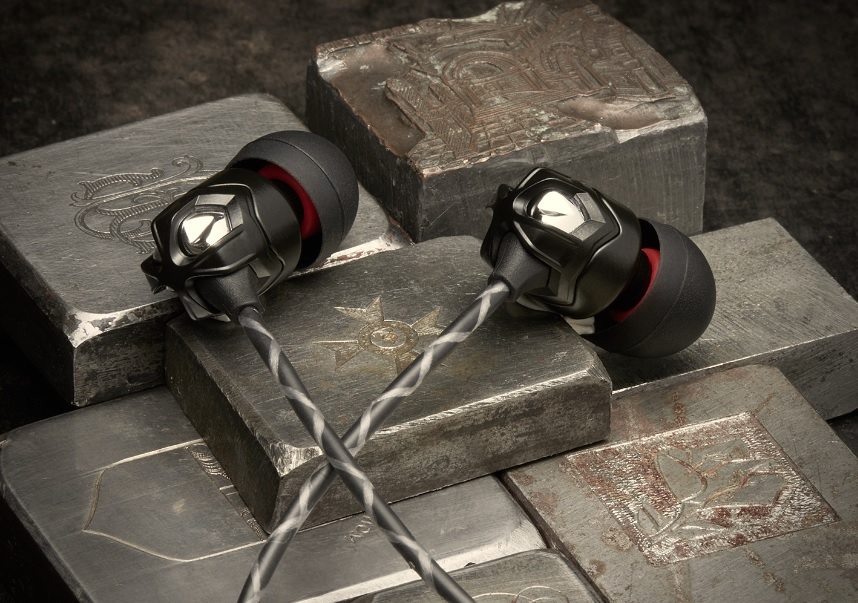 V-Moda of Italy, has just recently announced their all-new Zn in-ear headphones, their first new in-ear headphone model in over four years. The new Zn is promised to provide unrivaled sound quality and unmatched durability, within a beautifully Italian design audiophile grade package.
The limited edition Zn (Zn representing the scientific symbol for the element zinc) has been tuned to provide the highest possible performance that V-Moda claims will let it compete with other in-ear headphones up to $1,000 in price. Durability and luxury was also a prime focus of the new Zn design.
Every Zn component is carefully selected and vigorously tested for the passion of audio. The core is the outstanding 8mm dynamic driver that boosts tonal accuracy with very low distortion.
V-Moda used a futuristic technology for Zn's metal housing: a zinc alloy, casted by a patented process, which allows for unique shapes and microscopic precision necessary for consistent acoustic quality. Zinc has a unique hardness and resonance nature to deliver a balanced sound over other commonly used materials. The touch and feel is balanced to be both machine-like solid and lightweight sleek.
The acoustic filters, installed between the driver and the housing that control the airflow mechanics, are the gatekeepers of golden acoustics; these "made in Italy" filters are from a limited supply, making Zn even more unique as a design and performance stalwart.
The master crafted materials ensure the Zn will fit and serenade any pair of ears. Four ergonomic sizes of patented BLISS 3.0 (Bass Level Isolating Soft Silicone) buds naturally block out background noise, isolating the audio to enable tighter bass for the best fit, stability and sound. The V-PORT airflow system mechanics has been finely optimized for a 3D soundstage and to bring out subtle sounds not heard through run-of-the-mill headphones.
The Zn increase the midrange to enhance clarity with lifelike vocals and resonating instruments that make music sound the way artists, instruments and sound engineers imagined. The 8mm dynamic driver is tuned to do this across any genre, thanks to a wide frequency band and impossibly low distortion (<0.5dB). The left and right drivers have also been "hand-picked", like reserve fine wine, to complement the human hearing limit variance (+/- 2dB).
The DiamondBack cable is absolutely alluring and impossible to get into a tangled mess. Up to 20x stronger than the industry average, it's reinforced with Kevlar to give it a serious edge. The 3-Button SpeakEasy Remote Mic for Apple iOS (or 1-Button SpeakEasy Remote Mic for Android) includes a high-sensitivity microphone for crystal-clear phone calls, plus controls to manage playback without touching a smartphone or music player. Play/pause, skip or go back a track with ease. Hold it down to command Siri, Google Now or Cortana and record voice memos or audio messages on the fly.
The SpeakEasy Remote Mic, available in both 3-Button or 1-Button models, work with virtually all smartphones, tablets, computers and audio players. Apple products, as well as Samsung devices and Amazon Kindles are fully compatible. Any devices running iOS, Android, Windows Phone, BlackBerry or Kindle, plus Mac and Windows PC, can utilize the onboard mic. Perfect for anything from hands-free phone calls, gaming, Skype video chats and dictation.
The included remote for the 3-Button model has a wide range of Apple compatibility to also control the volume: iPhone 6S Plus, iPhone 6S, iPhone 6 Plus, iPhone 6, iPhone 5S, iPhone 5C, iPhone 5, iPhone 4S, iPhone 4, iPhone 3GS, iPod shuffle (3rd gen and newer), iPod touch (2nd gen and newer), iPod nano (4th gen and newer), 120GB iPod classic as well as MacBook, MacBook Pro, MacBook Air, iMac and Mac Pro (2009 and newer models).
The patented ActiveFlex sport earhooks are seamlessly integrated when listening to music during a long run or tough workout at the gym. The DiamondBack cable's sturdy build adds to the feeling of confidence that the Zn can keep up and stay hooked onto you no matter what duty calls.
As is paramount for any V-Moda product, the Zn has been built to withstand the unexpected. Tested beyond military-level standards MIL-STD-105, V-Moda's new in-ear headphones can bear extreme environmental conditions like high and low temperatures, humidity and UV exposure. The all-metal construction of the headphones and the y-connector provides a rugged feeling enhanced by the Kevlar-reinforced DiamondBack cable, presenting unmatched strength and durability (20x more than industry standard).
The all-new V-Moda Zn (including 3-Button SpeakEasy Remote Mic) is now available at a MSRP of: $180 U.S. The Zn with 1-Button SpeakEasy Remote Mic will be available soon. Look for more details at: http://v-moda.com