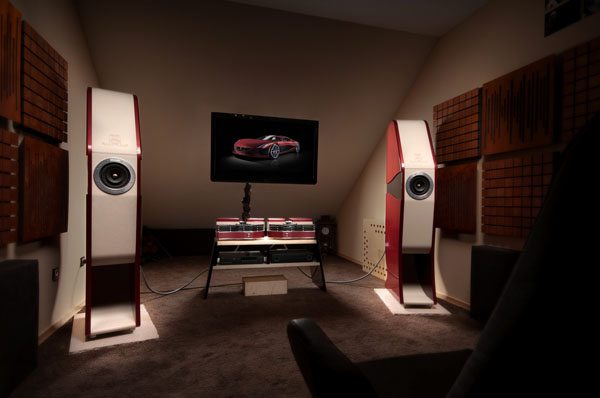 Vilner created an unique Hi-End audio system, inspired by the Rimac "Concept One" super car. The remarkable combination of design, quality and conception of the Croatian super vehicle transforms into this no less remarkable music system, created for audio-maniacs.  
The leather, carbon, aluminum details and lacquer polish are emblematic for the one of its kind Rimac's vehicle – "Concept One". In a very original and unique way they are transferred into the audio system, developed and created by Vilner Studio – proven perfectionists, with innovative thinking, striving to prove themselves not only in the field of automobile industry interiors but also in the boundless opportunities of the perfect sound.
Horns have certain specifics that differentiate them from the most commonly used sound devices. As a result of thorough calculations, through a perfect impedance and acoustic concordance with air and environment, horns give the sound waves their energy with lots of speed, refinement, detail and realism in the low frequencies – where the classical bass-reflex or closed volume give up. 
Aero Horns are with optimum length (339cm), classical, back-loaded horns, calculated with precision of 0.01 mm. Their massive bodies are made of Ukrainian first-quality birch plywood. The contour is with a perfect aerodynamic shape and a minimum number of curves for faster, more accurate and controlled low frequencies. Special attention is paid to the workmanship and type of used materials, so that the construction could turn into a massive horn, as free of resonance as possible.
The speakers used in Aero Horn are fullrange, handmade speakers, manufactured by the Bulgarian High-End company Etheraudio. The powerful cobalt magnetic systems, the extremely light-weighted, yet solid membranes, in combination with the high sensitivity (98db/1W/1m) makes music burst out of them with extreme ease, lucency and refinement. The signal from the input terminals to the driver passes through a single-core silver wire with teflon insulation.
The amplifier, which is offered in combination with the horn loudspeakers, is made in the same design as they are. It is a vacuum tube amplifier, Class A push-pull, with no negative feedback, made with a three-stage scheme and a monoblock construction. The output tubes are selected pairs of the Russian pentodes GU50, for achieving maximum uniformity of their parameters. The wiring of the amplifier is made of silver wires only.
Vilner Studio offers totally individual, designer solutions, fully matching its clients' preferences and concepts. This guarantees the creation of an identical, unique and remarkable product. Depending on the interior, in which the High-End audio system will be installed, the design may be changed, thanks to the wide range of high-tech and quality materials, such as leather, natural veneers of exotic wood, polish covers, technical stone, Corian, carbon fibers, elements of polished metal, aluminum, brass, even precious metals could be used.
Vilner stated that only 10 Hi-End audio systems "Concept One" will be made, so that the owners of Rimac Concept One could carry over the unique experience from the vehicles into their homes for the price of EUR 50,000.
All this combination of imagination, design and technology is a guarantee for an incredible experience, full of unique sound and sense of music!