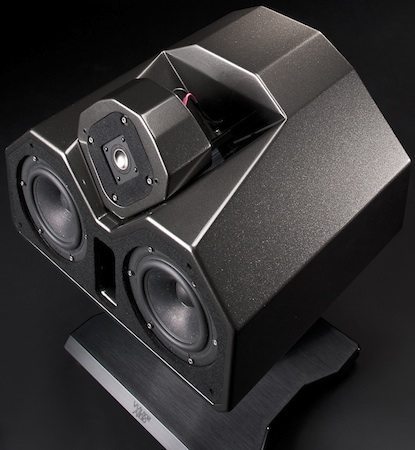 Wilson Audio has announced their new Wilson Audio Theater Comes Home (WATCH) Center Series 3 speaker a.k.a. the WATCH Center 3.
This new WATCH Center 3 uses the same midrange as the Alexandria Series 2, with the tweeter from the Sasha W/P and Sophia Series 3.  The new tweeter makes the WATCH Center slightly more efficient, while more dynamic and will be better matched to the Wilson midrange driver.
Wilson claims that their proprietary materials and mechanical configurations combine to dramatically reduce distortion, time-delayed reflections as well as high-frequency noise and grain.
The WATCH Center 3 incorporates a new crossover design with the latest in Wilson's anti-jitter technology with the objective of producing greater articulation from a near-silent background.
The Center 3 incorporates a milled, square alignment guide, with a clear demarkated indicator, facilitating very precise tweeter-module alignment.  The Center 3's front baffle is angled upward, directing sound at the listener's ears.  The Center 3 utilizes X-Material in both tweeter and woofer enclosures.  S-Material, Wilson's latest composite first used in the Sasha, now finds its place in the Center 3's mid-woofer baffle.  The new cabinet minimizes enclosure resonances and enhances the Center's settling characteristics, allowing for better microdynamics and deeper shades of black.
 Shipments on existing orders are scheduled for June 1, 2011 at a MSRP of $8,995 U.S.
 Look for more details at: http://www.wilsonaudio.com