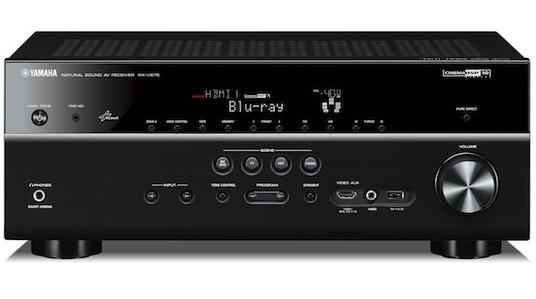 Yamaha has just unveiled its newest RX-V Series of audio-video (AV) receivers.  This latest RX-V Series for 2013 includes four network-enabled models (7.2-channel RX-V775WA, RX-V675 and RX-V575, and 5.1-channel RX-V475) and the RX-V375 non-networked model.
The new network models include Mobile High-Definition Link (MHL) for HD video and audio playback from MHL-compatible mobile phones and portable devices, to AirPlay, Pandora music streaming service and vTuner Internet radio features, along with Wi-Fi and Bluetooth support, to provide wide and seamless access to content from virtually any source. The RX-V775WA and RX-V675 can also deliver content from the Rhapsody music streaming service.
The network models' Wi-Fi and Bluetooth support is made possible by the Yamaha YWA-10 Wi-Fi (MSRP $99.95 U.S.) and YBA-11 Bluetooth wireless (MSRP $69.95 U.S.) accessories. The RX-V775WA includes the Yamaha YWA-10 Wi-Fi adaptor.
Each network model is also compatible with the free, consumer top-rated Yamaha AV Controller App for iOS, Android and Kindle Fire devices that also enables playback of music stored on smartphones and tablets. For the RX-V775WA and RX-V675, the app can also control independently powered Zone 2 for whole home audio enjoyment.
All five models provide 4K (UltraHD) video pass-through, as well as 3D video pass-through with Audio Return Channel (ARC). The RX-V775WA and RX-V675 add 4K (UltraHD)/full HD video upscaling from analog or HDMI sources that elevates all content to the highest possible quality level. All models feature generous HDMI inputs – the RX-V775WA and RX-V675 have six, the RX-V575 and RX-V475 have five and the RX-V375 has four.
The RX-V775WA and RX-V675 feature Burr-Brown DACs and Yamaha CINEMA DSP 3D processing for maximum audio performance. For ultimate system installation flexibility, the RX-V775WA and RX-V675 have intelligent assignable amplifiers. They automatically direct output power from the surround back speaker terminals to power either Front Presence or Zone 2 speakers when needed and back again without requiring speaker connections and setup menus to be changed.
All 7-channel receivers in the line (including the RX-V775WA, RX-V675 and RX-V575) are designed to deliver 7-channel surround sound. However, if a 7-channel installation is impractical, the bi-amp function can be used to double power to the main speakers. The 7.2-channel RX-V775WA also provides Party Mode and Zone B dual HDMI outputs that give users many options for enjoying audio and video content throughout the home.
The RX-V775WA and RX-V675 have Dialog Lift that heightens surround sound realism by ensuring dialog is positioned to come from the center of the viewing screen for movies and television programming. A Virtual Dialog Lift on these models can also accomplish this with systems that are not set up with presence speakers. Dialog Level Adjustment enables listeners to fine-tune the relative volume level of human voices in relation to sound effects and music delivered via the center channel.
All models are equipped with Yamaha's proprietary YPAO automatic room calibration and optimization system for best possible playback quality. The flagship RX-V775WA model boasts an 8-point multi-calibration capability, which improves audio performance by providing heightened listening experiences with a larger sweet spot to more seating positions within the room. The RX-V775WA and RX-V675 both offer YPAO's R.S.C. (Reflected Sound Control), which removes the unnatural muffled sound generated when speakers are placed too close to walls and furniture, or in other non-optimal locations.
The RX-V775WA and RX-V675 have advanced multi-language on-screen displays that overlay onto HD and 3D video signals to depict system control and setup prompts, as well as album art from content played via connected components and devices.
The RX-V775WA and RX-V675 offer gamers Video Direct Mode which bypasses the models' video processing chips to speed up the signal by two video frames and eliminating distracting delays to play action.
All models in the line, RX-V475 and above, provide superior sound quality from iPod, iPhone and iPad devices via convenient front panel USB inputs that enable direct digital connectivity. (The RX-V375 offers direct digital connectivity to iPods and iPhones.) Once connected, song titles are shown on the receivers' attractive on-screen displays. Connected iPods, iPhones and iPads will also charge automatically for later use on the go. Providing additional source connectivity, the network receivers in the line also deliver audio from Internet radio and DLNA certified devices.
All models offer a full complement of HD Audio format decoding, including Dolby TrueHD, DTS-HD Master Audio, Dolby Digital Plus and DTS-HD High Resolution Audio.
Other notable performance and convenience features of the new RX-V Series receivers include:
• ECO mode that reduces the models' power consumption up to 20 percent;
• A subwoofer level adjustment that enables listeners to increase the bass without disturbing the system's crossover point;
• A high speed HDMI switching function that remembers the settings of all connected sources;
• Four convenient SCENE mode buttons that automatically power on the receiver and make system settings and;
• A full suite of proprietary audio features, including a number of Cinema DSP modes.
Availability and pricing of the new RX-V Series models is as follows:
• RX-V775WA will be available in April (MSRP: $849.95 U.S. )
• RX-V675 will be available in March (MSRP: $649.95 U.S. )
• RX-V575 will be available in March (MSRP: $549.95 U.S.)
• RX-V475 will be available in March (MSRP: $449.95 U.S.)
• RX-V375 will be available in February (MSRP: $299.95 U.S.)
For more information visit: www.yamaha.com.