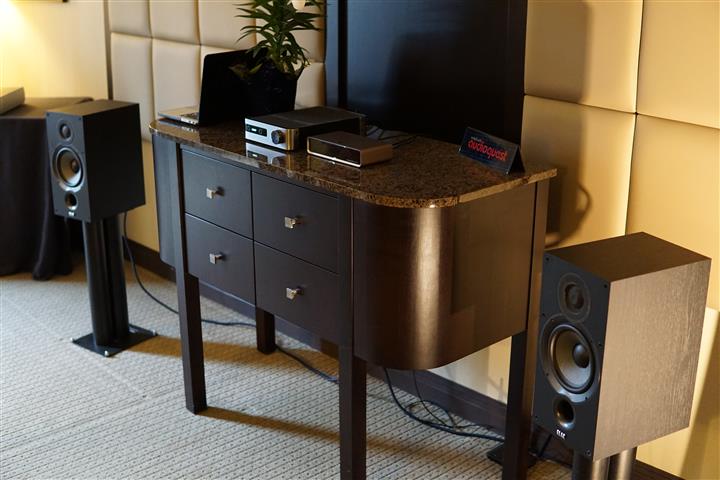 Welcome to Part 5 of our coverage of the 2018 Montreal Audio Fest.  If you missed the previous parts, you can read them HERE.
ELAC America
ELAC America was hosting a couple of their own rooms at the Montreal Audio Fest.  It was great to see this company now in direct control of their Canadian product distribution and marketing and from what I saw, the future is promising.
One room hosted a modest yet relaxed and engaging sounding setup, fronted by a pair of ELAC's new Debut 2.0 Series B6.2 bookshelf speakers ($429).  Amplification was by way of ELAC's Discovery Series DS-S101-G integrated amplifier ($1499) utilizing BASH amplification for 80 watts-per-channel and the source was an EA Series EA-101EQ-G Music Server ($999) with built-in RUNE.  Heck, since RUNE itself is $500 U.S. for a lifetime licence, this is quite the bargain of a product.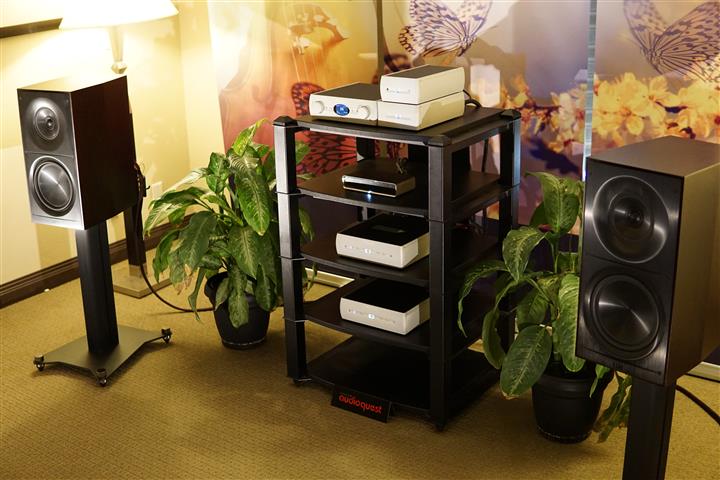 Moving to the second room there was a standing room crowd, so much so that I had to pass-on-bye and return at a more convenient time for a photograph.  The system was demonstrating the ELAC Adante speakers ($3,749) on stands ($479) with the aforementioned EA-101EQ-G RUNE Music Server as the source, Audio Alchemy amplification and AudioQuest cabling.  Listening to a master-tape copy of Patricia Barber's "You Don't Know Me" the sound was wonderfully detailed and musical with substantial weight to the low frequencies.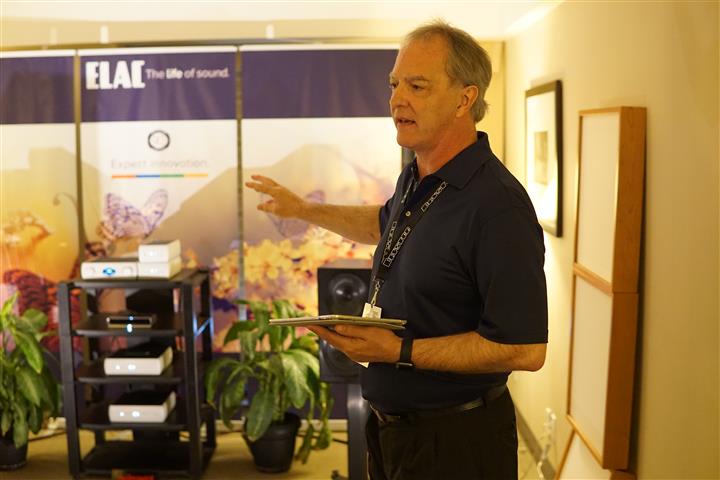 Andrew Jones was in town personally to speak about these products, which no doubt was a significant draw to the room –he has a following, and given his success with everything he touches, he should.
Verity Audio
In the Verity Audio room I found the Sarstro IIS loudspeakers ($59,995/pair) being driven by VerityAudio's own Monsalvat Amp 60 ($75,395) and controlled by their Monsalvat Pre-2 ($45,495).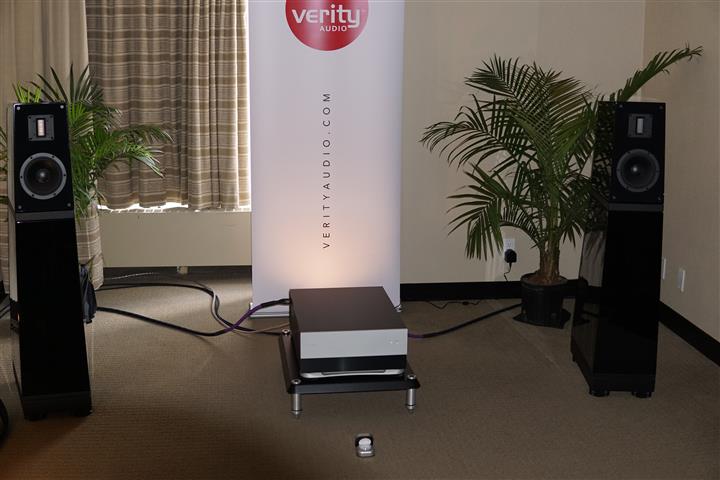 A MELCO HA-N1ZH60 Music Server ($4,000) and an APL DTR-SR transport ($9,850) were the sources.  How did it sound?  Warm and rich with a lovely bloom that was undeniably relaxing and a welcome treat for my ears.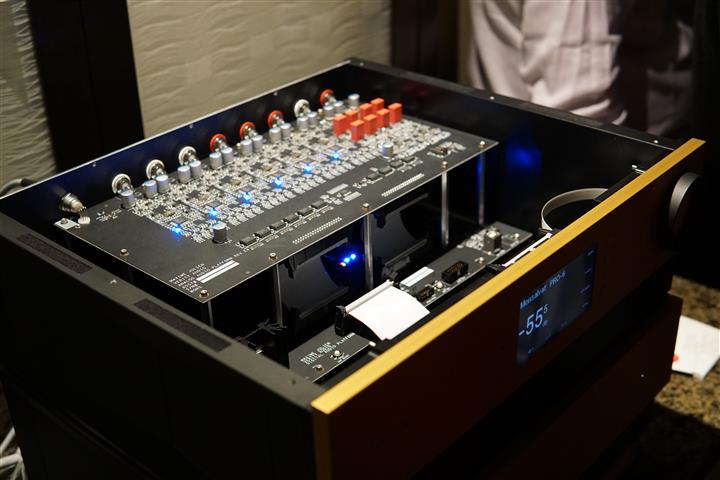 I took an interesting shot of the Monsalvat Pro-6 with its top off, which gives you an idea of the engineering and logical layout of Verity Audio's electronics.
A Taste of Live Music in a Studio
I came across a large room, professionally dressed, in which I was enchanted by live music.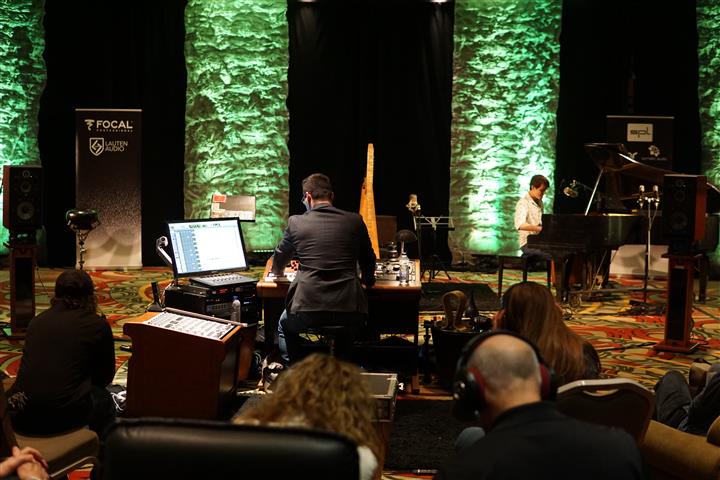 The setup was an open studio and it was inspiring to see such a young artist (Anne Bisson's son) playing the piano so wonderfully.  This is only a small taste of the live music events happening at the show over the 3 days.  In fact, Anne Bisson herself was also playing in the Plurison Room.
Gemsen
Distributor Gemsen only had static displays at the show this year.  I did find the new Dynaudio wireless speakers to be interesting looking.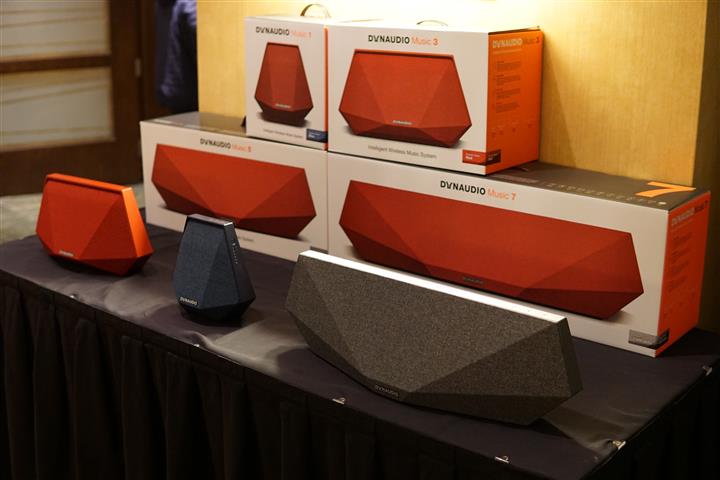 This was the first North American showing of the Dynaudio Music 1, 3, 5 and 7 models, which range in price from $649 to $1,099 U.S.
RUEL Audio
RUEL Audio had a charming room setup with a table, seating and warm lighting.  The music came from decorative and unimposing column speakers set near the corners.  Totally non-intrusive despite their floor to ceiling height, the RUEL R+ system has strong appeal for those wanting high-end audio with a modern aesthetic flare.  The distribution of sound and tonality was amazingly consistent throughout the room and whether standing up close or at a distance.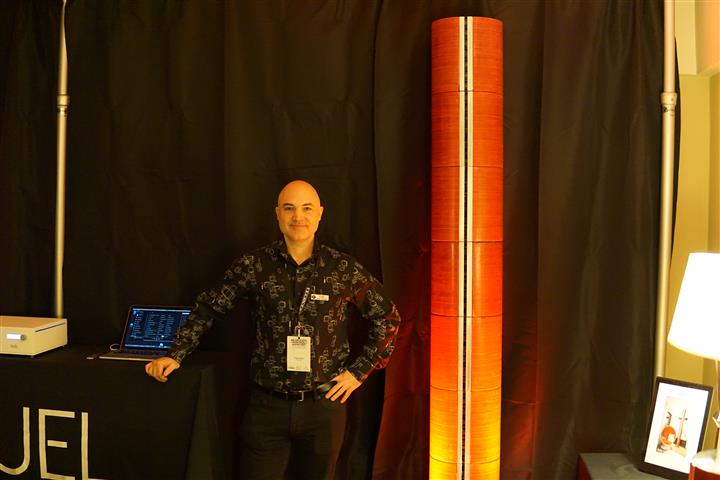 Thierry (Terry) Ruel, company founder, stood by his creation with pride for a photo.  The RUEL R+ system stands 8-feet tall and is adjustable in height given its modular design. There are 16 stacked modules included, with a system controller (amplifier, DSP, input selection and DAC) and speaker cables.  Shipping is also included in the system price of $39,000.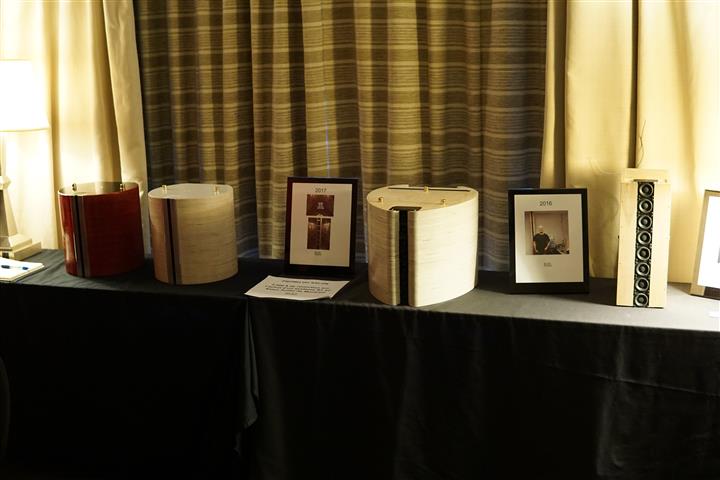 The system can be ordered in 3 different finishes including: Passion Red, Dream White and Golden Brown.
Audiophile Experts
Montreal dealer, Audiophile Experts, has a room built around Esoteric, Focal and SGS audio gear.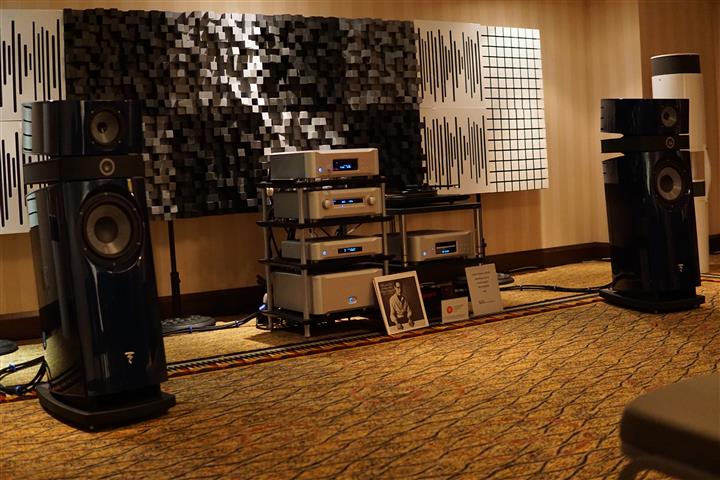 The speakers in play were the latest EVO edition of the Focal Utopia Scala ($47,000/pair).  They were being run on a full set of Esoteric components, including their 901 Streamer ($26,000), C03XS linestage preamplifier ($16,000) with a G02 Master Clock ($8,500) and S03 power amplifier ($16,000).  Cabling was all SGS Electro Acoustique, including the new Zeus series, as well as the Gold and Poseidon series.  Music was delivered with a wonderful sense of air and space, set within a large soundstage.
Artist Cloner
An interesting and lovely looking room was hosted by Artist Cloner.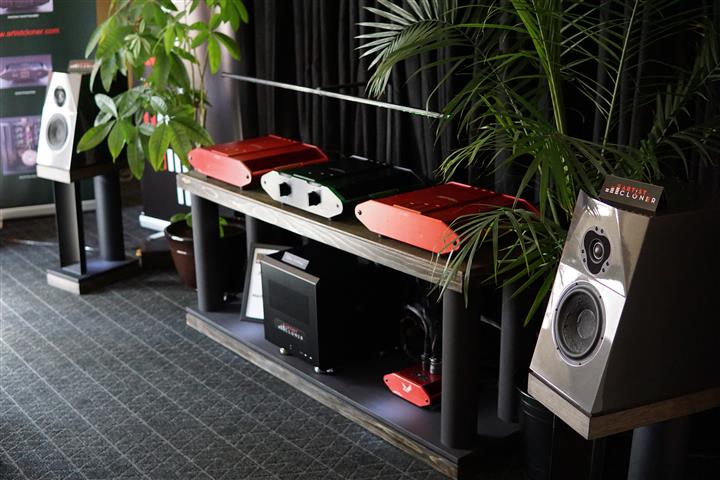 This was a full Artist Cloner system, which included their Rebel Reference standmount loudspeakers ($22,299/pair), driven by their COLEO monoblock amplfifiers ($25,399/pair) and controlled by their LUCEO preamplifier ($12,599).  Cables and connections were by Furutech.  This system sounded open and palpable with lovely articulation.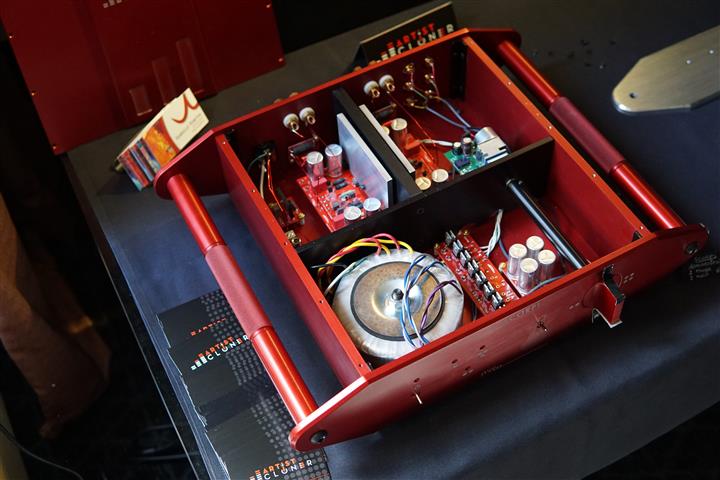 On static display and open top for viewing pleasure was the SCORPI ($6,000), a 50 watt-per-channel integrated amplfier, which I was told is soon to be succeeded by the SCORPI II ($15,000).
Distinct Distributors – Radial Engineering Ltd.
The last room I had the pleasure to visit was of Distinct Distributors with Radial Engineering Ltd., which had numerous products on display.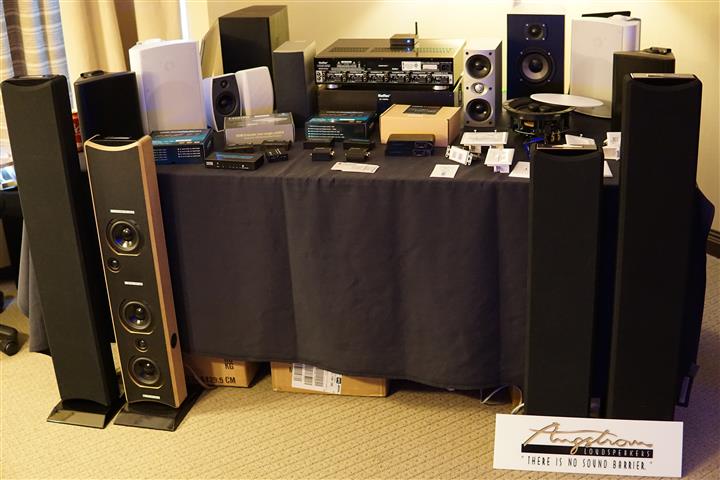 The featured system in play was using Angstrom's all-new 500 series speakers ($999/pair) – the taller of the two sets pictured.  The 500 Series are unique in that a pair of two speakers (left/right) incorporate a separate centre channel for true 3-channel operation in a home-theatre or surround-music system.  The shorter of the two is the 600 Series ($1,299/pair) which also incorporates three channels into two speakers but adds a side-firing tweeter.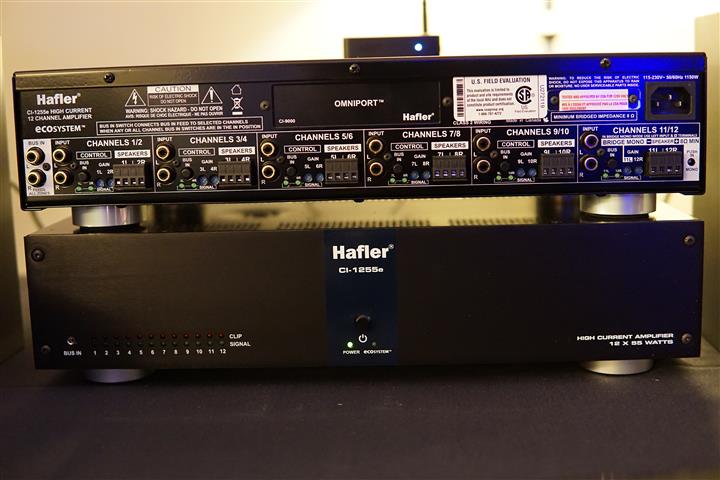 This system was being driven by a Hafler CI-1255e 12-channel amplifier ($1,500) that delivers a healthy 55 Watts into each of those 12 channels.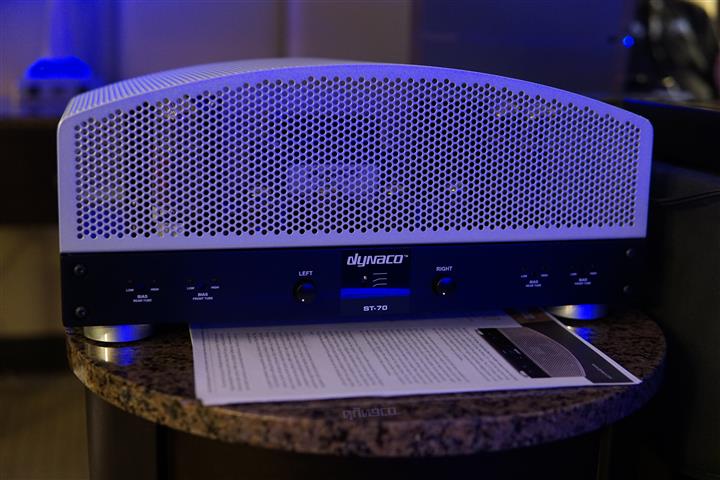 The relatively new Dynaco ST-70 ($3,999) was on static display.  We are hoping to get one of these in for a review soon.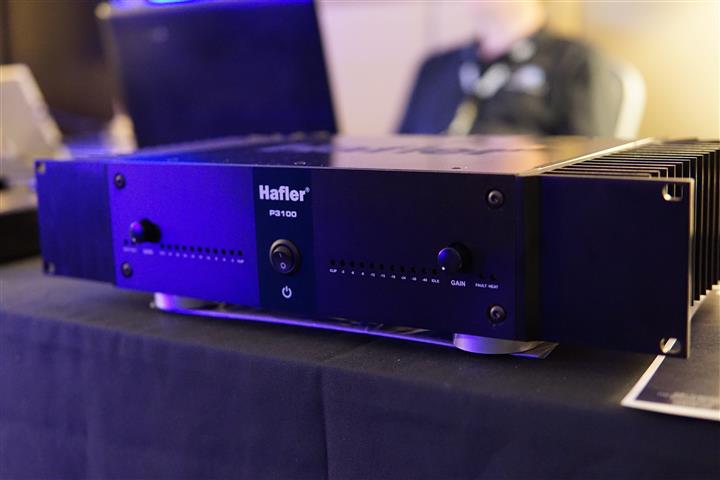 Also on static display was the Hafler P3100 ($2,599) a 2-channel studio power amplifier that delivers 150 Watts-per-channel.
Wrap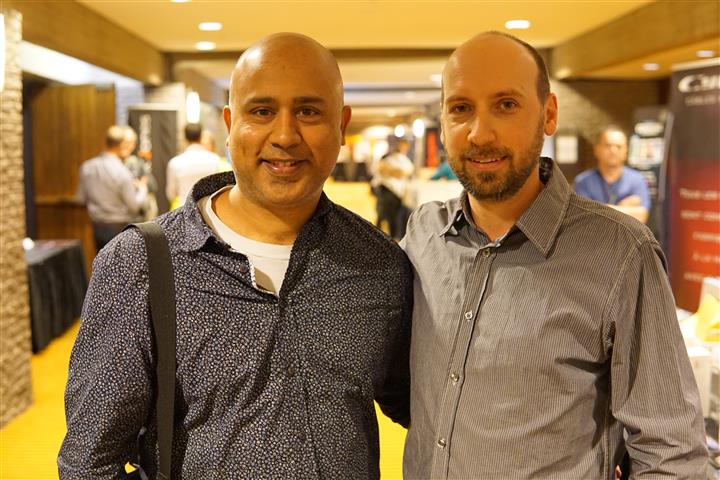 So that's it for me on my re-cap of the Montreal Audio Fest 2018.  I had a fantastic time attending this show, once again.  So long, from me, George de Sa and Suave Kajko.