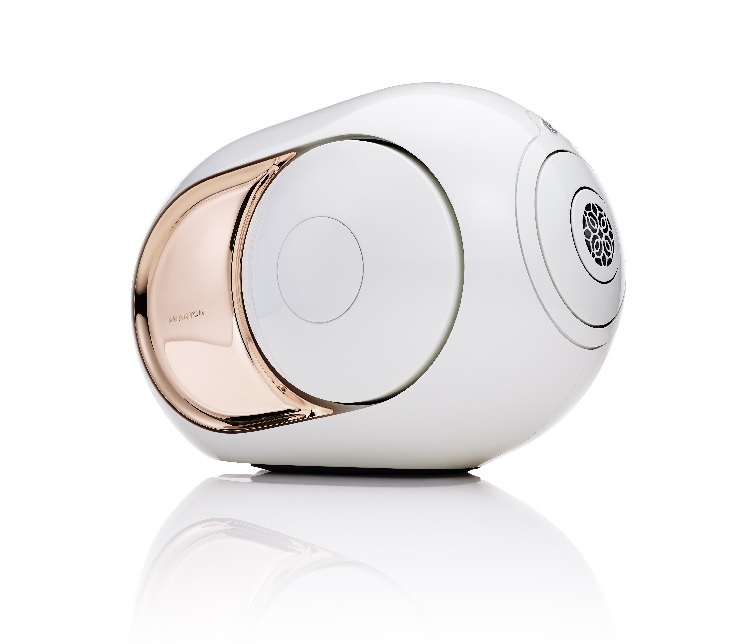 Devialet, has announced their new Gold Phantom, which the company claims to be "the most extreme speaker ever made". The new Gold Phantom incorporates the following:
– EXTREME POWER: Maximum volume of 108db SPL – equivalent to a live rock concert – enabled by 4,500 Watts of power – equivalent to 8 regular Phantoms and an unmatched THD (Total Harmonic Distortion) level of .0005%;
– EXTREME JUBILATION: Physical impact of the deepest basses ever reproduced (14Hz) and the unmatched precision of a new titanium tweeter, up to 27kHz, both driven by a new core ADH (Analog Digital Hybrid amplification);
– EXTREME SOPHISTICATION: 22 kt Rose Gold-finished exterior highlights.
The Devialet Gold Phantom now represents the highest-end of the acclaimed range of Devialet Phantom audio products, including the original Phantom (750 Watts, $1,990 U.S.) and Silver Phantom (3.000 Watts, $2,390 U.S.).
The new Gold Phantom will be available at an MSRP of: $2,990 U.S.
Look for more information at http://en.devialet.com