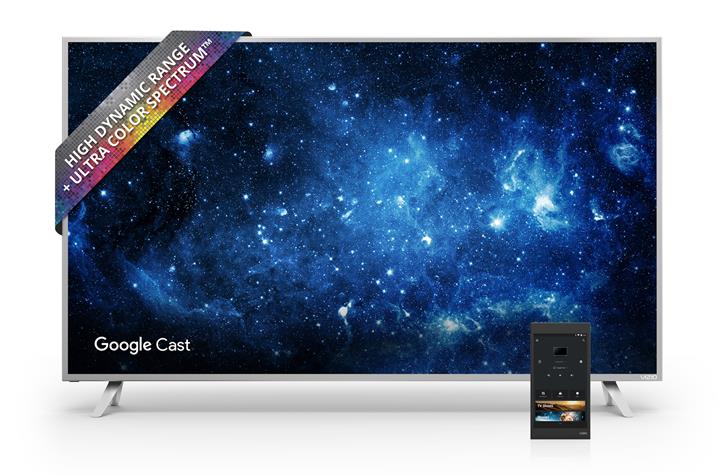 VIZIO has just announced the Canadian launch of VIZIO SmartCast, its next generation smart entertainment ecosystem that transforms how users discover and control their home entertainment. VIZIO SmartCast comes to Canada with three all-new collections: the P-Series and M-Series Ultra HD HDR Home Theater Displays and E-Series Ultra HD Home Theater Displays.  Each new model fully integrates Google Cast technology and is controlled by the intuitive VIZIO SmartCast app that turns any smartphone or tablet into a powerful touchscreen remote. Rolling out online through Costco Canada, the collections start at an MSRP of $1,499 for the P-Series 50" class size, $3,199 for the M-Series 70" class size and  $1,299 for the E-Series 50" Ultra HD class size.
The VIZIO SmartCast ecosystem represents a paradigm shift in smart home entertainment by turning every mobile device screen into a remote control. Available for download, the new VIZIO SmartCast app transforms iOS or Android mobile devices into powerful touchscreen remotes capable of controlling any VIZIO SmartCast device in the home. Rather than struggling to see and adjust settings or navigate apps from across the room, VIZIO SmartCast app users have easy access to all menus and playback controls right from their mobile screen. Each VIZIO SmartCast model, regardless of collection, also ships with a standard IR remote control, giving consumers an alternative way to control basic functions of the display.
The VIZIO SmartCast P-Series Home Theater Display models offer Ultra HD featuring High Dynamic Range with support for Dolby Vision content. The P-Series also boasts Ultra Color Spectrum enabling a wider color gamut for impeccable accuracy in every hue and tone. These technologies transform the entertainment experience with dramatic imaging, incredible brightness, contrast and color that brings content to life. A powerful Full-Array LED backlight with up to128 Active LED  dynamically adjusts to on-screen content for deeper, richer black levels and more accurate contrast2. The VIZIO P-Series also allows consumers to control their entertainment experience like never before with an included 6" Android Tablet Remote. The tablet remote features a convenient wireless charging dock and comes pre-installed with the VIZIO SmartCast app, allowing consumers to browse and play content with simple tap, swipe and voice-based controls.  The Android Tablet Remote accompanying P-Series offers Full HD 1080p resolution, a powerful V8 octa-core processor, integrated stereo speakers, and 16GB of storage, making it a great standalone tablet as well for watching videos, playing games and more.
Next in the VIZIO SmartCast line-up is the M-Series Ultra HD HDR Home Theater Display collection..  In addition to Dolby Vision content support, the M-Series also features Full-Array LED backlighting with up to 64 Active LED Zones, doubling the amount of zones when compared to the award-winning 2015 M-Series collection. Like the P-Series, the M-Series ships with a 6" Android Tablet remote, featuring 720 HD resolution, 8GB of storage, integrated stereo speakers and a quad-core processor.
For consumers looking for an uncompromised value, the VIZIO SmartCast E-Series collection offers brilliant picture quality and other features not typically found in entry level displays. The E-Series Ultra HD models offer four times the pixel resolution of 1080p Full HD and Full-Array LED backlighting with up to 12 Active LED Zones. For HD entertainment, VIZIO's Spatial Scaling Engine and VM50 Ultra HD Engine upscales the image to Ultra HD resolution for a beautiful viewing experience.  To access smart entertainment features, E-Series users simply download the VIZIO SmartCast App to their mobile devices to discover content and control their displays.
All VIZIO SmartCast displays come with Google Cast built in, which enables consumers to stream content from thousands of mobile apps they already know and love. By simply tapping the Cast button, consumers can easily watch content go from their mobile screen to any VIZIO SmartCast display connected to their home WiFi network. When streaming over WiFi, users can multi-task on the M- and P-Series included tablet remote, or their own mobile device, without interrupting what is casting on the display.
VIZIO SmartCast Ultra HD Home Theater Displays are also tuner-free.  The displays come with an included HDMI cable so they are able to connect to high-definition devices like cable/satellite receivers, Blu-Ray players and gaming consoles just like traditional TVs. For consumers that use an external antenna or "rabbit ears" to watch local over-the-air broadcasts, a separate third party digital converter box tuner will need to be purchased to connect to the display via HDMI.
For more information on the VIZIO P-Series Ultra HD HDR Home Theater Display, M-Series Ultra HD HDR Home Theater Display or E-Series Ultra HD Home Theater Display models, visit www.VIZIO.ca
VIZIO SmartCast P-Series Ultra HD HDR Home Theater Display Collection
VIZIO SmartCast 50" P-Series Ultra HD HDR Home Theater Display (P50-C1)  MSRP $1,499 (CAD)
VIZIO SmartCast 55" P-Series Ultra HD HDR Home Theater Display (P55-C1)  MSRP $1,799 (CAD)
VIZIO SmartCast 65" P-Series Ultra HD HDR Home Theater Display (P65-C1)  MSRP $2,999 (CAD)
VIZIO SmartCast 75" P-Series Ultra HD HDR Home Theater Display (P75-C1)  MSRP $5,499 (CAD)
VIZIO SmartCast M-Series Ultra HD HDR Home Theater Display Collection
VIZIO SmartCast 70" M-Series Ultra HD HDR Home Theater Display (M70-D3)   MSRP $3,199 (CAD)
VIZIO SmartCast 80" M-Series Ultra HD HDR Home Theater Display (M80-D3)   MSRP $5,999 (CAD)
VIZIO SmartCast E-Series Ultra HD Home Theater Display Collection
VIZIO SmartCast 60" E-Series Ultra HD Home Theater Display (E60u-D3)         MSRP $1,299 (CAD)
VIZIO SmartCast 70" E-Series Ultra HD Home Theater Display (E70u-D3)         MSRP $2,199 (CAD)