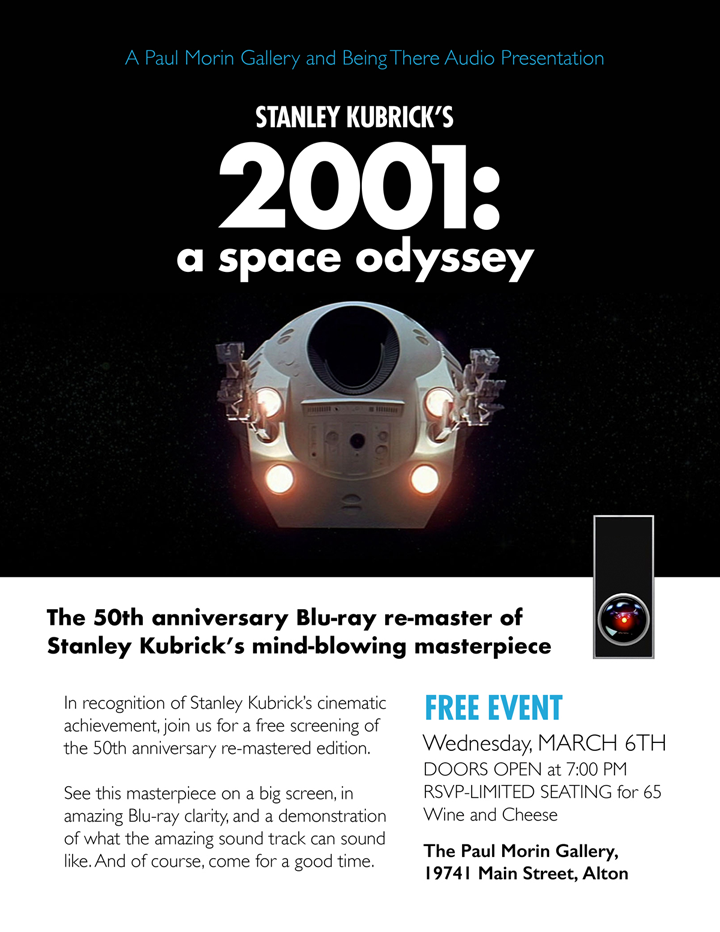 It's been 50 years since the release of 2001: A Space Odyssey, and Stanley Kubrick's science-fiction masterpiece is regularly voted as one of the greatest films ever made. The visionary work changed the way we thought about science, science fiction, artificial intelligence, and our origin and destiny in the universe. 
I'm still trying to make sense of it and apparently I'm not alone:
"2001 remains one of the most puzzling films ever made. What, for instance, is a shiny rectangular monolith doing in prehistoric Africa? Why does an astronaut hurtle through a psychedelic light show to another universe, before turning into a cosmic foetus? And considering that the opening section is set millions of years in the past, and the two central sections are set 18 months apart, how much of it actually takes place in 2001?"
This free event will be hosted at the Paul Morin Gallery – a repurposed Church that is acoustically stunning. And, by taking advantage of the space, we hope to deliver a memorable audio and visual experience. To commemorate the 50thanniversary, the movie has been re-mastered and released on Blu-ray. The movie will be projected on a "big screen" and the high resolution sound track will be played through a tube-based hi-fi system featuring the Triangle Australe speakers to bring startling audio/visual realism to the experience.
Whether first seen in 1968, or now for the first time-this free event is a must see!
Space and seating is limited to 65 – so PLEASE reply to:
peter@beingthereaudio.com