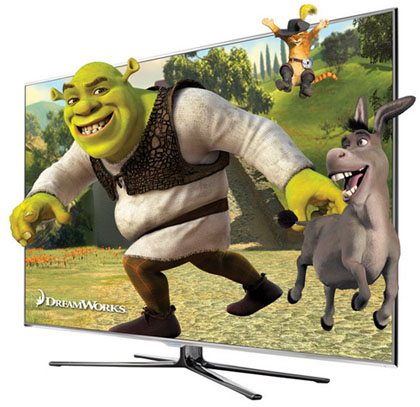 As you may have already read in the pages of CANADA HiFi, two 3D TV formats are currently available in stores – one which uses active LCD shutter glasses and the other which uses passive polarized glasses (similar to those in a movie theatre).  3D TVs with active shutter glasses were the first to hit the market last year, with this type of 3D tech now widely available in TVs from companies like Samsung, Panasonic, Sony, Toshiba and LG.  And now recently, LG introduced a line-up of LCD 3D TVs which use very inexpensive passive polarized glasses.  The only trouble with the passive polarized tech is that it cuts the vertical resolution by 50 percent, compared to active shutter systems.
Nevertheless, LG has began strongly promoting its 3D TVs with the passive glasses in a campaign of TV commercials (at least in the US).  And Samsung quickly responded by significantly reducing the pricing on its active shutter glasses and by offering special packages to new 3D TV buyers.  Again, all of this is taking place in the US, but it will surely follow very quickly here in Canada as well.
This is an excerpt from an article posted on www.hdguru.com:
"Beginning May 1st, Samsung will reduce the price of its standard, battery-operated, 2011 3D glasses from $129.99 retail to $49.99 each,  a 61% price drop. In addition, beginning April 24th, Samsung will offer 2 free pairs of its 3D glasses (model SSG-3100) with the purchase of any Samsung 3D HDTV including the entry level D490 720p and  D590 1080p plasma series, which are currently priced from $699 on Amazon with free shipping.
Samsung is also expanding its free 3D "Starter Kit" offer to include LED series D7000 and D8000 models and plasma series D6500 , D7000 and D8000. The package includes: 3D Blu-ray discs Shrek, Shrek 2, Shrek the Third, 2 pairs of Samsung 3D Active Glasses (model SSG-3100), and mail-in coupons for Shrek Forever After and Megamind 3D Blu-ray discs.
The free 3D Starter Kit offer begins on April 23rd. It's an "either/or" deal, meaning consumers that get the free "Starter Kit" are ineligible for the other "free two pair of glasses" offer.
With either deal and the price drop, a family of four can now get four pairs of active glasses for under $100 retail, down from $599.96.
Samsung also announced it will reduce the price of its wrap-around rechargeable 3D glasses, which are currently $199.99. The new price will be announced soon.
LG's passive 3D glasses start at $10, however its FPR technology reduces vertical resolution by 50% compared to active 3D TVs."