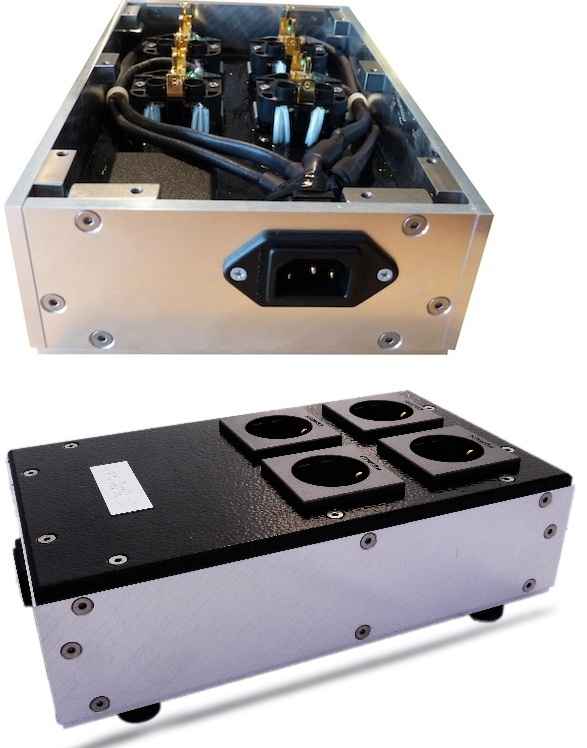 Akiko Audio is a Dutch company.  Based out of the Netherlands, Akiko Audio specializes in power supply, cable and tuning products.  Akiko has just recently launched a new power distribution product, their Akiko Audio Powerbase Quattro.  The Powerbase Quattro has been designed using high-quality materials and carefeul workmanship to maximize performance.  
The Powerbase Quattro combines Akiko Audio internal wiring & tuning with a Kemp Elektroniks QA module.  Construction uses high quality aluminium, stabilised with block connections and uses Furutech intlets that are firmly anchored to the base.
The star shaped Akiko Audio Aerostar wires used in the Powerbase Quattro are made out of eight veins of silver plated copper wire, isolated by air and p.t.f.e. with a shielding for the grounding.  The Quattro incorporates a black resin tuning mix that prevents vibrations and micro oscillations for increased performance.  
The Powerbase Quattro is most effectively utilized in a setup that uses a dedicated circuit as well as propper wiring and fuses.  In such setups, the Quattro will provide its highest potential, ensuring that current is passed perfectly to all connected components.  
The Powerbase Quattro is available in Europe at a list price of € 1995 (including taxes) and outside of Europe for € 1648.76.  For more information on the Powerbase Quattro, please visit: www.akikoaudio.com.