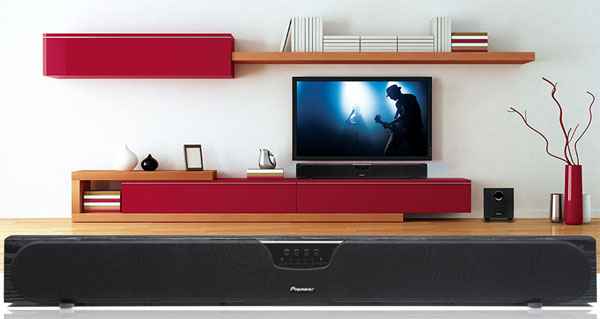 TVs are getting thinner and thinner and so are their built-in speakers – and hence most TVs offer a pretty lousy sound.  Meanwhile, consumers are also shifting away from space consuming home theatre-in-a-box systems yet they want quality sound but in a smaller package. Pioneer's new  Speaker Bar system (SP-SB23W) hopes to solve the problem by offering excellent full-range sound from a small, simple solution audio package.  Made for consumers who care about audio quality, the Speaker Bar features a composite wood curved cabinet, six individual speakers, six amplifiers (independent for each speaker) and an eight-channel active digital crossover network.  The combination of features offers a multitude of benefits to listeners including exceptional sound quality reproduction, wider off-axis response, higher power handling and increased dynamic headroom. Pioneer's Speaker Bar comes with an optical cable and wall mounts for convenient set-up and is available for $449.99.
Details of the new Pioneer  Speaker Bar system (SP-SB23W) include:
Composite Wood Cabinet – Unlike most speaker bars in the market that are made of plastic, Pioneer's Speaker Bar uses a composite wood cabinet enclosure that offers far better control of the speakers because of its resistance to unwanted resonance.  The unit uses a specially designed RF molded curved enclosure that can withstand the "flexing" that occurs when the speakers are in use, especially at high volume levels, resulting in highly improved audio reproduction.
Six Speaker Design – The Speaker Bar features six individual drivers, four custom 3-inch woofers, and two 1-inch soft dome tweeters.  The arrangement of speakers produces a wide dispersion pattern, enabling open, more spacious stereo imaging even in larger sized rooms.  The woofers feature a vented pole piece to achieve improved bass response to enhance both cinematic and audio listening.  The 1-inch soft-dome tweeters are encased in a custom "wave guide" enclosure for increased output sensitivity and controlled dispersion of high-frequencies.
Individual Amplifiers for Each Driver – For optimal audio output, Pioneer's Speaker Bar uses six individual amplifiers to power each independent driver.  Each amplifier produces up to 28 Watts of power (1kHz 1% THD @ 4 Ohm) to obtain increased dynamics and better overall "headroom" at any volume level.
Active Crossover Network – The integrated amplifiers in the Speaker Bar are complemented by a matching active crossover network for increased sound quality.  Utilizing an active crossover enabled Andrew Jones to use higher order filter points (speakers' cutoff frequencies and steeper roll-off slopes [a.k.a. attenuation]) to achieve improved audio transitions between the woofers and the tweeters, resulting in improved speaker response, vocals and off-axis listening.
6.5-inch Subwoofer – The Speaker Bar includes a matching wireless subwoofer featuring a 6.5-inch driver tuned to 42 Hz (-10 dB) to provide low bass frequencies.  The subwoofer is powered by a built-in 50 Watt amplifier (50Hz 1% THD @ 6 Ohms) and the output level can be adjusted from the convenience of the included Speaker Bar remote.
Additional Features – The Speaker Bar features Dolby Digital Decoding and three sound modes including music, movies and dialogue.  Dialogue is a late night mode that optimizes dialogue conversations and significantly reduces "loud" passages, making it ideal for late night viewing.  For added convenience, the unit also offers built-in Bluetooth connectivity to enable wireless music streaming from a smartphone device as well as a learning mode to respond to the user's own remote control.
For more info, please visit www.pioneerelectronics.ca