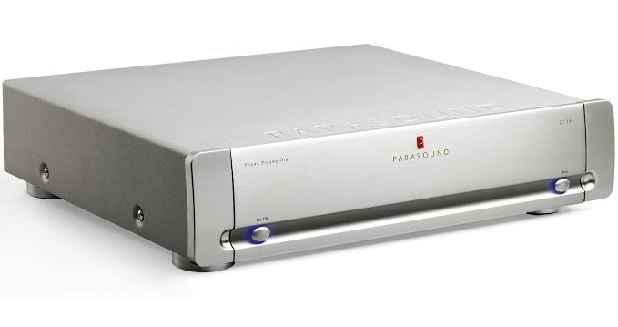 Parasound has just introduced their lastest John Curl designed phono preamplifier – the JC3+, which is an improved version of their former JC3.  The new JC3+ resolves limitations that the original JC3 design has with respect to fixed moving coil loading.
The new Jc3+ uses a newly developed Vishay special low noise, dual-gang 50-550 ohm potentiometer.  In addition, many other improvements have been made to maximize its low noise capabilities and provide increased transparency and musical detail.  MC S/N ratio has been improved from 75dB to 87dB, A-weighted. MM gain has been increased 1dB from 47dB to 48dB while MC gain has been lowered from 68dB to 64dB to prevent possible line stage overload when using high output MC cartridges.
The JC3+ power supply now has a 47% larger low-ESR power supply filter capacitors for greater current reserves and a new 82% larger R-core power transformer provides greater reserves for low-end impact.  And the front panel's illuminated "P" logo can now be switched off.
The new JC3+ will be available this month in both silver and black finishes at a MSRP of $2850 U.S. Look for more details at: www.parasound.com.