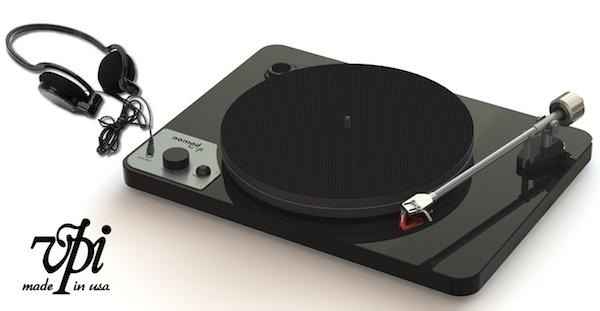 VPI Industries has just launched a new affordable vinyl playback lifestyle system – The Nomad.  The Nomad has been designed to provide music lovers with an affordable, upgradeable, and high performance entry to vinyl playback.  The new system can be easily connected to home theater A/V receivers, sound bars and wireless digital tabletop components via analog RCA inputs.
The Nomad is comprised of a 10-inch aluminum tonearm, and 20-pound plinth and platter assembly borrowed from VPI's Traveler turntable.  In addition, the system comes with a pair of premium Grado headphones and a pre-installed Ortofon 2M Red phono cartridge, along with an integrated custom phono pre-amplifier and headphone amplifier that are modular, allowing for furture updgrade.
The Nomad Vinyl Playback System will be available for sale in Q1-2014 at a MSRP of $995 U.S.  Look for more details at: www.vpiindustries.com.