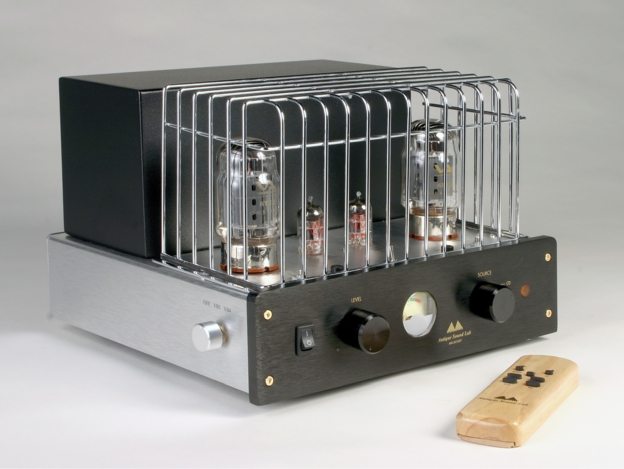 When it comes to vacuum tubes – what's old is new again.  That goes for this newly upgraded integrated amplifier from Antique Sound Labs.  Their new MG SI 15, now has upgraded transformers, larger extruded aluminium chassis and better quality connectors.
The MG SI 15 incorporates a single ended class 'A' topology with triode and pentode operation.  Utilizing one KT88 per channel, the MG SI 15 can produce 5 wpc in triode mode and 15 wpc in pentode mode.  Since those watts are tied to a class A / tube configuration, they should go a long way towards driving an appropriate pair of speakers.
The integrated amp features an external bias adjustment with calibrated bias meter as well as an all new line level output for a subwoofer – great for those wanting to tap into the lower octaves.  Additional improvements are a real wood remote and a functional and aesthetically pleasing tube cage.
Overall frequency response is from 13 Hz to 77 kHz (+/-1dB), distortion at 1W is <0.6% and SNR at full power is >78dB.  Input impedance is 100K and loudspeaker output impedance is standard at 8 Ohm.  Dimensions are 13 x 10.5 x 9 (WxDxH in inches) and the unit weights in at 29 lbs.
The MG SI 15 integrated tube amplifier is available for MSRP: $1200.00 U.S.
More details at: http://www.divertech.com