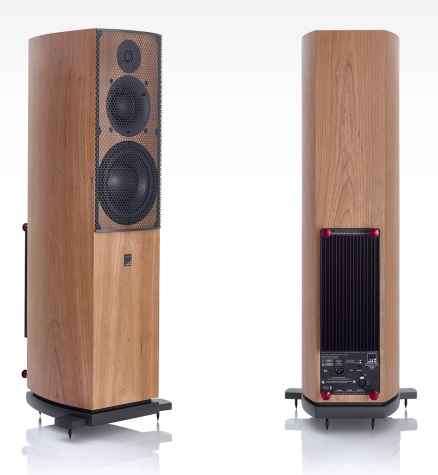 ATC will be hosting its worldwide launch of their new SCM40A active loudspeaker on January 6, 2015 at CES.  The new ATC SCM40A is a three-way floor standing loudspeaker that uses ATC's soft dome dual-suspension SH25-76 tweeter, along with the company's 75mm soft dome midrange and 164mm short coil/long gap underhung bass driver.  The drivers are each amplified individually by ATC's own tri-amplifier pack, delivering 25 watts to the tweeter, 60 watts to the midrange and a whopping 150 watts to the bass driver – for a total of 235 watts of continuous power.
The cabinet is curved and laminated with internal bracing that provides high rigitdity and damping.  Finish is in real cherry or black ash veneer.  The SCM40A is designed for optimal performance with the grille affixed to the front baffle via hidden magnets.  Frequency range is 48Hz to 22kHz (-6dB) and the speaker pairs are matched to within 0.5 dB.  Connection is via male XLR connectors.
The new SCM40A will be available in January 2015.  At present only U.K. pricing has been announced at: U.K. RRP £6280.  Look for more information to be shared at: http://www.atcloudspeakers.co.uk.
Comments are closed.